Childhood Cancer
---
For childhood cancer survivors, treatment helps them to survive, but often that survival comes at a cost. But what are these costs? And how big is the problem? That's what St. Baldrick's Fellow Dr. Nickhill Bhakta wanted to figure out. And as it turns out, that data could be a lifesaver.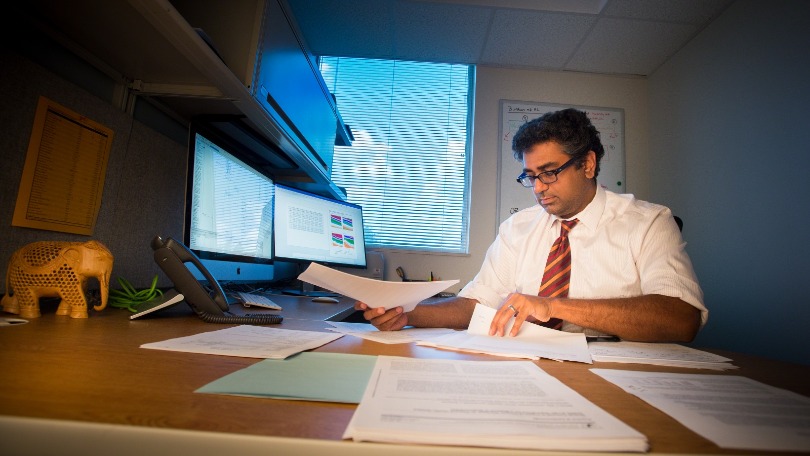 St. Baldrick's Fellow Dr. Nickhill Bhakta works at his desk in St. Jude Children's Research Hospital. With a portion of the grant supported by the St. Baldrick's Morgan and Friends Fund, he developed a special statistical tool to help capture the true volume and complexity of chronic health conditions faced by childhood cancer survivors because of the long-term consequences of their treatment — something that hadn't been done before. Photos courtesy of St. Jude Children's Research Hospital
Over the years, researchers have discovered that because of their treatment, childhood cancer survivors can be at risk of everything from heart attacks to secondary cancers to stroke. That's helpful to know, but Dr. Bhakta recognized that something was missing from the data that was available on survivorship. It wasn't painting the complete picture. It was just capturing the first big health scare, instead of following the survivor through the multitude of chronic, often recurring conditions.
The scope simply wasn't big enough.
---
---
---
---
---
---
---
---
---
---
&nbsp
Older Posts »