For childhood cancer survivors, treatment helps them to live, but often that survival comes at a cost. But what are these costs? And how big is the problem? That's what St. Baldrick's Fellow Dr. Nickhill Bhakta wanted to figure out. And as it turns out, that data could be a lifesaver.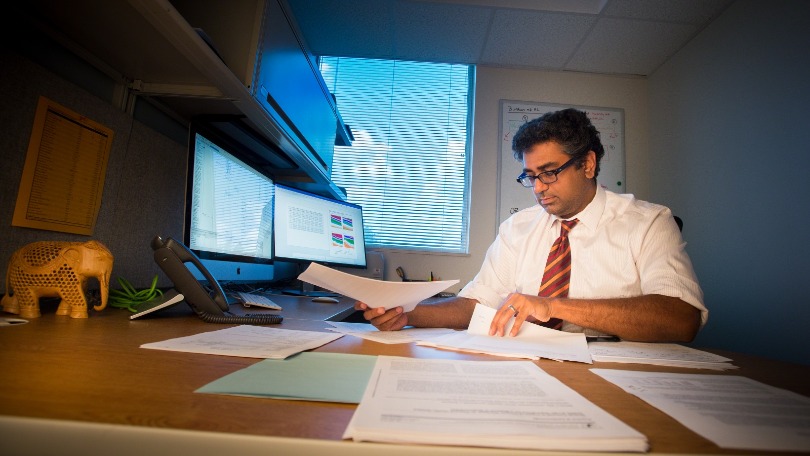 St. Baldrick's Fellow Dr. Nickhill Bhakta works at his desk in St. Jude Children's Research Hospital. With a portion of the grant supported by the St. Baldrick's Friends for Hope Fund, he developed a special statistical tool to help capture the true volume and complexity of chronic health conditions faced by childhood cancer survivors because of the long-term consequences of their treatment — something that hadn't been done before. Photos courtesy of St. Jude Children's Research Hospital
Over the years, researchers have discovered that because of their treatment, childhood cancer survivors can be at risk of everything from heart attacks to secondary cancers to stroke. That's helpful to know, but Dr. Bhakta recognized that something was missing from the data that was available on survivorship. It wasn't painting the complete picture. It was just capturing the first big health scare, instead of following the survivor through the multitude of chronic, often recurring conditions.
The scope simply wasn't big enough.
Dr. Bhakta wanted to understand the "true magnitude and burden of disease" experienced by childhood cancer survivors, he said. That's why he and his colleagues developed a unique measurement tool called the cumulative burden metric. This statistical tool not only counts the various health crises childhood cancer survivors experience for the first time, it also tracks recurring or chronic conditions.
"The thing is, we know that survivors don't just have one issue. A lot of times, they come as a spectrum of issues. They come together in clusters and they all feed into one another, so it's not just about the time to the first event or the time until they get hypertension, or the time until they get their first heart attack, even the time until they get diabetes. It's about having diabetes and then developing that heart attack and then developing the subsequent stroke, etcetera," he explained.
Instead of showing just one small piece, the cumulative burden metric displays an entire landscape of health issues, with their various, interconnected parts, Dr. Bhakta said.
"It lets us look with incredible detail, but also in a very holistic way, at all the chronic contributing health conditions that survivors experience," he said.
To Dr. Bhakta, information — like the data he collected — is power and he wants to use that power to help survivors live long, healthy lives.
For instance, using information from the cumulative burden tool, unique screening tools could be developed to help prevent or catch issues before they get worse. The screen would take into consideration the conditions that survivors face – heart disease caused by certain chemotherapies and chest radiation, seizure disorders from radiation to the brain, and secondary cancers, among other conditions unique to their cancers and treatments.
Over the course of two studies, Dr. Bhakta analyzed the health issues faced by thousands of survivors of both Hodgkin lymphoma and a variety of other childhood cancers. He found that survivors face exceedingly high levels of chronic health conditions. Some of these conditions are so severe that they cannot be appropriately managed by the kind of care usually available, like a routine visit to a general practitioner. Photos courtesy of St. Jude Children's Research Hospital
"A 50-year-old may have hypertension and high cholesterol that increase their risk for heart disease, but they may not have it to the same extent as a survivor," he said, explaining that survivors are often treated as though they have simply aged early and have the same conditions as older individuals. "So, understanding that informs the type of screening that we do, such that we can't just apply the screening guidelines that we would apply for a 50-year-old down to a 30-year-old. We have to develop unique guidelines that meet the type of diversity of chronic health conditions to survivors."
Dr. Bhakta is even thinking about using the cumulative burden metric to develop an educational tool similar to a retirement calculator. The calculator could empower survivors by showing them areas of risk and where they need to adopt healthier habits, like quitting smoking or losing weight, to decrease those risks and improve their health over the next years of their life.
But Dr. Bhakta is just getting started. He has so many ideas for how the cumulative burden tool could be improved and used to benefit childhood cancer survivors the world over, and he is grateful to St. Baldrick's for helping him make this possible. The Fellow grant he received not only boosted the credibility of his work and the legitimacy of the area of research, it boosted him personally as well, Dr. Bhakta said.
"Because you never really know the impact of your work until you've had others that have looked at it and believed in you, such that you are able to move forward with it," he explained.
Update June 2021: At the end of his three-year St. Baldrick's Fellowship in 2018, Dr. Bhakta received a three-year St. Baldrick's Scholar award to take his work one step further – to estimate the global burden of childhood cancer.
Building off his research as a St. Baldrick's Fellow, Dr. Bhakta and colleagues showed a substantial burden of childhood cancer globally, which disproportionately affects populations in resource limited settings.
Specifically, they published the first analysis of the global burden of childhood cancer represented in disability-adjusted life-years (DALYs). DALYs are a measure of the total of years of potential life lost due to premature death, plus the years of productive life lost due to disability.
In other words, this measurement combines death (or mortality) and morbidity (being in a state of poor health or disease) to show the full impact of childhood cancer.
This research showed that globally, in 2017, there were 11.5 million potential and productive years lost due to childhood cancer. Further calling attention to the impact on children, they found that 82% of global childhood cancer life-years lost occurred in resource limited settings, whereas only 50% of adult cancer life-years lost occurred in these same locations. When the DALYs lost due to childhood cancer were compared to adult cancers and other childhood diseases, the authors found that childhood cancers were an underprioritized major contributor to global disease burden.
"Childhood cancers are a rare set of diseases compared to many common illnesses that affect populations worldwide," Dr. Bhakta said. "The difference is that many childhood cancers are potentially curable when access to quality therapeutics is provided. Unfortunately, for too many children around the world, access is limited to non-existent. This means that many children needlessly die. Our research, using the DALY metric, takes a bright highlighter to this massive health disparity and fundamentally calls into question incorrect assumptions long held by the global health community."
Using DALY based estimates is crucial for resource planning and health policy prioritization. Measuring potential and productive years lost to childhood cancer helps further demonstrate what many of us already know – that childhood cancer represents an important global cancer and child health concern.
The effects of childhood cancer are lifelong — but it doesn't have to stay that way. Fund the best research today and give childhood cancer survivors the chance to live full, healthy lives.
Donate
Read more on the St. Baldrick's blog: