Kids are special, and that's why they need treatments made just for them. St. Baldrick's Fellow Dr. Heather Schuback agrees. She's looking at the very building blocks of acute myeloid leukemia cells to spot differences that could help kids get the targeted therapy they need.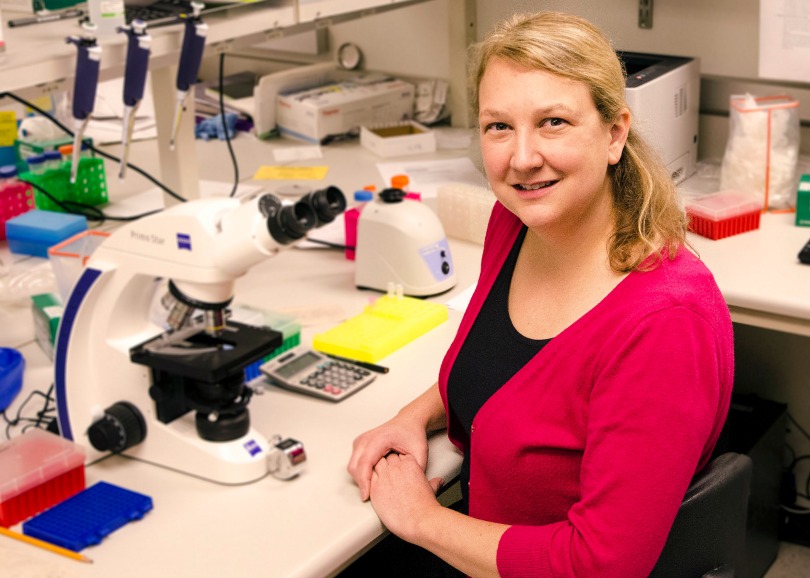 St. Baldrick's Fellow Dr. Heather Schuback works in the lab at Fred Hutchinson Cancer Research Center in Seattle, Washington.
Kids are not just little adults, says St. Baldrick's Fellow Dr. Heather Schuback.
That means their cancers aren't just smaller, younger versions of adult cancers. They are fundamentally different.
Dr. Schuback should know. Her St. Baldrick's-funded research is looking at how changes in the DNA of tumor cells can predict who will do well during treatment and who won't. This information could help doctors tailor therapies from the start, getting kids just the right amount of treatment to kill the cancer, while limiting late-effects.
But these differences aren't limited to which kids will respond well to treatment and which won't. It's bigger than that.
"What we've learned over the years is that the specific type of leukemia I'm studying, which is AML, is not the same in older adults as it is in children," she said. "There are actually significant differences in the disease between young children, teenagers, and adults and older adults."
AML is especially different across age ranges and even within them. Differences are even seen between the AML found in kids younger than 5 years old and the rest of the pediatric patient population, Dr. Schuback said.
But why does all of this matter?
Because kids' cancer treatment needs to be different too. If kids are going to survive and thrive, cancer treatment cannot be one-size-fits-all.
"The biology really is different," Dr. Schuback said, explaining that many of the cancer-driving mutations seen in adult cancers are not found in children. "You can't just translate therapy from an adult to a child. They really are a different animal, for lack of a better word."
Dr. Schuback believes that continuing to examine these differences — these molecular changes — is the key to better, safer treatments for all children with AML.
"One of the things that we're always concerned about in treating children is the late effects. We want them to survive, but we'd also like them to lead a normal, healthy life. Some of our treatments are very harsh and can cause late effects," she explained, citing heart problems and secondary cancers as two of the kinds of late effects that can be caused by harsh cancer treatments.
BLOG: The Two Biggest Threats Facing Childhood Cancer Survivors >
Dr. Schuback knows the challenges of late effects better than some.
She is a cancer survivor.
"Trying to find a cure and to help other cancer patients is something that drives me," she said.
Diagnosed at 19 years old with non-Hodgkin lymphoma, she went through a bone marrow transplant and now faces some of the same long-term effects as the kids she treats. She's passionate about finding ways to prevent that from happening to other kids.
St. Baldrick's has been crucial in allowing Dr. Schuback to put that passion into action.
"I wouldn't be able to do my research without funding from St. Baldrick's," the researcher said, explaining that she would have had to drop this work because of lack of funding if it weren't for St. Baldrick's.
Thanks to Dr. Schuback's drive and the foundation's helping hand, she continues to study the tiniest differences in AML — tiny differences which are making a big impact on kids' lives.
Help researchers like Dr. Schuback give kids with cancer the childhoods they deserve. Fund childhood cancer research today.
Give

Read more on the St. Baldrick's blog: