From CAR T cell therapy in May to a bone marrow transplant in June, over the past few weeks we've been following the tremendous journey of Honored Kid Zach Swart. Now we bring you another angle — a closer look at the St. Baldrick's-funded research that has changed Zach's life.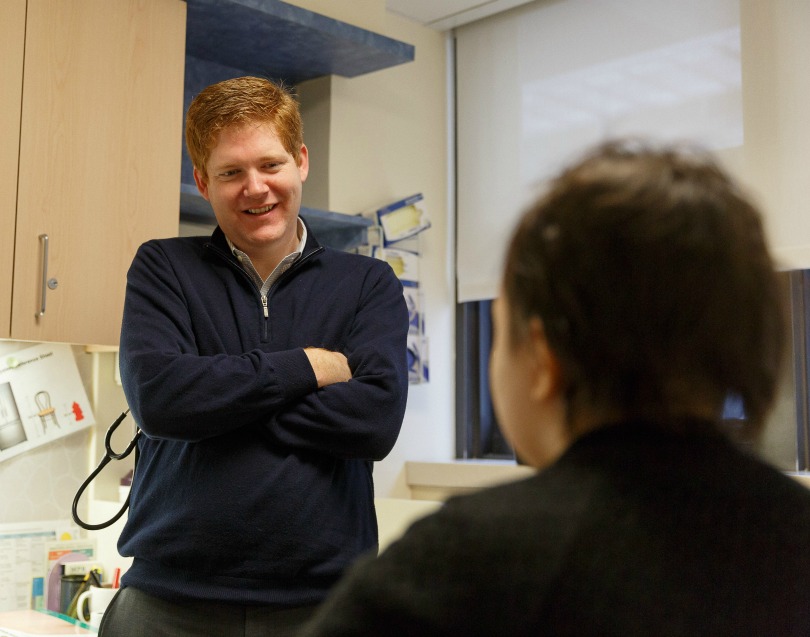 St. Baldrick's researcher Dr. Kevin Curran meets with a patient at Memorial Sloan Kettering Cancer Center.
A couple months ago, Zach Swart went through yet another medical procedure; one more to add to an already substantial history of biopsies and blood draws.
But this procedure was different than a typical needle poke.
It was a potentially lifesaving infusion of modified immune system cells, called CAR T cell therapy.
Zach relaxes as he gets his T cells extracted during the immunotherapy clinical trial headed by Dr. Curran.
This immunotherapy clinical trial was another chance at a truly cancer-free future for Zach — thanks to St. Baldrick's researcher Dr. Kevin Curran.
Dr. Curran is a pediatric bone marrow transplant physician and St. Baldrick's Scholar at Memorial Sloan Kettering Cancer Center. He's studying how to attack and kill cancer, specifically leukemia, using the patient's own immune system.
"The ultimate goal of our research is to provide new treatment options for children," he said.
Read about how immunotherapy saved Honored Kid Phineas >
In Zach's case, doctors harvested some of his blood and separated out the lymphocytes, which are white blood cells that contain the T cells. The T cells were then brought to the lab, where a gene was added that helps these cells seek out and recognize cancer. This process takes about 10 days, Dr. Curran explained.
Then Zach came back to the hospital, where the new T cells — now called CAR T cells — were infused into his body.
"What I tell my children is that in your own body, you have cancer cells and those cells are trying to just grow and grow," he said. "There's other cells in your body that should be able to eliminate them, but they're blind. So what we need to do is to teach those cells, those good cells, how to see again."
That's exactly what Dr. Curran and his colleagues did. By genetically modifying Zach's T cells, they taught the immune cells to 'see' the cancer cells in his body.
After a short period of adjustment to the new cells, Zach was in remission. The immunotherapy procedure went beautifully with few side effects, his mom said. Soon after, Zach was able to go fishing with his brother. It was an activity the three-time cancer fighter hadn't been able to enjoy for a long time.
"We've shown, especially in leukemia patients that have resistance to chemotherapy, immunotherapy can actually give those patients a cure," he said.
It's also targeted therapy, unlike traditional treatments, like chemotherapy and radiation.
"One of the problems with treating cancer is that you're not affecting just the cancer cells. You're affecting the entire body and that causes long-term side effects," he said. "Our ultimate goal for immunotherapy is to be able to just target the cancer cells, thereby sparing the patient, the child from long-term side effects."
Learn about the long-term effects that childhood cancer survivors face as they grow up >
But immunotherapy is not a cure-all. There are some childhood cancers, like solid tumors, that haven't yet responded to immunotherapy at all.
"We don't have CAR T cells working for them yet and we need to figure out why and how do we solve that problem," he said.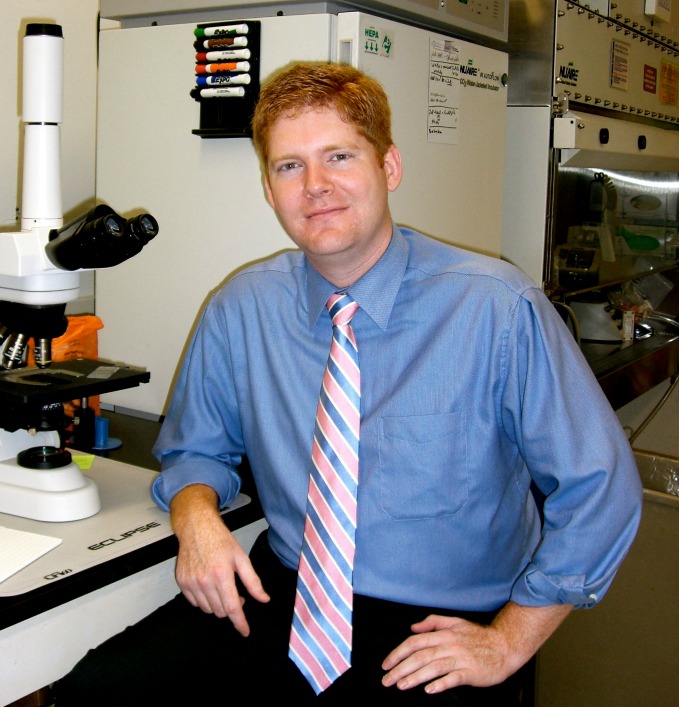 Dr. Curran in the lab, where he works to make immunotherapy effective for all kids with cancer.
In other words, how do researchers make CAR T cell therapy even better? That's what Dr. Curran is working on and he's had St. Baldrick's support from the beginning.
The researcher's first award — a Fellowship Award — was back in 2008, when he was starting out in the lab with no research experience. Then, as he continued to grow as a researcher and build upon his findings, Dr. Curran was granted a Scholar Award.
All in all, St. Baldrick's has funded Dr. Curran's work for the past seven years, helping kids with cancer, like Zach, get the promising new treatments they need to survive.
"I think it's really just important that the donors and everyone who works for St. Baldrick's understands how thankful we are as researchers to be able to do our work," he said. "Without the funding they provide, we wouldn't have that opportunity."
Join Zach on his journey — follow his story on St. Baldrick's Facebook, Twitter and Instagram, or sign up for our email below. 
Join Dr. Curran and help kids with cancer, like Zach, thrive. Fund the most promising childhood cancer research today.
Give
Read more on the St. Baldrick's blog: