When St. Baldrick's Fellow Dr. Adam Green learned about high-grade gliomas and met kids diagnosed with the brain tumors, he knew he had to help. And today he's doing just that. Read on for more about Dr. Green, his exciting research, and how St. Baldrick's helped him make it happen.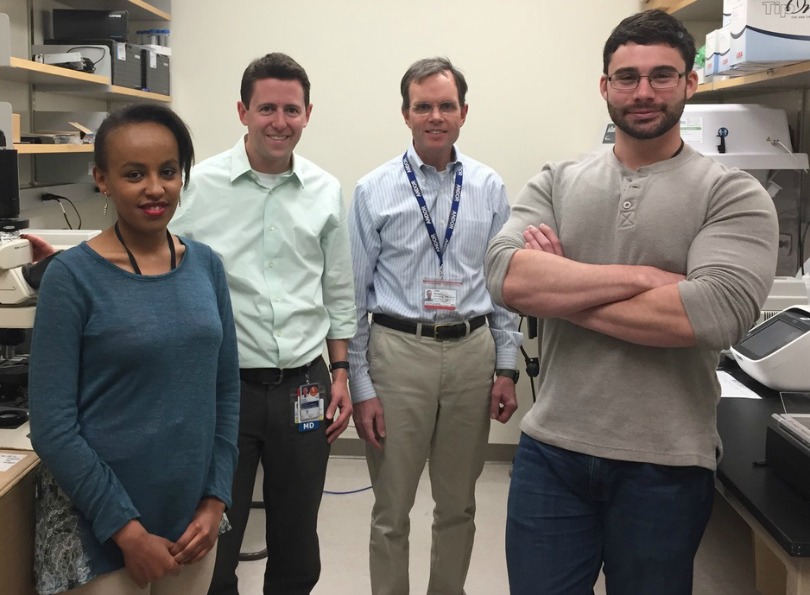 Dr. Adam Green in his lab at the University of Colorado with his lab members, from left to right: Rakeb Lemma, Dr. Green, John DeSisto and Patrick Flannery. Dr. Green's research is funded in part by the Luke's Army Pediatric Cancer Research Fund, a St. Baldrick's Hero Fund created in memory of Luke Ungerer, a little boy who died of brain cancer.
Dr. Adam Green distinctly remembers the first time he gave a family the news that their child had an aggressive, fatal brain tumor. It was an experience that's hard to forget.
"The first time we met this family, we were telling them that their child probably had less than a year to live and that there was no cure potential," he recalled. "That conversation was completely different from the other patients I had diagnosed with cancer, especially because I was already interested in brain tumors, this was the type of brain tumor that I needed to work on, so that we could change that conversation to be like the other conversations — where we could offer some hope."
As a St. Baldrick's fellow studying a potential new therapy for these tumors, that's exactly what he intends to do — give hope to kids with high-grade gliomas, including a fatal type of tumor called DIPG, and their families.
The drug Dr. Green is studying is a new chemotherapy medicine called Selinexor.
Read about the progress St. Baldrick's researcher Dr. Mark Souweidane is making for kids with DIPG >
How it works exactly is a mystery that Dr. Green is working to unravel, but here's what scientists know. In the body's cells, there's a certain protein, called XPO1, which moves other proteins out of the cell's nucleus. Some of the proteins that are pushed out by XPO1 are tumor suppressor proteins.
"Tumor suppresser proteins are the brakes in cells that prevent the cells from becoming cancerous, by controlling things like how the cell divides, how the cell uses energy, and how the cell reacts to signals telling the cell that it's time to change or it's time to die," Dr. Green explained.
Once kicked out of the nucleus, these tumor suppressor proteins can't do their job. In a healthy body, it's OK if that happens to some of those proteins, but in high-grade gliomas, the exporter protein goes overboard. XPO1 evicts lots of tumor suppressant proteins, which allows the cancer to flourish.
"Selinexor inhibits XPO1 and the thought is that it restores these tumor suppressing proteins to the nucleus and they can have their intended effect to stop cancer cells from acting like cancer cells," Dr. Green said.
The results in the lab looked promising and the drug is currently being tested for safety in kids with recurrent brain or solid tumors. Next, Dr. Green and other researchers will examine how well Selinexor works with radiation as a combination treatment.
Luke Ungerer was just 3 years old when he was diagnosed with brain cancer. He died in January 2016 and his family honored the brave little boy by starting the Luke's Army Hero Fund, which has supported Dr. Green's research. Honor Luke by funding childhood cancer research in his memory >
Dr. Green knows how tough it is to treat these tumors, especially DIPG. The tumors are aggressive and they're shielded by the blood-brain barrier, a mechanism that helps protect the brain from chemicals — preventing chemotherapy and other drugs from getting to cancer cells within the brain.
"There are a few high-grade glioma patients who currently are cured, but it's pretty unusual and in DIPG cures are either extremely unusual or non-existent, depending on what data set that we look at," Dr. Green said.
Kids with DIPG need you. Give to lifesaving childhood cancer research today >
From that first conversation with a family, Dr. Green has dedicated his career to changing that reality — and St. Baldrick's has been right there with him. The first major grant the physician-scientist received was the St. Baldrick's Fellow award.
"You get two years of research training in fellowship, but that's really not enough to become an independent researcher, to develop your own ideas and start to get things published and to establish yourself as a person with important ideas and the ability to execute them in the field," he said. "What my St. Baldrick's Fellowship has done is allow me that time to continue that training and transition to start to become an independent researcher."
And that's what Dr. Green has done. Now, he has his own lab and he feels like they're making real progress in meeting his major goals — helping kids with high-grade gliomas live longer, better-quality lives, and then eventually find a cure.
"My hope is that over my and hopefully 40 or 50 years in the field, if I'm lucky, I'll be able to do a lot of good through research and meet all those goals that I was talking about, along with all of my colleagues around the world working on these diseases," he said. "And it's because of early career funding from St. Baldrick's that I was able to start and have that career."
You help make Dr. Green's research possible. Fund kids' cancer research today.
Give
Read more on the St. Baldrick's blog: