St. Baldrick's Fellow Dr. Wendy Rhoades has developed a new tool that could save lives — a blood test that can detect whether a patient has bone cancer. Read on for more about her incredible work and how it could help kids with cancer.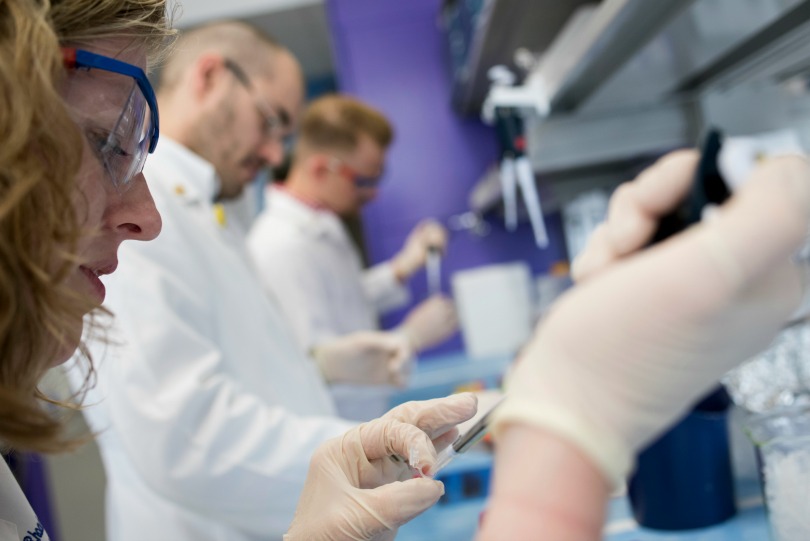 Dr. Wendy Rhoades works in the lab at Texas Children's Hospital.
What if a simple blood test could detect childhood cancer?
That's exactly what Dr. Wendy Rhoades is looking into with her St. Baldrick's-funded research.
Focused on osteosarcoma, Dr. Rhoades and her lab worked on discovering and developing a test that — with just a regular blood draw — can determine whether a patient has markers for the bone cancer.
"We look inside the blood at little molecules that are in everybody's blood," she said, explaining that those molecules are called microRNAs. "We're able to identify those little molecules. Based on how high or low they are, that tells us whether we think somebody's going to have the disease or not."
During the study, the St. Baldrick's researcher looked at four specific microRNAs and discovered something incredibly useful. Dr. Rhoades noticed a pattern — in patients with osteosarcoma, three of these markers would be high and one would be low.
Those markers could be a more precise tool for doctors when it comes to the tough task of watching a survivor for signs that their cancer has returned.
"Right now we monitor them by getting x-rays and MRIs and CT scans, and those are all really good," Dr. Rhoades said. "But sometimes those findings, as physicians, make us scratch our head and say, 'Is that something? Is that not something?'"
This blood test could remove much of the guesswork from those situations and make the monitoring process more efficient and less stressful.
"Our kids go through a lot of scans and stuff and it causes a lot of anxiety for them, for their families, and it takes time out of their life. So I'm hopeful that this blood test will be able to help physicians make better decisions in that setting," Dr. Rhoades said.
The research process is a long one, with I's to dot and T's to cross, but Dr. Rhoades hopes that a multi-institution clinical trial is in the near future for her work.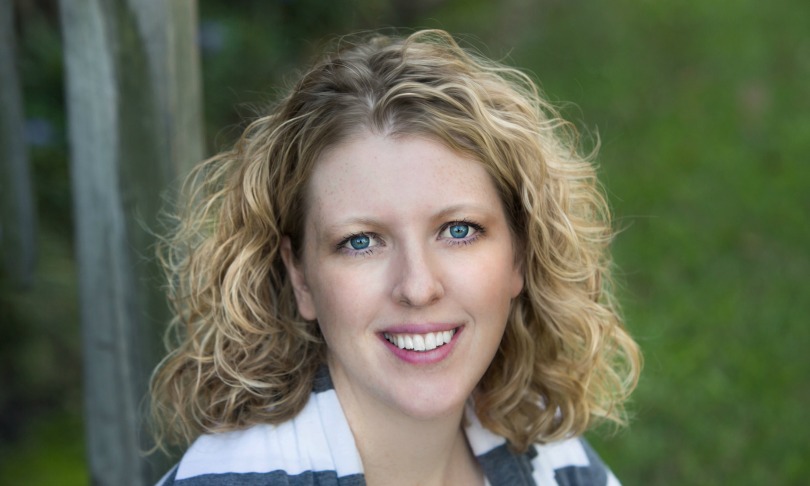 Dr. Rhoades knew quite a bit about St. Baldrick's before she became a Fellow. Her primary mentor, Dr. Jason Yustein, was a St. Baldrick's Scholar.
In the meantime, she's continuing her research and expanding it to look at how this blood test could be used in Ewing sarcoma and rhabdomysarcoma. She also just started working on her Ph.D., where she'll get down to the nitty gritty of these itty bitty molecules.
"These molecules are there and we don't know exactly what they're doing," she said. "We know they're in osteosarcoma and we can detect them and they can tell us if somebody has the disease, but why are they there and what are they doing is something I'll be looking into."
BLOG: Tori's Osteosarcoma Story >
Talk of funding is commonplace among physician-scientists, Dr. Rhoades said, and St. Baldrick's often comes up in those conversations.
"Even people outside of pediatric oncology recognize how important and how critical foundations like St. Baldrick's are," Dr. Rhoades said. "Because it's just so hard to get funding right now, I think a lot of the research just wouldn't be happening if it wasn't for private foundations like St. Baldrick's."
Dr. Rhoades said her St. Baldrick's Fellowship was "the pillar of everything I've done."
That St. Baldrick's funding was her first big grant, bringing with it not only research dollars, which allowed her the time to do the work, but also a boost of confidence.
"It was a little bit of validation," she said, "that people are interested in the work that you are doing and interested in seeing what the results are going to be."
Help researchers like Dr. Rhoades develop new ways to treat kids with cancer. Fund childhood cancer research today.
Give
Read more on the St. Baldrick's blog: