From its inaugural Phase 1 clinical trial through its successful Phase 2 trial, we have traced the path of Kymriah, a recent immunotherapy and gene therapy breakthrough for kids with high-risk leukemia and few options, like Honored Kids Austin and Ori. (Read the whole series here.) Now, with a historic decision made in August, we are at the end of our story, but not at the end of the story of Kymriah. Instead, Kymriah's is just beginning – and starting a new chapter of hope for kids with cancer.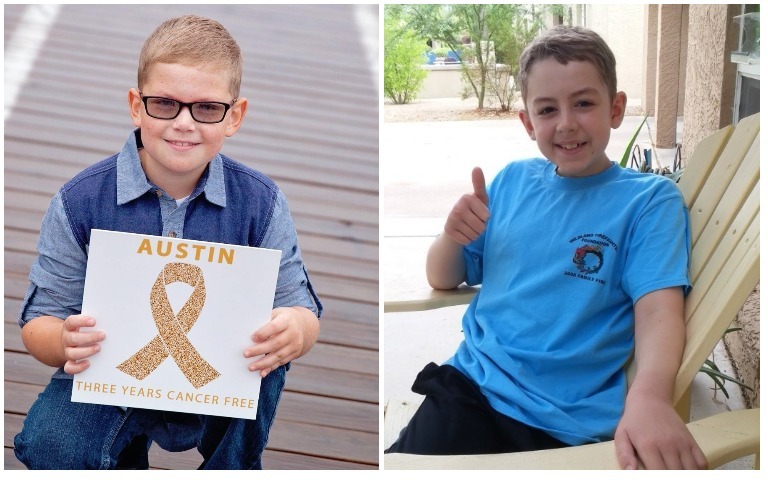 Austin (left) and Ori (right) are both alive today thanks to Kymriah and their participation in the Phase 1 and Phase 2 trials.
On August 30, 2017, big news rippled through the childhood cancer community. On that late summer day – before the start of Childhood Cancer Awareness Month – the FDA made a historic move that changed the landscape of childhood cancer research forever.
On August 30, Kymriah became the very first gene therapy to be approved in the United States. Not only that, the CAR T cell treatment was approved for use in kids first – a rarity in a world where nearly all new therapies are approved for use in adults before making their way to kids with cancer.
Read the announcement of this news and learn how St. Baldrick's helped make it possible >
The FDA approved Kymriah for use in kids who teeter on the edge of survival – kids with a high-risk kind of blood cancer called B-cell acute lymphoblastic leukemia (ALL) who've relapsed multiple times or aren't responding to traditional treatment. Kids who have run out of options.
Suddenly, there was hope.
"When disease relapses, usually the patients have resistance to conventional chemotherapy … So, Kymriah and other CAR T cell products do give those patients a chance by giving treatment using a different pathway," said Dr. Nobuko Hijiya, a St. Baldrick's researcher who is excited to offer Kymriah at her institution, the Ann & Robert H. Lurie Children's Hospital of Chicago.
Learn about the St. Baldrick's – Stand Up to Cancer Dream Team's incredible work on CAR T cell therapy* >
The pathway that Dr. Hijiya is referring to is the immune system.
A personalized and targeted therapy, Kymriah uses the child's own immune system to fight cancer. In a process that can take weeks, the child's immune cells are extracted and sent to a facility where scientists tweak the genes within the cells. Once that process is complete, these genetically engineered cells are then sent back to the patient's hospital, where they're injected back into the child's body. These CAR T cells, as they are called, then seek out and destroy leukemia cells.
This therapy is now available at 23 children's hospitals and other institutions across the country, with more preparing to administer Kymriah.
Find a Kymriah-authorized treatment center near you >
"It was incredibly exciting and surreal in a way," said St. Baldrick's Scholar Dr. Shannon Maude, who is with the Children's Hospital of Philadelphia, the institution which partnered with the drug company Novartis to bring Kymriah to market. "I think how quickly this went through the process – it was just over five years from when the first pediatric patient was treated to the FDA approval, which is amazing."
And St. Baldrick's supporters helped make this happen. Along with the hard work from fellow childhood cancer organizations, the Creating Hope Act was passed in 2012. 
The Creating Hope Act helps expedite the development and approval of childhood cancer drugs and therapies, like Kymriah, through priority review vouchers. Traditionally, there hasn't been a lot of investment in childhood cancer drugs by pharmaceutical companies. However, legislation like this allows companies like Novartis, which developed Kymriah, to get these drugs to market quicker, making the creation of these drugs more attractive to companies.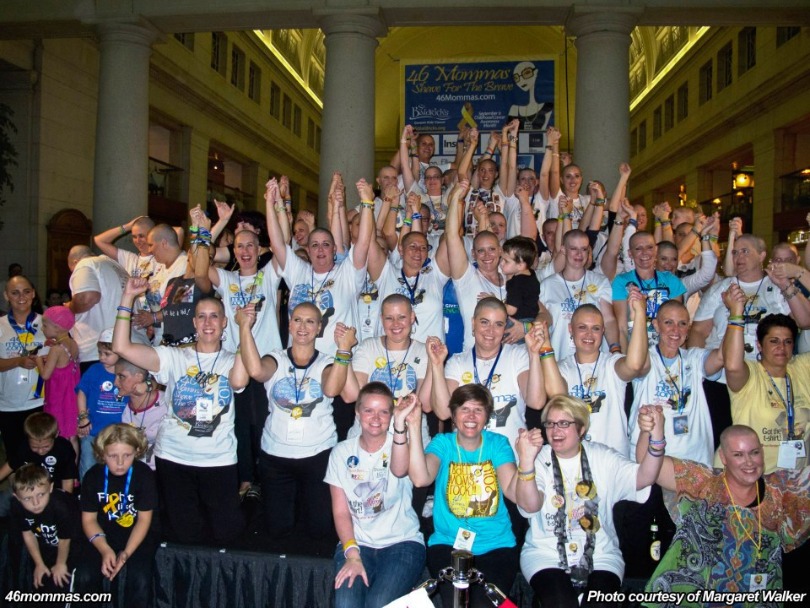 The 46 Mommas, a St. Baldrick's team, gathered at Union Station in Washington, D.C. to rally Congress around the cause of childhood cancer and to advocate for the Creating Hope Act.
The speed of this development isn't lost on Dr. Christian Capitini, a member of the St. Baldrick's – Stand Up To Cancer Pediatric Cancer Dream Team and transplant doctor to Austin, one of the first patients treated on the Phase 1 trial of Kymriah.* He explained that after making it through Phase 1 and 2 clinical trials, most drugs go through a large, randomized test called a Phase 3 clinical trial, where the therapy is compared to a placebo or whatever is the current, best therapy.
This wasn't the case with Kymriah.
"The challenge with a disease like relapsed, refractory childhood leukemia is that it's an orphan disease. It's very rare. To achieve the numbers to do a really randomized trial would take a long time to accrue and complete," he said. "Meanwhile, you have this drug sitting here with such a high response rate, you'd hate to only have it available to people who get on a Phase 3 study. Luckily, the FDA agreed and said there's enough data here that we can just approve it. So, that was also very exciting to see."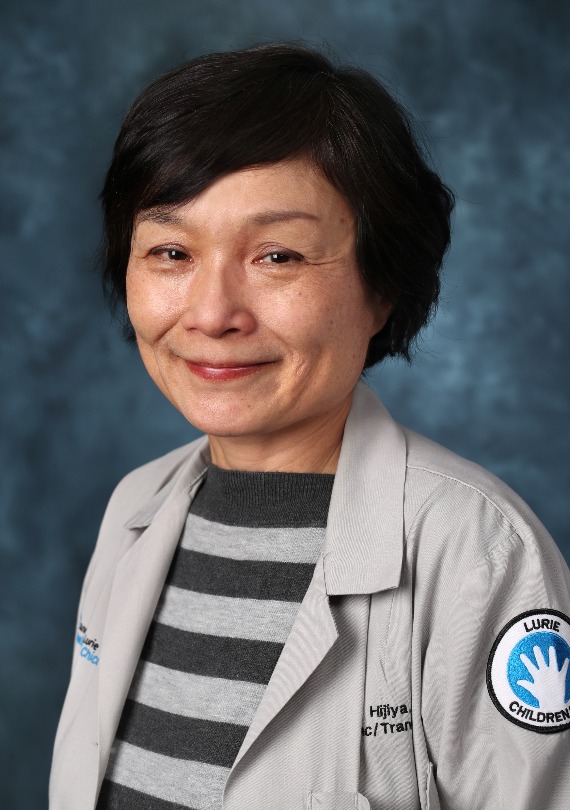 Dr. Nobuko Hijiya is the lead for the St. Baldrick's infrastructure grant to the Ann & Robert H. Lurie Children's Hospital of Chicago.
But for Kymriah, this exciting milestone of FDA approval is only the beginning. In Dr. Capitini's words, the gene therapy is the start of a "paradigm shift."
"We're on version 1.1 on this. As exciting as this has been and as scary as some of the toxicities have been as well, I think that this was really our first pass on this," he said. "I think over the next decade we're going to see better forms of Kymriah and other similar therapies come out, where we're able to control the toxicity, where we're able to control the dose from patient to patient better and hopefully even start to impact solid tumors, which have been very difficult to treat."
Dr. Hijiya is equal parts excited about Kymriah, realistic about the therapy's limitations and cautiously optimistic about the potential for kids with B-cell ALL.
"Kymriah is not 100%. It does not give any patients a 100% chance of cure, but with the results that we have so far, the chance is very good," Dr. Hijiya said.
As someone who works with these kids and families every day, she is relieved to be able to offer hope to her patients.
"I feel very excited and I feel happy for the patients," she said.
You make groundbreaking progress like Kymriah possible. Fund kids' cancer research today.
Donate
*Formerly known as the St. Baldrick's – Stand Up to Cancer Pediatric Cancer Dream Team, this team is now the St. Baldrick's EPICC Team (Empowering Pediatric Immunotherapies for Childhood Cancer).
Read more about the research we fund on the St. Baldrick's blog: