Formerly known as the St. Baldrick's – Stand Up to Cancer Pediatric Cancer Dream Team, this team is now the St. Baldrick's EPICC Team (Empowering Pediatric Immunotherapies for Childhood Cancer).
As one of the most exciting projects supported by St. Baldrick's – the SU2C-St. Baldrick's Pediatric Cancer Dream Team – nears the end of its funding, a group of expert reviewers met at Stanford University on July 14th to evaluate its impact to date. To say they were impressed would be an understatement.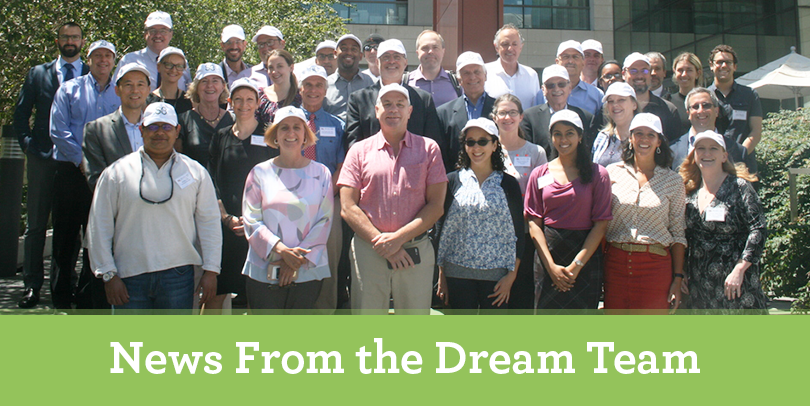 Members of the Dream Team gather at a meeting in July to discuss the impact of their research efforts.
The day began with a report from Dr. Stephan Grupp, director of the Cancer Immunotherapy Program at Children's Hospital of Philadelphia.
He had flown to the Dream Team meeting straight from the Maryland headquarters of the Food and Drug Administration (FDA), where hundreds had packed a hearing room the day before. An FDA advisory panel was considering what could soon be the first gene therapy to be marketed in the United States, pioneered by Dr. Grupp and his colleagues.
Called CAR T cell therapy, this new therapy is not a drug. It involves collecting cells from the patient, genetically reprogramming them to attack cancer cells and injecting them back into the body to do just that.
There was no question whether the advisory panel would recommend FDA approval. One researcher called it "the most exciting thing I've seen in my lifetime." In the pivotal Novartis clinical trial, 83% of patients who had no other hope went into remission and 79% survived a year or more.
Many – like St. Baldrick's Ambassador Phineas – remain cancer free years later.
Four years ago, Phineas was treated on T cell trial headed by a St. Baldrick's researcher. He's still cancer free.
By early October, the FDA is likely to follow the advisory panel's unanimous advice and approve the therapy, ushering in a new era in cancer treatment.
Remarkably, this groundbreaking advance will be available for children first.
"Usually everything is developed first for adults and children are an afterthought," said Dr. Grupp.
One concern with the new therapy is a dangerous side effect called cytokine release syndrome. Involving everything from intense fevers to headache to respiratory issues in severe cases, it is experienced by roughly half of patients. The Dream Team has been investigating how to manage this complication, as well as why the therapy still does not work for some patients.
Dr. Grupp's report from the FDA hearing was only the beginning of a day full of exciting progress reports from all eight institutions involved in the Dream Team.
Since 2013, when the St. Baldrick's Foundation and Stand Up to Cancer (SU2C) partnered to fund the four-year $14.5 million Dream Team, researchers have used new technologies in cancer genomics, epigenetics and proteomics to discover, validate and exploit completely new targets for immunotherapy.
Learn more about immunotherapy and how it can help kids with cancer >
The Team has built the world's largest repository of pediatric and adult immunogenomic data, with a new analytic pipeline to identify immunotherapeutic targets. This is becoming an incredible national resource for the entire childhood cancer research community.
"This is truly a turning point in the management of this disease," said Dr. John Maris, a pediatric oncologist at The Children's Hospital of Philadelphia and leader of the SU2C-St. Baldrick's Pediatric Cancer Dream Team.
While these new immunotherapy treatments have had stunning results in leukemia, members are also looking for ways to make them work for many solid tumors.
The Dream Team has launched an unprecedented 22 clinical trials to date — with more to come soon — including one for DIPG, a virtually incurable type of pediatric brain tumor.
"We are very proud that we are playing a key role in the overall development of CAR T cell therapy, and hope that the treatment will soon be available to children and young adults around the world," said Dr. Crystal L. Mackall, professor of pediatrics and internal medicine at Stanford University, associate director of Stanford Cancer Institute, and co-leader of the Dream Team.
She added, "Four years ago we were excited about getting the funding to do this work. Now we feel the sense of responsibility to make the most of what we've created."
Help the Dream Team continue taking childhood back from cancer. Fund kids' cancer research today.
Give
Read more about the Dream Team on the St. Baldrick's blog: