The Ty Louis Campbell (TLC) Foundation is joining St. Baldrick's to fund pediatric brain tumor immunotherapy research. Cindy, co-founder of the TLC Foundation, shares why this partnership is giving them renewed hope.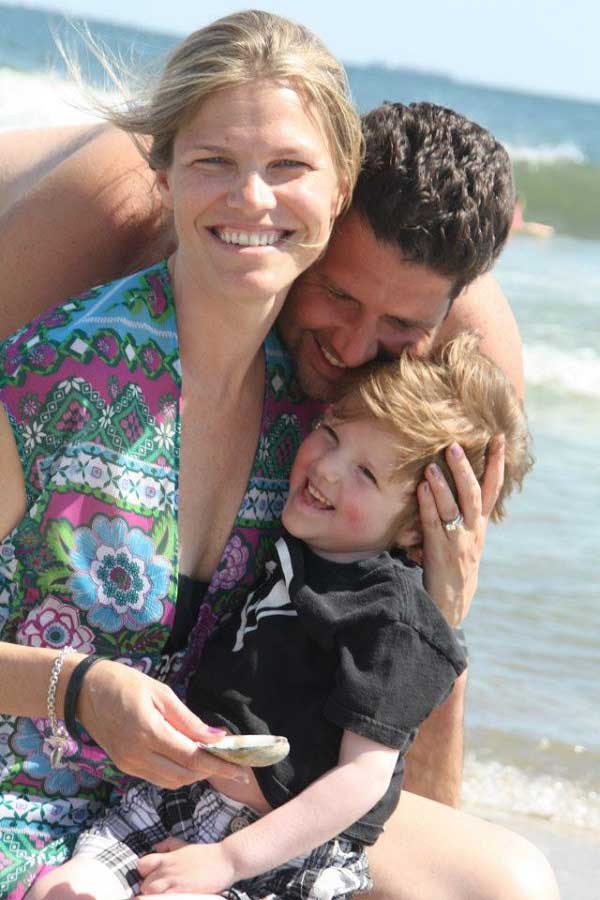 Cindy and Lou Campbell founded the Ty Louis Campbell Foundation after their 5-year-old son, Ty, died of a brain tumor.
Nothing is more powerful than hope.
Hope fueled my passion and gave me the strength to care for my son during his childhood cancer treatment without coming undone at the seams. Without hope, I would have grieved his loss for over a year before he actually took his last breath.
And, without the hope for a cure that I continue to strive for 21 months after his loss, I don't know that I would find the will to get out of bed at the dawn of every new day I face without him.
Like every parent who hears the words, "Your child has cancer," I hit the Internet the second I learned of his diagnosis, a rare pediatric brain tumor called atypical teratoid rhabdoid tumor (ATRT). I had such tremendous hope that my Ty would be one of the 20% that survived the devastating diagnosis over five years, and that he would be one of the 10% that didn't relapse. We nicknamed him SuperTy with certainty that his super strength would prevail.
When his cancer metastasized after seven months in treatment, it was explained to my husband and me that once metastasis occurs in the central nervous system, it is only a matter of time before it happens again — that his death, over time, was imminent.
"Maybe not!" was all I could muster. I grabbed onto that hope rope and I soared overhead, repeating over and over that odds are made to be beaten, that yes, it is possible. People get struck by lightning not once, but twice — and I waited for the storm with my lightning rod in hand!
When we were blessed with nine beautiful months of NED (no evidence of disease), I laughed in the face of the naysayers and I began to redirect my focus toward fixing the damage that was done to his poor little body after months of chemotherapy and radiation.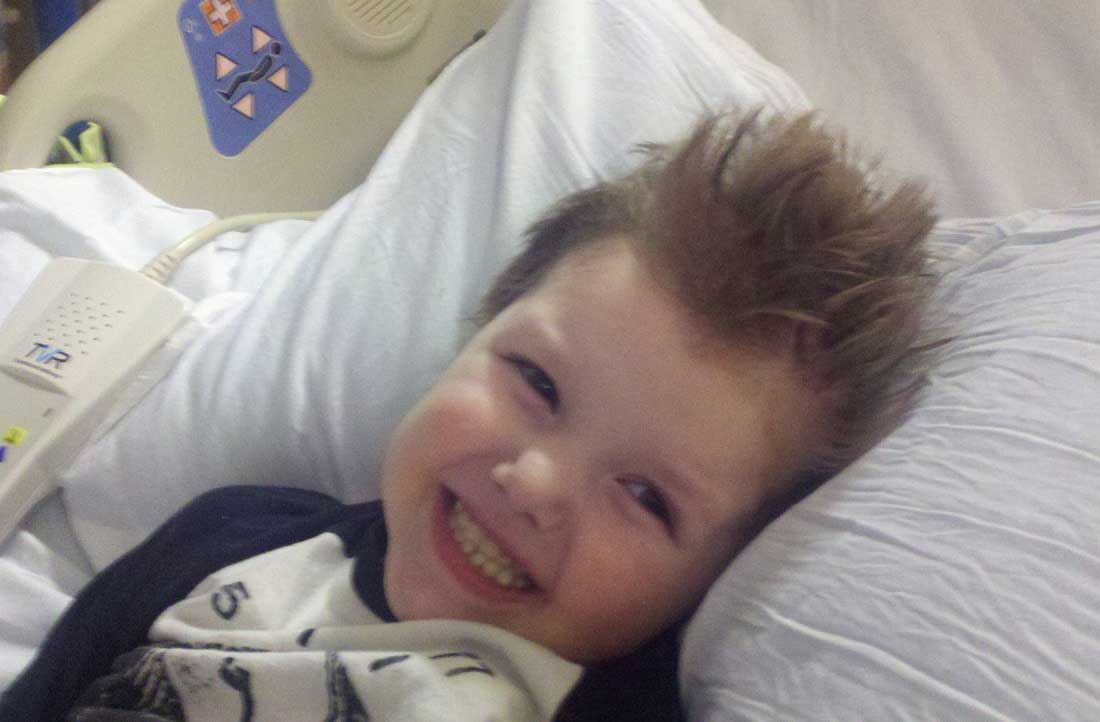 Ty in April 2012 when he was in treatment for childhood cancer.
My husband and I became obsessed with finding something different that we could do while he was thriving to prevent his cancer from returning. We talked with dozens of renowned doctors and researchers while we clawed at our computer screens in desperation.
We found hope on the horizon after reading about breakthroughs in immunotherapy, but none were yet available to children with brain tumors. The research simply wasn't there.
We were helplessly left waiting for the other shoe to drop, and drop it eventually did.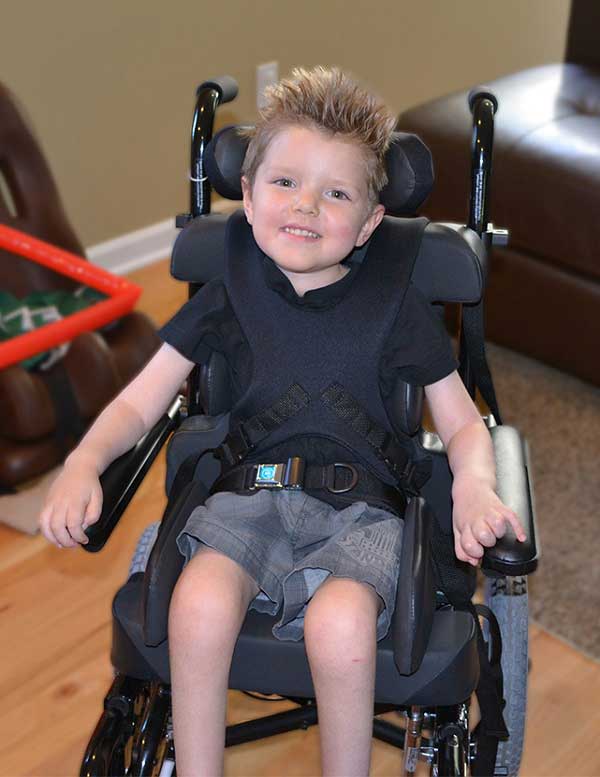 Ty was paralyzed as a result of his childhood cancer treatment.
First, our son suffered radiation necrosis. Out of nowhere and over the course of two weeks, the treatment that saved his life left him so paralyzed that he was unable to hold his own head up and could barely speak or eat for months.
Then his cancer returned, and after just four weeks on hospice care he was gone.  He was 5 years and 13 days old.
My husband and I vowed to create a nonprofit in his memory, and to dedicate all of our fundraising to groundbreaking research for the deadliest cancers among children.
We attended the press conference where St. Baldrick's and Stand Up to Cancer announced the launch of the first-ever Pediatric Cancer Dream Team*, and we were thrilled to learn that it focused on immunotherapy. Finally! Dedicated dollars to fund the kind of treatment that we always hoped would become available to our own son.
We have always believed in the promise that immunotherapy holds. Immunotherapy gives us hope for safer, more effective treatment with less harmful side effects for our children.
But how would we know where best to invest the money we raise? How could we ensure that every dollar we work so hard for is going toward the most innovative research opportunities?
Immunotherapy gives us hope for safer, more effective treatment with less harmful side effects for our children.
In a conversation I had with other families like ours, we lamented the weight of responsibility we felt when choosing where to invest every hard-earned dollar. We talked about the difficulty in establishing a well-rounded medical advisory board and the complications of launching a grant review process on our own. We shared stories of our loss and the unbearable pressure we feel to fulfill our promises to our children.
"Wouldn't it be great if we could collaborate with St. Baldrick's and other childhood cancer foundations so we can share resources and feel better connected among all the different research opportunities taking place?" That was the question. And our wonderful friends at St. Baldrick's answered our plea with an enthusiastic "yes!"
St. Baldrick's has an incredible Scientific Advisory Committee that is probably the most informed group on all childhood cancer research taking place today. Through our partnership, the TLC Foundation is able to review and select a specific grant from a variety of research opportunities that were already approved through their trusted scientific review process.
We still control how every TLC dollar is invested by selecting the grants that are close to our hearts and aligned with our personal mission, while continuing to honor Ty's memory and maintaining the growing relationship we have with our community of supporters.
This year, it is no surprise that we sought out
a grant for pediatric brain tumor immunotherapy advances
at Stanford University, and we anxiously await updates from the lab. Our hearts are overflowing with renewed hope.
The clock is ticking, and it was the haunting "tick-tock" in my mind that was keeping me up at night since the start of our foundation. Children's lives depend on this research, and I can finally sleep at night knowing that we are putting our money where our mouths are.
Collaboration and connectivity across the childhood cancer community is enabling us to make better choices that can change the outcome for children diagnosed with cancer in the future.
Interested in partnering with St. Baldrick's to fund a childhood cancer research grant? Contact Susan@StBaldricks.org.
You can give new hope to children with cancer. Fund research or get involved.
Fund Research
Get Involved
*Formerly known as the St. Baldrick's – Stand Up to Cancer Pediatric Cancer Dream Team, this team is now the St. Baldrick's EPICC Team (Empowering Pediatric Immunotherapies for Childhood Cancer).
Read more about the TLC Foundation on our blog: