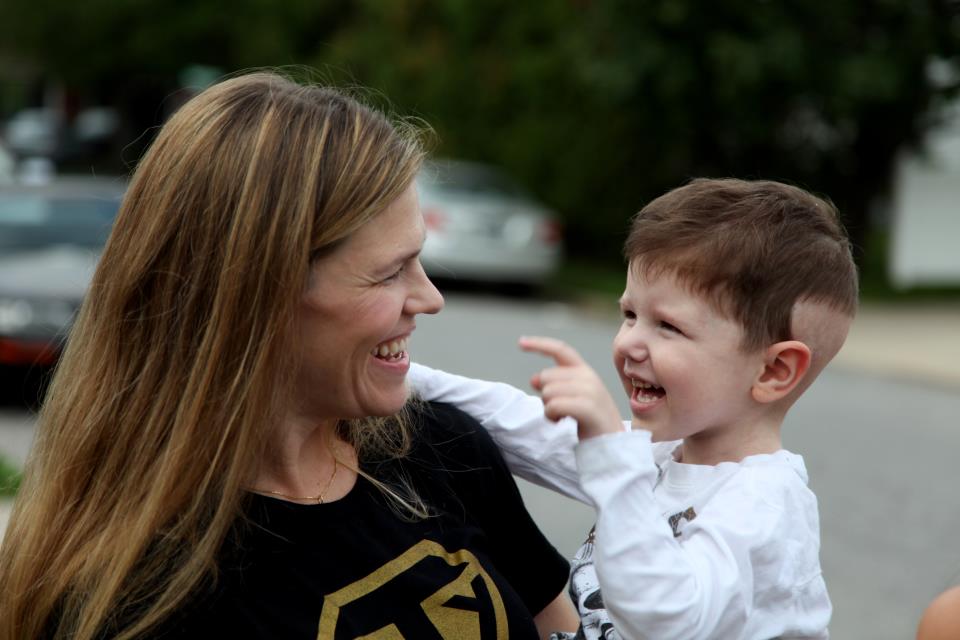 Cindy Campbell and her son, Ty. Ty was a brain cancer warrior who passed away last October shortly after his fifth birthday.
Cindy and Lou Campbell founded the Ty Louis Campbell (TLC) Foundation in memory of their son who passed away from brain cancer just after his fifth birthday. Today is Ty's sixth birthday, and the St. Baldrick's Foundation and the TLC Foundation are proud to announce that we are partnering in the fight to cure childhood cancer. Cindy explains why:
Fall in New York is so incredibly perfect.  The trees are enchanting, the crisp breeze fills my lungs with purity and the sun continues to warm my face.  Days like this prove to me that Ty is all around.  Every falling leaf is a poetic reminder of our love and loss.
Ty was born on a beautiful fall day. He died on a beautiful fall afternoon, too.
This weather has always been my absolute favorite, but of course now it leaves me ambushed with the sad, gut-wrenching memories of one year ago.  Thankfully, some of those memories of Ty's last days are incredibly beautiful and they keep me putting one foot in front of the other.  Whenever I recall Ty's unbreakable "smile of the day," I continue to be awestruck and inspired.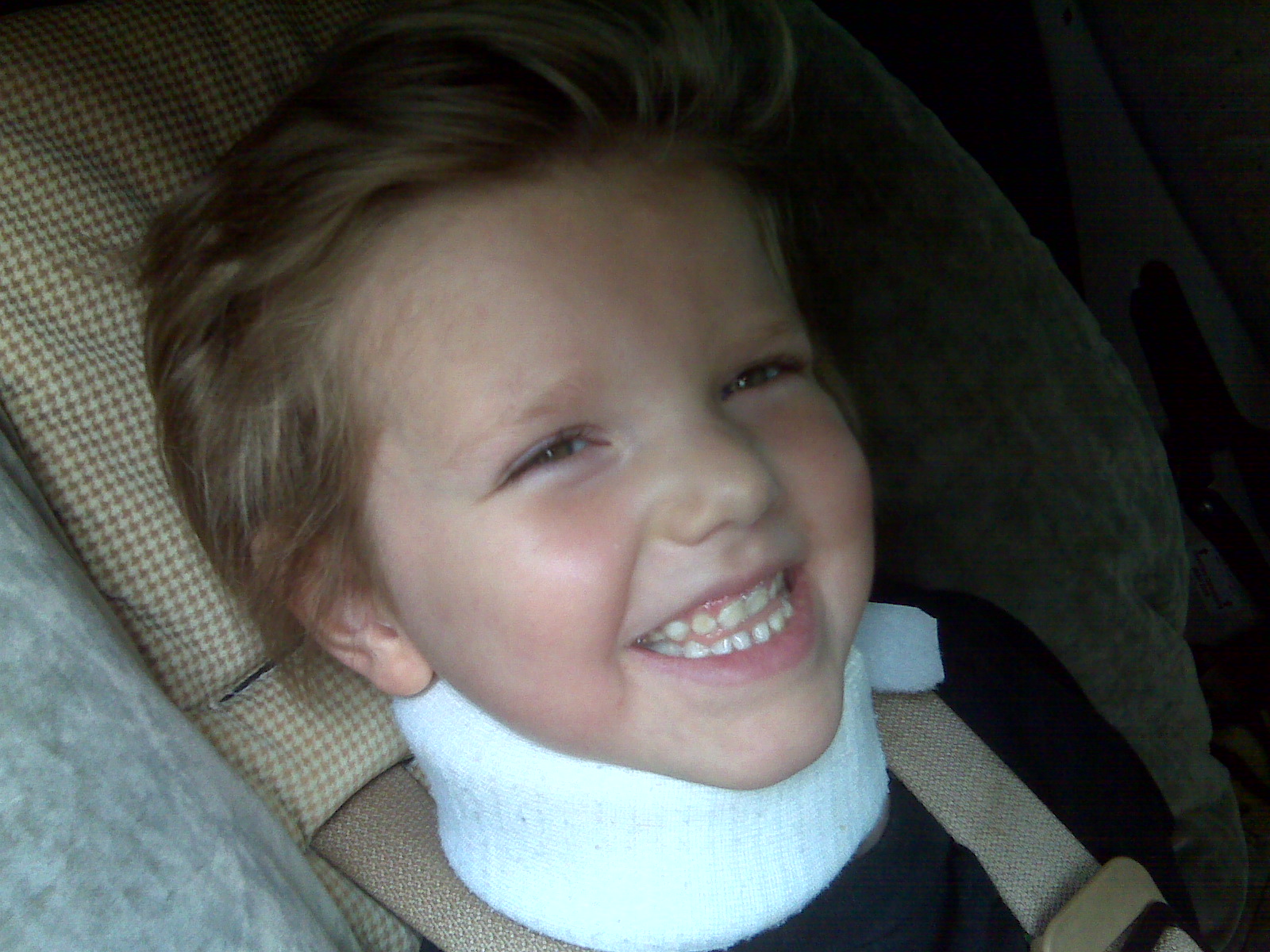 Ty's unbreakable "smile of the day."
When Ty first got diagnosed with cancer, he was 2 years, 10 months old.  We adopted phrases around "fighting" and nicknamed him "the little fighter."  This name still rings true to Ty.  He continues to inspire others to fight on, just as he did.
Back then we dreamed of triumph against the evil monster that grew inside him for no good reason at all.  We thought we would win.
Today, my husband and I still dream of triumph.  A very unfair and different kind of triumph, but nonetheless, we still dream big.  We want to do something to help change this.  But we can't do it alone.  And we aren't.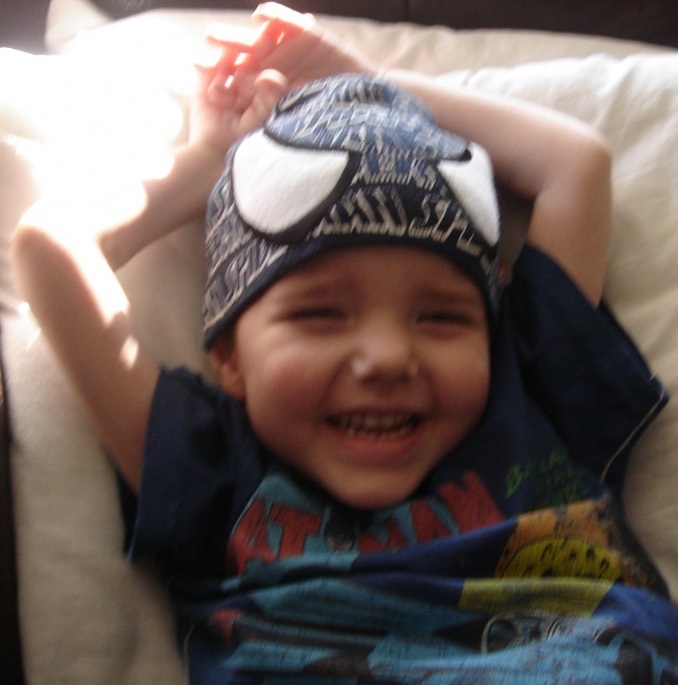 Ty during treatment for brain cancer.
Today is Ty's sixth birthday. He won't blow out the candles on his birthday cake. He won't open the presents we carefully wrapped for him. But today, we are honoring Ty by keeping the promise we made to him and to all the families who unwillingly share in our suffering.
There are many organizations dedicated to raising awareness for children with cancer, but few with the scope and strength of the St. Baldrick's Foundation. Because we can trust St. Baldrick's scientific review process, we know that we are funding the brightest, most innovative researchers in their fields. We can be sure that we are minimizing our overhead costs and maximizing the amount of every dollar that makes it into the hands of those researchers. We can work together to fund the grants that we believe are most true to the TLC Foundation's mission of supporting research specifically geared toward the treatment of the deadliest childhood cancers, including brain and spinal cord tumors.
Childhood cancer is probably one of the saddest things that exist in this world, but I have so much hope for what is on the horizon.  It hurts so much that these potential breakthroughs in immunotherapies, genomics, and targeted delivery of chemotherapy and radiation weren't available yet to save Ty.  Most aren't available now, and may not be for years and years.  And it hurts to think that today alone, there are seven families in the United States who are kissing their children goodbye forever today — if only they could have access to these treatments!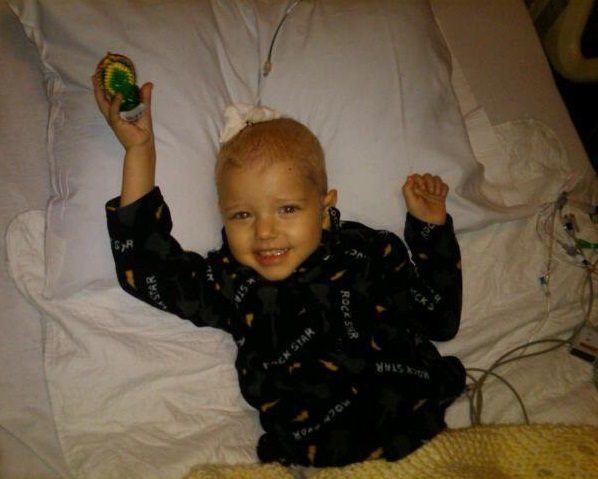 Ty during treatment. "He continues to inspire others to fight on, just as he did," his mom, Cindy, says.
But I do believe that children like Ty, five and 10 years from now, will have a greater chance at survival because of all the tremendous support the TLC Foundation continues to get, and because of the work of foundations like St. Baldrick's.  And those children will have a greater quality of life during treatment, because what these children endure today is simply unacceptable.
We have a stronger voice and will make a bigger impact if we openly share information and ideas, if we support one another's initiatives, and if we combine resources and knowledge to help each other make the very best decisions when investing.
My hope is that someday — with all we are doing to spread awareness, help families, and fund research — there will no longer be a "childhood cancer community."
I miss you today, Ty, on your birthday. I miss you every day. I wish we could have saved you. I promise not to rest until we save the next Ty Louis Campbell.
Read more about Ty's life and legacy and how the TLC Foundation continues to fight for all children with cancer.
Help St. Baldrick's fund pediatric cancer research and save kids like Ty. Make a donation now.
Donate