The McKenna Claire Foundation is supporting a St. Baldrick's research grant to help kids with brain tumors. Kristine, whose daughter McKenna died of a brain tumor, explains why. See all the 2014 Summer Grants.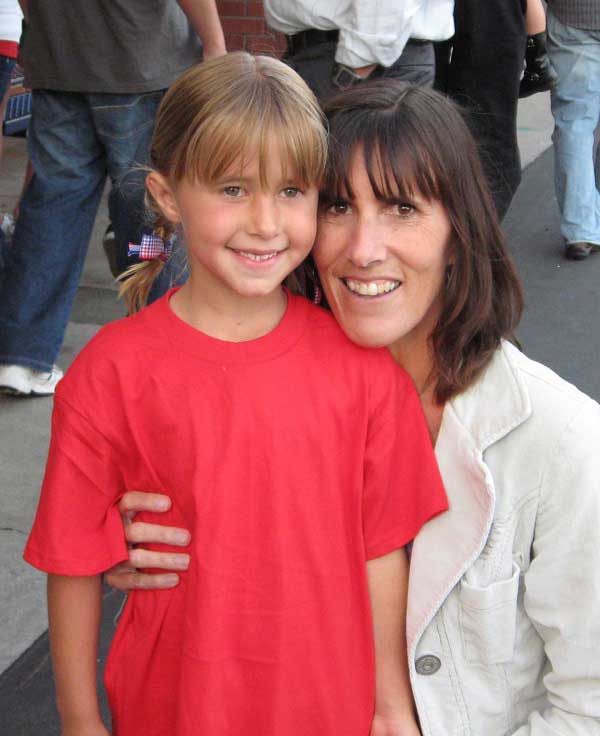 Kristine with her daughter McKenna. McKenna was diagnosed with a brain tumor in January 2011 and died six months later.
In January 2011, our daughter
McKenna
was diagnosed with an extremely rare and aggressive form of brain cancer called
diffuse intrinsic pontine glioma
, or DIPG.
Upon diagnosis, we were told that there was no hope for her survival and that the average life expectancy was 9-18 months. Because it is so rare, there had been little research done on this disease in the past 50 years, with virtually no change in treatment protocols or life expectancy.
For that reason, when we lost McKenna just six short months after diagnosis, we decided to do two things.
The first was to donate her tumor to Monje Lab at Stanford University, where a cell line was developed for use by researchers around the world. The second was to start a foundation in her name with the specific purpose of supporting progress in the field of pediatric brain cancer research.
The McKenna Claire Foundation works hard within our community to raise awareness and funds for pediatric brain cancer, the most lethal of pediatric cancers. We have been fortunate to work with corporate partners such as Chevron, whose patrons have raised over $600,000 by purchasing McKenna's butterflies in their corporate owned and operated store fronts. (Look for them in Southern California and Hawaii July 21 through August 5.)
We also work on a grassroots level with a growing community of activated kids who hold lemonade stands during our "Stand Up and Shine" event celebrating
McKenna's birthday
in August. Our "Party with a Purpose" in May and our "Play It Forward" golf tournament in October have become crowd favorites.
But there is only one reason that we do any of this: to prevent another child and family from suffering the devastation inflicted by this disease.
When we first entered the world of pediatric cancer nonprofits, we were overwhelmed by the sheer number of small foundations working to raise the money needed for research. Many, like ours, are founded in honor of children lost to the disease and have close associations within the communities where the child lived or was treated.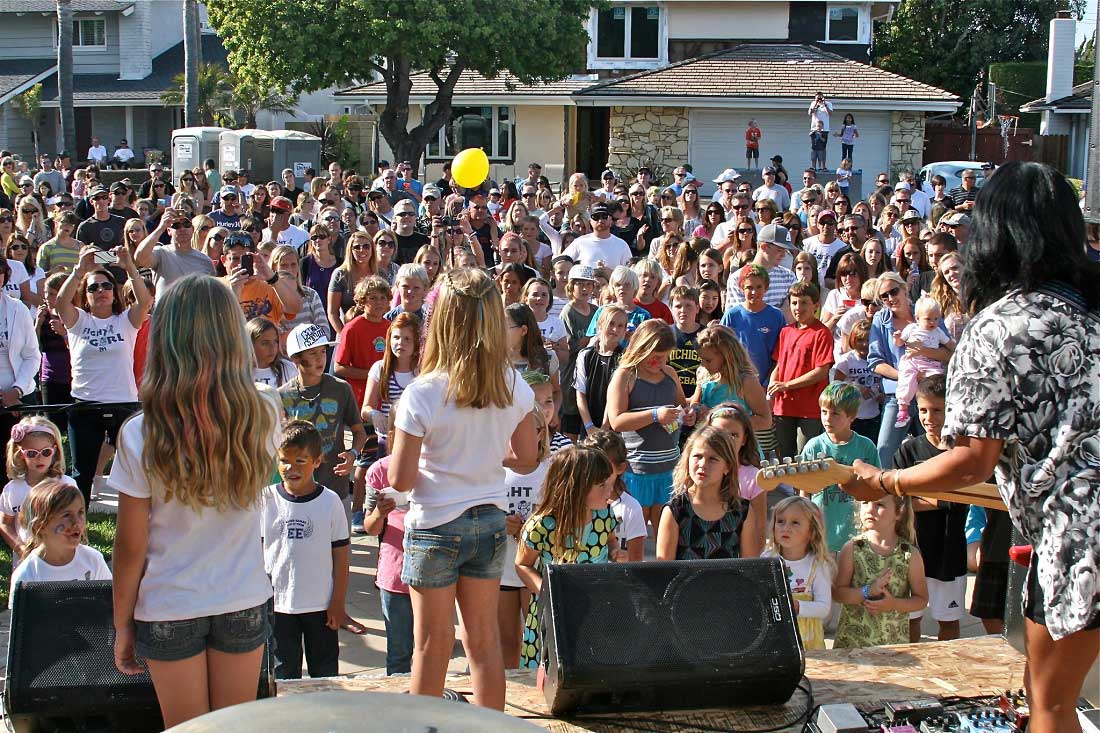 McKenna, center, on stage at the first Party with a Purpose in 2011.
Because the ties to these foundations are often very emotional, and because children's cancers are so diverse and each is treated so specifically, we found that there wasn't an "umbrella" foundation like those you find for adult cancer research.
That is, until we found St. Baldrick's.
Last year, St. Baldrick's and McKenna Claire Foundation teamed up for the first time as partners in funding childhood cancer research. For obvious reasons, McKenna Claire Foundation's primary focus is DIPG research, but we know that advances made in other pediatric brain cancers may well benefit those children suffering from DIPG. Because we are a small foundation, we do not have the resources afforded to a larger institution like St. Baldrick's. It made all the sense in the world to us to join forces and be able to participate in grants that have been reviewed by leading doctors and scientists.
Working together, St. Baldrick's and foundations like McKenna Claire can provide more funding, more quickly to doctors who are working to give our children hope.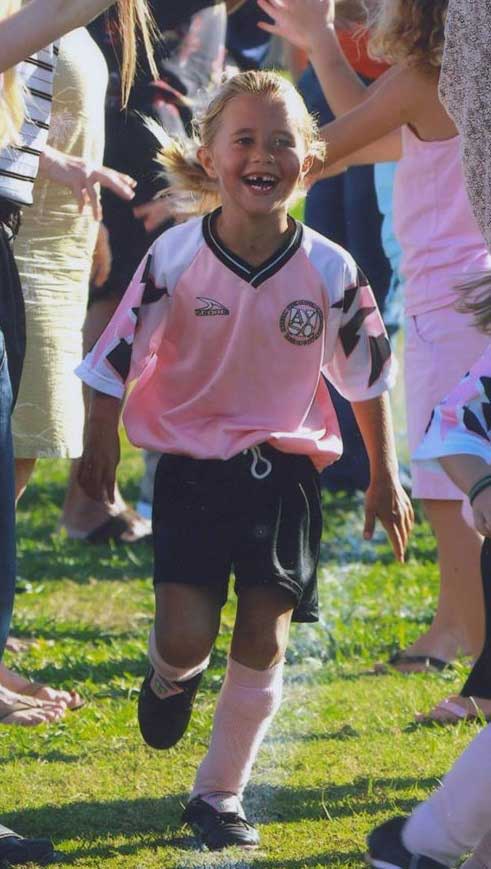 "McKenna was a spunky, smart, courageous little girl who stole the hearts of all who met her," says Kristine.
In our second year partnering with St. Baldrick's, we will be contributing to the research being done by
Dr. Emily Moses at the University of Virginia
, exploring salinomycin as a novel therapeutic agent for glioma stem cells.
One of the reasons that DIPG is always fatal is that, as of today, there is no way to eradicate the tumor completely because of the way it is intertwined within the brain stem. We felt the study by Dr. Moses was complimentary to the work that we are supporting in the area of DIPG, as the hope is that the salinomycin will selectively target post-therapy residual glioma cells.
McKenna was a spunky, smart, courageous little girl who stole the hearts of all who met her. We honor her now in the only way we know how — by continuing the fight through the foundation that bears her name.
We are grateful to St. Baldrick's for welcoming a partnership that celebrates our daughter and our very personal mission, while working together to achieve the goal we all wish for so badly: cures for our children.
Together we are better, and together we will continue our work to give children hope for long and healthy futures.
Join us in the fight to cure childhood cancer. Donate to research or get involved.
Fund Research
Get Involved
Read more on the St. Baldrick's blog: