When Kristine's daughter McKenna was diagnosed with a rare pediatric brain tumor that no child has ever survived, she learned there was no known cure because of a lack of funding for research. You can help — get involved.
McKenna was diagnosed with DIPG, a deadly brain tumor, when she was 7.
In January 2011, our healthy, active, intelligent 7-year-old daughter, McKenna, came down with what we thought to be a stomach virus. After a week of doctor visits, seeing her left eye begin to stray and her mouth begin to droop, we insisted on having a CT scan.
Childhood cancer was never even a consideration in our minds before that scan, but less than 24 hours and one MRI later, we found ourselves surrounded by doctors at the nurses' station in the PICU waiting to hear the diagnosis.
It was in the midst of that chaos that we were told our daughter had diffuse intrinsic pontine glioma, or DIPG, an extremely rare pediatric brain tumor that typically strikes between the ages of 5 and 7, infiltrates the brain stem, and has a 0% survival rate.
Doctors explained that we could expect to have 9-18 months with McKenna and to take her home and make the most of our time.
I immediately went in to "mama bear mode," doing everything I could to protect my daughter from the reality of what was happening to her. Meanwhile, my husband and some amazing friends went to work searching out the most respected DIPG specialists around the world.
What we found crushed us.
Though astronaut Neil Armstrong lost his young daughter, Karen, to DIPG in 1962, protocols for treatment and life expectancy had not changed since that time. Radiation could potentially reduce symptoms for a few months, but no treatment or clinical trial had proven to have any significant effect on life expectancy for these children.
We discovered that since this disease, like most childhood cancers, was considered "rare," there was little or no government funding to pay for the research needed to find answers.
If you are a parent, I am sure you can imagine the pain of hearing that not only is there no cure available for your child's illness, but there is absolutely no hope that she will survive long enough to find one.
Now imagine the guilt you experience when you look into her expectant face as she waits to hear you tell her everything will be OK.
Our promise to her, at that point, was that we would do everything within our power to make her "feel" better during her illness, all the while hoping that there would be some miracle discovery that could give us more time — time in which a real cure might be found.
Those hopes were dashed when we lost our precious girl on July 21st, 2011 — two weeks shy of her eighth birthday and exactly six months from her diagnosis.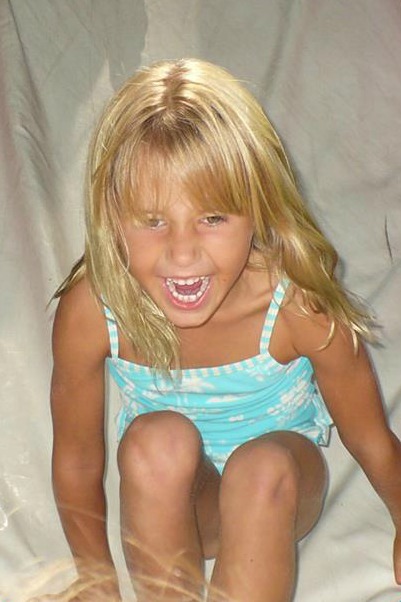 Doctors told McKenna's parents her childhood cancer had a 0% survival rate.
We will forever be grateful to our good friend and McKenna's "second mom," who had pre-arranged to donate McKenna's tumor to the Monje Lab at Stanford University, should we choose to do so. It was something that I could not bear to consider before her death, as I felt I had to concentrate on her life while she was with us. However, knowing that scarcity of tumor tissue was one of the reasons for lack progress in the study of DIPG, both my husband and I agreed to the donation.
A cell line has since been developed from McKenna's tumor that is now available for study to researchers around the world. It was our way of honoring McKenna's courageous battle by doing everything we could to fight this evil monster of a disease.
Because of this, and the donations made by other selfless families, we are seeing incredible breakthroughs in the understanding of this disease for the first time ever.
Unfortunately, lack of tumor tissue was not the only impediment to progress in treating DIPG. An extremely rare tumor affecting approximately 300 children a year, DIPG receives a miniscule slice of the 4% of research funding allocated for all pediatric cancers by the National Cancer Institute.
In today's political climate, even that small amount of funding is now seeing significant cuts, resulting in even less money appropriated to our children. And pharmaceutical companies are, for the most part, uninterested in developing drugs for these cancers as there is little financial incentive to do so.
We have researchers who have devoted their lives to the study of this disease, but there is no money to pay for the research.
So where does this leave us?
Our children need answers now. Knowing this, and having been parents whose ability to rise and face each day depended on the hope of advancements, we — along with our family and friends — established the McKenna Claire Foundation to raise money for pediatric brain cancer research.
In this unjust world, research is becoming more and more dependent on foundations like St. Baldrick's and McKenna Claire to make up the funding gap, or provide funding directly, for research into the hundreds of pediatric cancers currently claiming the lives of our children.
The time is now. Let's take childhood back from cancer. Fund kids' cancer research today.
Donate
Read more about DIPG on the St. Baldrick's blog: