It's a safe bet that when a group of prominent cancer researchers get together to share news about progress, researchers supported by St. Baldrick's donors will be among them. This was true of the June 2018 annual meeting of the American Society of Clinical Oncology (ASCO), the largest gathering of cancer professionals in the world. This year, St. Baldrick's was a prominent part of this significant event. Read on to learn more …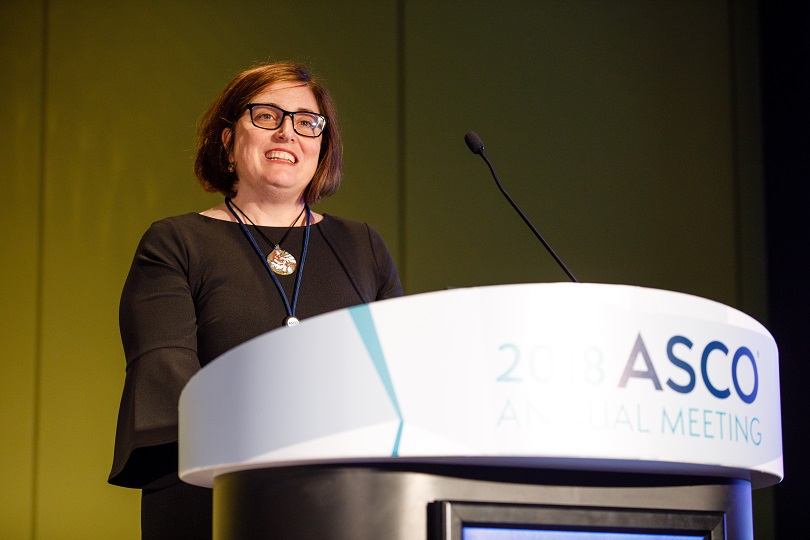 St. Baldrick's Senior Director of Advocacy and Government Relations, Danielle Leach, speaks during the presentation of the Partners in Progress Award at the ASCO conference. Photo by © ASCO/Matt Herp 2018
An ASCO meeting is like a city within a city, with more than 32,000 professionals attending, from patient advocates to academic researchers to biotech movers and shakers.  Each year, the news announced at this meeting has far-reaching implications for the future of research, outcomes for patients, and even stock prices of companies involved in new advances.
While cancer strikes far more adults than children, pediatric cancer research has a distinct presence and a recognized importance at this meeting. Many pediatric oncology researchers supported by St. Baldrick's joined their colleagues for the June meeting in Chicago, including 15 speakers at 13 sessions – including one keynote address – who presented results of studies on novel treatments, reduction of toxicities, survivorship issues and more.
In other exciting news, Bayer partnered with St. Baldrick's at ASCO to promote childhood cancer research.
First, ASCO attendees were invited to tie a ribbon to the company's Tribute Air Fountain in honor of loved ones affected by cancer. For each ribbon, Bayer made a donation to the St. Baldrick's Foundation. Featuring beautiful images of St. Baldrick's Ambassadors, the exhibit also shined a light on childhood cancer and raised awareness within this unique gathering of the brightest minds in oncology.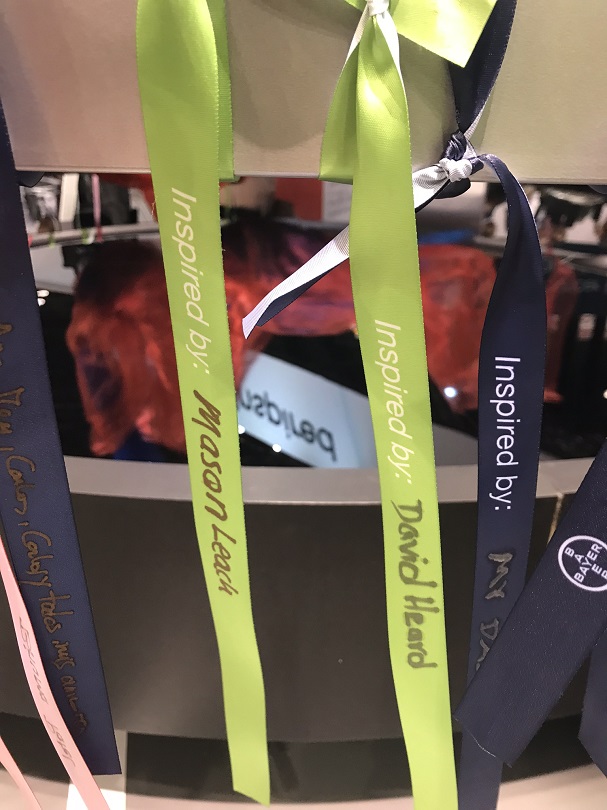 Ribbons honoring loved ones touched by cancer — specifically Mason, the son of St. Baldrick's staff member Danielle Leach, and David, the son of staff member Susan Heard — adorn the Bayer Tribute Air Fountain. Photo by © ASCO/Matt Herp 2018
Second, Bayer's annual Advocacy Summit gave St. Baldrick's the opportunity to contribute to important discussions about the future of patient-centered care. Our proposal to integrate the pediatric patient voice (and the voices of their families) into the drug development process was chosen as one of three finalists from almost 30 entries. St. Baldrick's was invited to share what matters most to families during the cancer treatment journey, and why the pediatric and adolescent population can be so complex to treat. We have since learned that Bayer will be awarding a grant to St. Baldrick's for patient advocacy training.
Last and certainly not least, St. Baldrick's Senior Director of Advocacy and Government Relations, Danielle Leach, was awarded ASCO's 2018 Partners in Progress Award.  This award honors an individual whose patient advocacy has impacted public awareness about cancer or resulted in additional support – either legislatively or fiscally – for cancer research, treatment, prevention or care.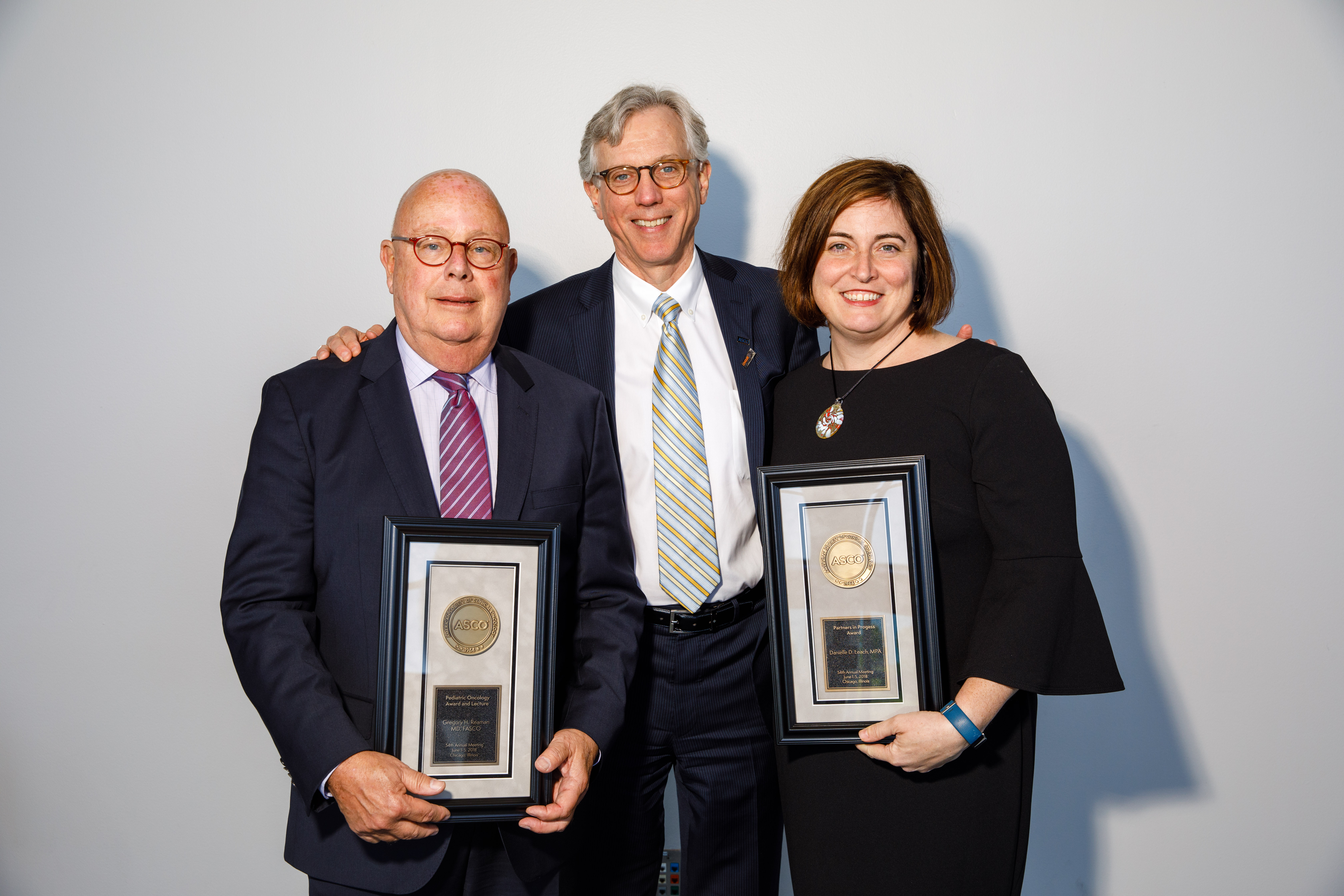 Former ASCO president Dr. Daniel F. Hayes (center) presents Partners in Progress awards to Danielle Leach (right), St. Baldrick's senior director of advocacy and government relations, and Dr. Gregory Reaman (left), professor of pediatrics at George Washington University School of Medicine and Health Sciences during the ASCO conference. Photo by © ASCO/Matt Herp 2018
Danielle has been a key voice in the cancer landscape for decades, inspired by a sister who survived a childhood cancer and a young son who did not. In 2011, she shaved her head as one of the 46 Mommas and three years later, she joined the staff of St. Baldrick's, where she has helped bring more than 1,000 advocates to Capitol Hill to speak up for more support of childhood cancer research. She serves as a member of the Cancer Moonshot Pediatric Cancer Working Group and of the National Cancer Institute's National Council of Research Advocates and Pediatric Solid Tumor Steering Committee, as well as many other leadership positions.
One of her most significant accomplishments has been harnessing the advocacy efforts of many childhood cancer organizations to culminate in a bill that was signed into law earlier this month.  The most comprehensive childhood cancer bill brought to Congress, the Childhood Cancer Survivorship, Treatment, Access, and Research (STAR) Act is a result of a series of policy roundtables that Danielle helped establish through the Alliance for Childhood Cancer, which she co-chairs.
From the participation of our researchers to the fundraising and awareness brought to childhood cancer by Bayer's exhibit, to Bayer's support for patient advocate training, to the award recognizing a key staff member, St. Baldrick's helped keep pediatric cancer in the spotlight at ASCO 2018.
Let's take childhood back from cancer. Fund lifesaving research today.
Donate
Read more on the St. Baldrick's blog: