This month is the official start of spring. Flowers are beginning to bloom, birds are chirping and a shiny new flock of doctors and medical students are about to blossom into childhood cancer researchers. Yep, it's that time – it's time to award $2 million in Summer Fellow and Fellowship grants!
These grants encourage and support the newest generation of doctors and students in pursuing childhood cancer research, so they can move the field forward and save the lives of the next generation of kids.
Our Summer Fellow grants give college and medical students the chance to spend their summer working in childhood cancer research labs under the mentorship of experts in the field.
Through this year's Summer Fellow awards, 24 students will pursue pediatric cancer research projects at 19 institutions this summer – an experience that will not only result in valuable new research, but could also turn them into the next childhood cancer research trailblazers.
St. Baldrick's Fellowship awards  provide two to three years of research funding to young doctors training to become pediatric oncology researchers, and are often the first big grants these scientists receive. This grant provides them with protected time in the lab to learn new skills and gives them a launchpad to even bigger research opportunities and, hopefully, a career as an independent researcher with their own lab.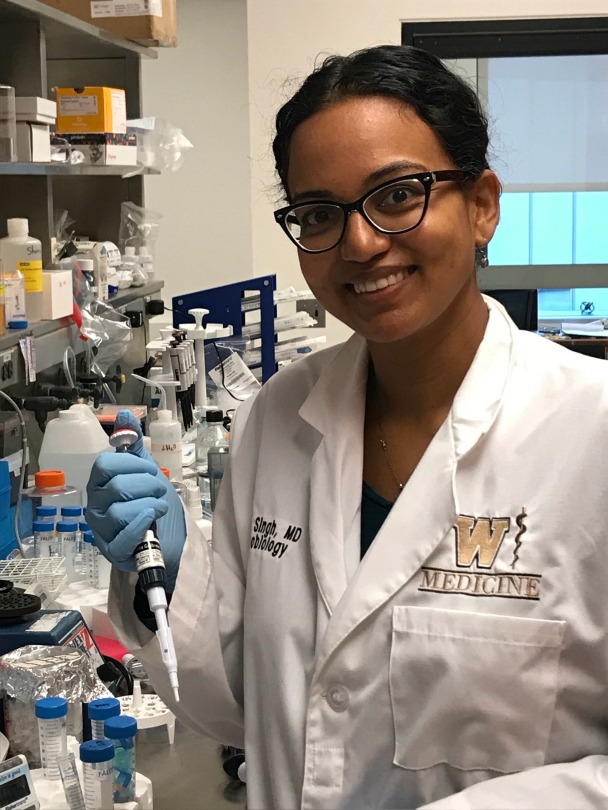 Dr. Sharon Singh currently works as a clinician, researcher and assistant professor with the Western Michigan University Homer Stryker M.D. School of Medicine.
Dr. Sharon Singh, the very first St. Baldrick's Fellow, knows how important that protected time is to a young doctor who is busy treating patients in the clinic, but who wants to pursue research too.
"Doing research as a clinician is exceedingly difficult. You're always pulled for time," she explained. "Because I wasn't trained as a PhD, I had to first learn basic techniques when I started in the lab. St. Baldrick's really gave me that protected time, where I could learn some of the skills I needed to do research. Really, without that protected time – that support from St. Baldrick's – I definitely would not be in research."
Where is Dr. Singh now and how has St. Baldrick's impacted her career? Find out! >
This year, seven new Fellows will be joining the ranks of St. Baldrick's researchers and seven current Fellows are continuing to pursue exciting pediatric cancer research with our support.
But there's more where that came from. The St. Baldrick's Foundation awards funding multiple times a year, with a total of $234 million in childhood cancer research grants funded since the year 2005. (Stay tuned for our next grant announcement in July!)
In a funding environment filled with many barriers and few dollars, our Summer Fellow and Fellow grants help bright young minds break into the field, ensuring a vibrant future for childhood cancer research and giving hope to kids with cancer.
"The projects these young people will complete will drive research forward, while preparing the next generation of childhood cancer researchers to take us over the finish line to new cures for kids," said Becky Weaver, Chief Mission Officer at the St. Baldrick's Foundation.
All of this is possible because of the support, hard work and passion of generous people like you. Together we are taking childhood back from cancer.
Thank you.
Inspired to take childhood back from cancer? Jump right in >
The following institutions are receiving a St. Baldrick's Summer Fellow Grant or St. Baldrick's Fellowship Award:
• Baylor College of Medicine, Houston, Texas
• Brown School at Washington University in St. Louis, St. Louis, Mo.
• Case Western Reserve University – School of Medicine, Cleveland, Ohio
• Children's Hospital Los Angeles, Los Angeles, Calif.
• Children's Hospital of Philadelphia, Philadelphia, Penn.
• Dana-Farber Cancer Institute, Boston, Mass.
• Duke University School of Medicine, Durham, N.C.
• Emory University, Atlanta, Ga.
• Georgetown University, Washington D.C.
• St. Jude Children's Research Hospital, Memphis, Tenn.
• Stanford University, Palo Alto, Calif.
• The Feinstein Institute for Medical Research, Manhasset, N.Y.
• The George Washington University, Washington D.C.
• UC Davis Comprehensive Cancer Center, Davis, Calif.
• UCLA Mattel Children's Hospital, Los Angeles, Calif.
• University of California San Francisco, San Francisco, Calif.
• University of Colorado Anschutz Medical Campus, Aurora, Colo.
• University of Hawaii John A. Burns School of Medicine, Honolulu, Hawaii
• University of Michigan, Ann Arbor, Mich.
• University of Oklahoma Health Sciences Center, Oklahoma City, Okla.
• University Hospitals Rainbow Babies & Children's Hospital, Cleveland, Ohio
• University of Wisconsin-Madison, Madison, Wis.
• UT Southwestern Medical Center, Dallas, Texas
• Virginia Polytechnic Institute and State University, Blacksburg, Va.
• Wayne State University, Detroit, Mich.
• Weill Cornell Medicine, New York, N.Y.
---
Research is the only path to a cure. Donate to St. Baldrick's and help fund the most promising childhood cancer research to get kids the cures they need.
Donate
Join the thousands of men, women, and children rocking the bald and raising money for kids' cancer research. Sign up to be a shavee℠ today.
Be a Shavee
Not ready to shave? No problem! You can start an event, volunteer, or create your own fundraiser — whatever your talents, there's a place for you in the fight against childhood cancer.
Get Involved
Read more on the St. Baldrick's blog: