What happens when you give a researcher funding and freedom to follow the science?
Breakthroughs.
Just ask the Robert J. Arceci Innovation Award winner Dr. Kimberly Stegmaier. For her, that powerful combination of funding and freedom led to the discovery of a promising combination of molecules that could change the lives of kids with Ewing sarcoma, the second most common bone cancer found in children.
Recently, one of Dr. Stegmaier's chemist colleagues developed a distinct compound, called a CDK inhibitor, which stopped the proteins CDK7, CDK12, and CDK13 from functioning as they normally would in the cancer cell, leading to the slowing of the cell's growth. When he screened it against over 1,000 different cancer cell lines and saw the results, he called Dr. Stegmaier.
The data were "beautiful," Dr. Stegmaier said. It was crystal clear – this compound had a profound effect on Ewing sarcoma. So, the chemist built on that work and made a new more specific compound. The results were just as exciting.
"If you measure cell death, these compounds cause Ewing cells in a Petri dish to die," Dr. Stegmaier said.
But why?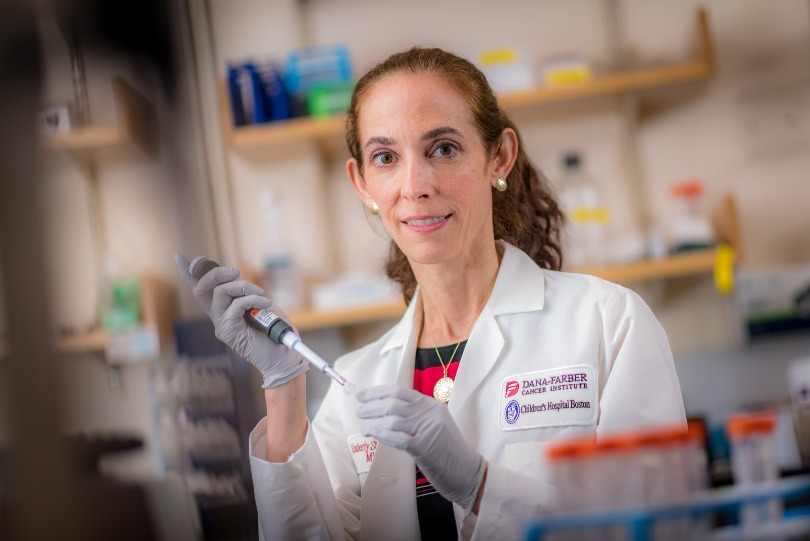 St. Baldrick's researcher Dr. Kimberly Stegmaier in her lab at the Dana Farber Cancer Institute.
The scientists discovered that when this compound targets a certain CDK enzyme, CDK12, it also stops the cancer cell from repairing its damaged DNA. And when combined with a readily available drug that accomplishes a similar thing – called a PARP inhibitor – the results were astounding.
"What we saw was dramatic synergy in killing the cells when we combined those two molecules," she said. "It was really exciting."
Not only did these combined compounds kill the cells and cure tumors in some models of Ewing sarcoma, they killed the cancer without damaging the bone marrow – unlike traditional chemotherapy and inhibitor combinations, which are so toxic that they can be difficult to translate to humans.
"Long term, we'd love to have drugs that much more specifically target just the cancer and spare the normal cells," Dr. Stegmaier said. "That really is our goal –to see a time when our drugs are cleaner and better and more effective at curing everybody."
With these promising results and the quick turnaround, Dr. Stegmaier and her team are well on their way to finding better treatments for kids who don't have time to wait.
And that's thanks to help from the St. Baldrick's Robert J. Arceci Innovation Award, which Dr. Stegmaier received last year.
Unlike traditional grants, which come with restrictions and are specific and constrained in their scope, the three-year, $250,000 grant gives Dr. Stegmaier the resources, latitude and flexibility to simply follow the science wherever it leads. And so far, it's led to some exciting discoveries.
"The beauty of the Arceci funding was that we could start the project right away," Dr. Stegmaier said, emphasizing that with the restrictions of a traditional grant, it could take years before researchers can start to work on a project. "This grant gives you the flexibility to engage immediately in collaborations that are exciting. And for the children whom we treat – to me, two years is an unacceptable time to wait to pursue promising new research avenues."
Let's take childhood back from cancer. Fund lifesaving research today.
Donate
Read more on the St. Baldrick's blog: