Amber donated her birthday to raise money for childhood cancer research. You can, too! Read her 10 super helpful tips below.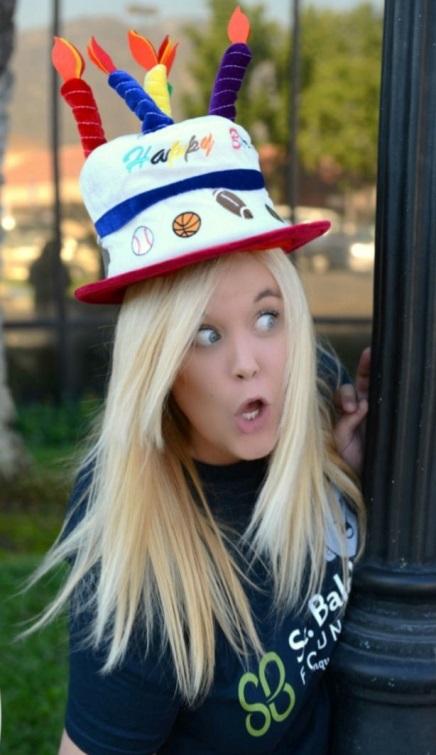 Amber donated her birthday to help raise funds for childhood cancer.
What does it mean to donate your birthday? Glad you asked!
You can donate your birthday by taking the day that would usually be centered on you and turn it into a meaningful celebration to support kids with cancer. Giving up your birthday shows your friends and family that you are passionate about fighting this serious disease!
I was looking for a special way to recognize the many Honored Kids I've come to know in my time here at St. Baldrick's. Each has made a huge impact on my life. So I decided to donate my birthday to the Haven's Gastropub event in Pasadena, California, to help raise important funds for childhood cancer research.
While I started with a fundraising goal of $1,000, it was passed in little more than a day and I ended up raising $5,500! It was amazing to see all of the people in my life come together to support this cause that I care so much about. It truly was the best birthday ever.
So are you ready to donate your birthday but you don't know where to start? Here are my top secret super-duper birthday tips!
1. Tell your story. Be creative!
Why are you donating your birthday? Is it in honor or memory of anyone? Why is this cause important to you? What difference will each donation make? The people want to know! Engage your supporters by sharing stories of those who have inspired you and accounts of your personal milestones.
2. Set a challenging but attainable goal.
Challenge yourself. Your donors want to see you succeed! If you are getting close to your goal, then raise it so people continue to donate.
3. Seize the day!
Use your significant date to your advantage. For example, since I was turning 23 years old, I asked friends and family to donate $23 to my birthday campaign. The response was amazing! In fact, much to my surprise, many supporters gave much more!
4. Customization is key.
Personalize your page and all of the emails you send by adding your own message, photos, and video. Your potential donors will be interested in the cause, but they are primarily interested in you. Make sure you tell them why you are getting involved, who you are honoring and what your connection to the cause is.
5. Shout it from the mountain tops!
Get the word out about what you are doing. After you've sent out your initial batch of emails, start fundraising and spreading the word through Facebook, Twitter, Google+, Instagram, Pinterest, LinkedIn, or any other way you can think of. Provide a direct link to your fundraising page and add the URL for your webpage to your email signature.
6. Ask, ask, and ask again.
Fact: Other people are more likely to donate to your page when they see that someone has already contributed. Start by making a donation to your own fundraising page, it shows you are committed to helping the cause! Then contact every single person you know. All of them. People give because they are asked – if you don't ask, the answer will always be no. I bet it might surprise you who gives! And remember, don't feel bad about asking twice. Friends and family members may miss an email, so reach out again to them or give them a phone call.
7. Updates, please!
Keep everyone posted on how close you are to reaching your fundraising goal. Updates are a great way to keep everyone in the know and can even act as a reminder to some supporters who haven't donated yet. Letting supporters know what you have accomplished so far will excite them and encourage them to help get you to your goal.
8. Celebrate good times!
Have fun, be silly, and enjoy the celebration. This is all based on your birthday, so make your campaign a happy and exciting occasion! The more you enjoy it, the more everyone else will, too.
9. Get by with a little help from your friends.
Enlist the help of some great friends and family to help promote your efforts. Ask them to donate, share, and spread the word!
10. Thank you ever so much!
You can never thank your supporters enough. Do it right after they give, after your birthday is over, and during the moments in between. Do it in multiple ways — by email, video, hand-written card, social media, or even by owl post.
Ready to make your upcoming birthday the best day ever?
Donate Your Birthday
Find out more about how fundraising is making a difference: