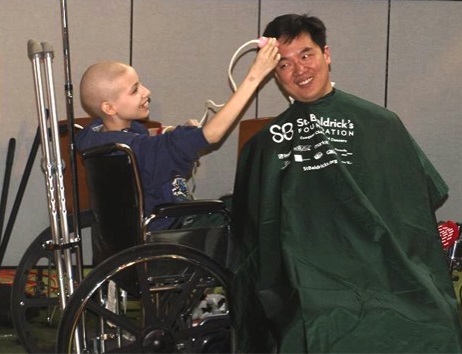 St. Baldrick's Honored Kid Kelly shaves Dr. Huang's head at the Rainbow Babies and Children's Hospital head-shaving event.
When Dr. Alex Huang's division chief invited him to get involved with St. Baldrick's back in 2009, he was quick to jump on board.
"To me, it was a no-brainer," he said.
Like any pediatric cancer researcher, Dr. Huang, a St. Baldrick's Scholar, knows that funding for kids' cancer research is hard to come by. And as a physician at UH Rainbow Babies and Children's Hospital in Cleveland, he sees firsthand the effect that childhood cancer has on kids and their families.
Despite having devoted his career to helping kids with cancer, he wanted to do something more.
So he became a shavee℠.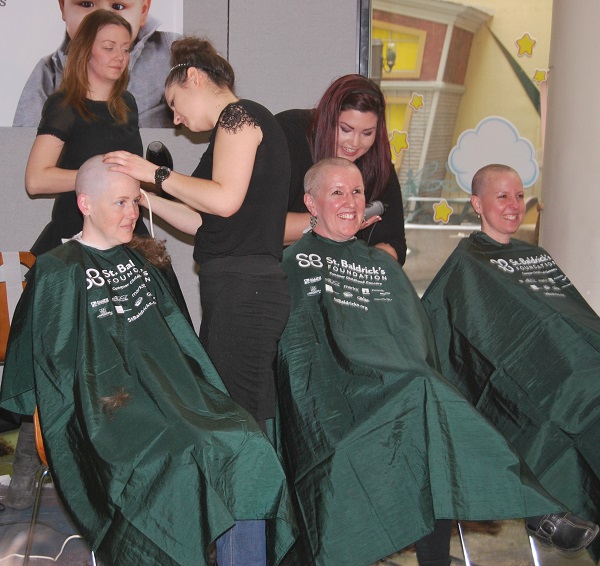 Three pediatric oncology nurses shave their heads in honor of their patients.
Last month, Dr. Huang shaved his head for the sixth year in a row at the
Rainbow Hospital event
, flanked by several other hospital staff members.
"We want to show the children and adolescents and their families that we care," Dr. Huang said. "This is not just a job for us. It's a passion."
It's a passion he shares with many of his colleagues, especially those who work closely with the patients Dr. Huang is trying to cure. This year, five pediatric oncology nurses braved the shave in honor of their patients who brave the fight against kids' cancer.
Now in its second year, the St. Baldrick's event has been embraced by the entire hospital. Current and former childhood cancer patients, families, doctors, nurses, administrative and support staff, lab technicians, professors and students at the affiliated Case Western Reserve University School of Medicine, and the school's dean all came to show their support.
The awareness is growing within the community, too. This year, Cleveland Browns quarterback Brian Hoyer came to shave his head.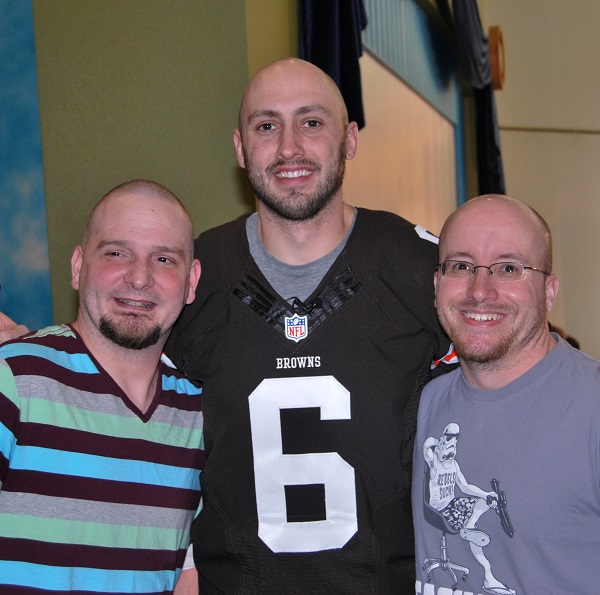 Cleveland Browns quarterback Brian Hoyer with two fellow shavees at the St. Baldrick's event.
One of the most heartwarming parts of the day, Dr. Huang said, was seeing some of his former patients — now with full heads of hair — voluntarily go under the buzzer. "It was like they were telling the kids that are going through it now that they've been there before, and they don't mind going through the experience [of being bald] again just to make sure the patients know they have their support."
Dr. Huang knows how important that support can be.
The day after he shaved his head, he went to see one of his patients, a 3-year-old girl with leukemia. She's very shy, he explained, and typically tries to hide when he talks to her. But this time, something out of the ordinary happened.
"I showed up in her room to say hi to her, and for the first time, she actually gave me a kiss on my cheek," Dr. Huang said. "And I'm convinced it was because now, all of a sudden, I look like her."
Show children with cancer they're not alone in the fight. Be a shavee.
Be a Shavee
Read more on the St. Baldrick's blog: