Peggy is raising money for children's cancer research in honor of her niece Lilli. Donate through this weekend and your gift will be matched by an anonymous corporate sponsor!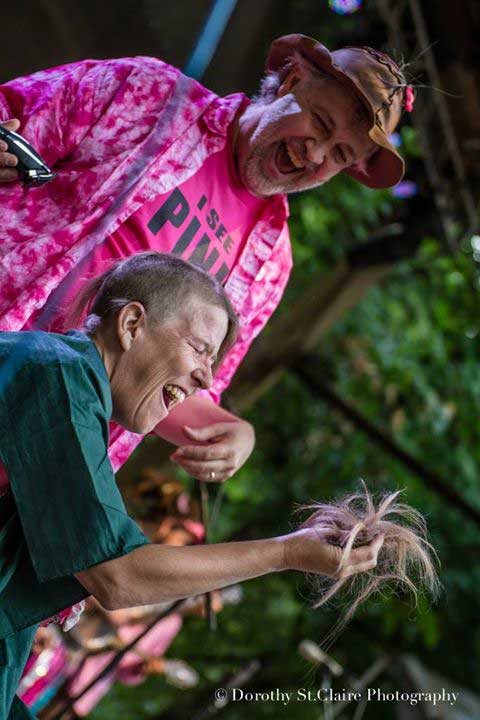 Peggy shaved her head for St. Baldrick's onstage at a music festival. Photo by Dorothy St. Claire Photography.
When
Peggy Davis
sat down to shave her head for the second time, she was nervous. "I wasn't nervous about being bald because I already knew what that was like," she said. "But I was nervous about being in front of 5,000 people doing it."
She was onstage at Northwest String Summit, an annual bluegrass festival in North Plains, Oregon. It was the last day of the festival during the headlining band's set break, and all eyes were on her.
And as her eyes scanned the crowd adorned in pink, she remembered her niece Lilli.
Lilli was diagnosed with acute lymphoblastic leukemia, or ALL, when she was 8 months old. Although ALL normally carries a good prognosis, when it strikes children under 1 year old, the disease is much more aggressive and difficult to treat.
But despite spending the better part of four years in treatment, Lilli never stopped being a kid. She danced. She sang. She played. She wore costumes to the hospital.
"My sister has a video of her singing out the window, 'I love this day!'" Peggy said. "And she did. She loved this day. She lived it for everything it was worth."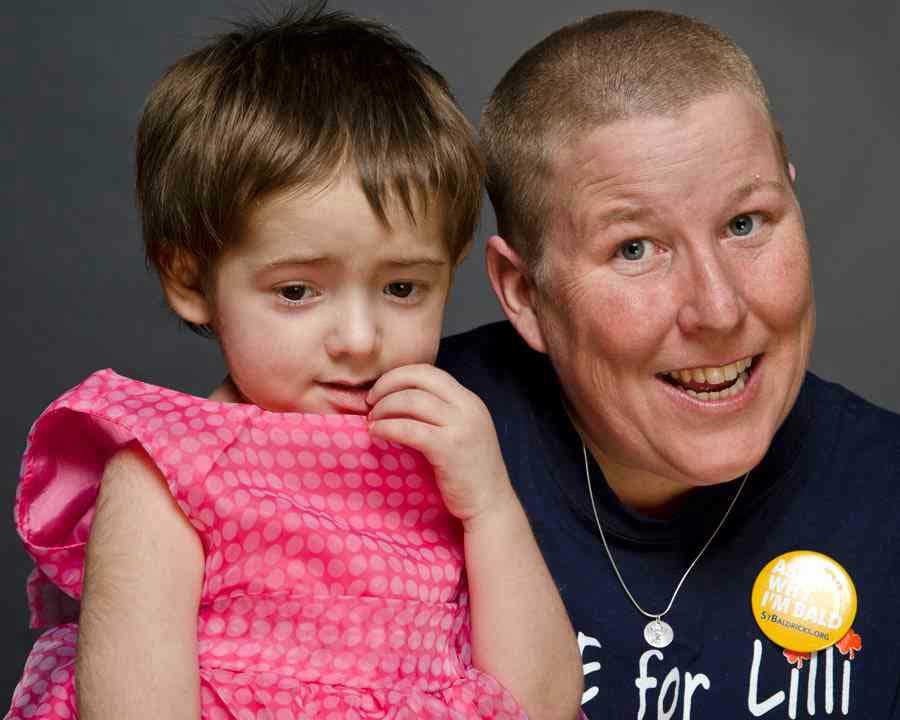 Lilli and Peggy when Peggy first shaved for St. Baldrick's in 2011.
Lilli loved bluegrass music, especially Yonder Mountain String Band, the festival's headliners every year. And with the exception of the String Summit that took place the month after she was born, Lilli never missed one.
"That was her home," Peggy said. "She loved String Summit."
Lilli's mom, Kristin, agrees. "She loved music and she loved to dance and loved to sing. And she got to do all those things three or four days in a row. So she was just in her own little paradise," Kristin said.
The fun was compounded for Lilli as she quickly became the center of attention once the band learned that one of their youngest fans was in the fight for her life. They brought her on stage to dance during their sets and shared her story with the audience. They even wrote a song for her, called "Lilli Has a Daydream."
"She just ate it up, too," Kristin said. "She loved being on stage, loved being the center of attention. String Summit was always such a great time for her."
When Lilli passed away six days shy of her fourth birthday, the bluegrass community was stunned and heartbroken. String Summit was just two weeks away and it wouldn't be the same without her, the little girl that the festival had come to love and celebrate.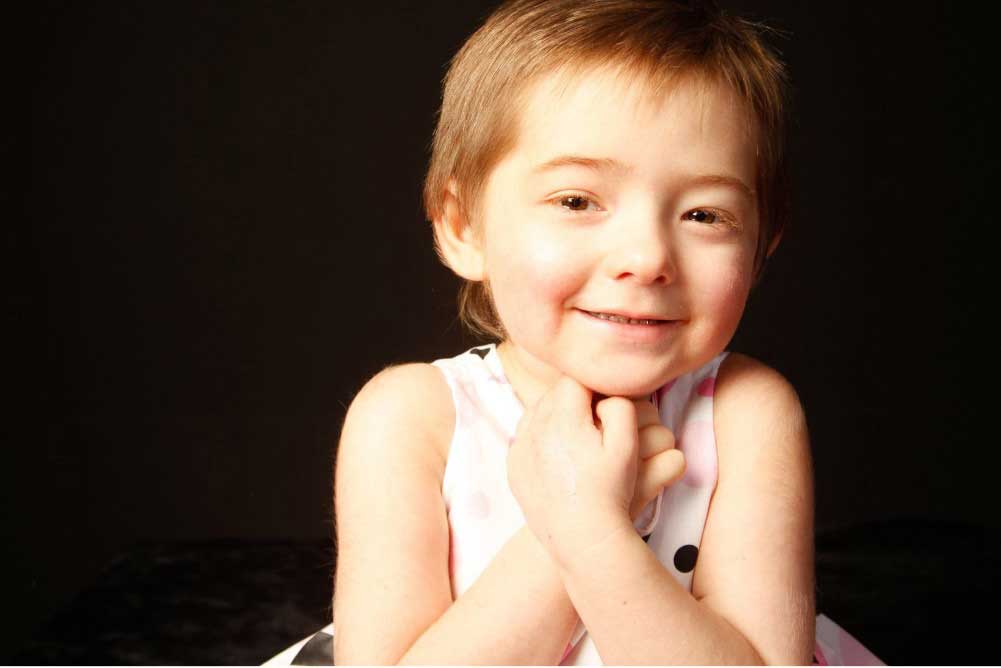 Lilli was diagnosed with infant leukemia at 8 months old.
But that year was no exception. Yonder Mountain String Band encouraged festivalgoers to wear Lilli's favorite color, pink, on Sunday, and fan
Scott Loeber
stepped onstage during their set break to shave his head and raise money for a cause Lilli's family supported.
"As a family who lost their kid to cancer, we're so happy to support St. Baldrick's," Kristin said. "I've always said it wasn't a tragedy that Lilli got cancer. What was really a tragedy was that there weren't studies that were available when she got terminally ill because her cancer was so rare and she was so small that she just didn't qualify for anything. So what St. Baldrick's does is so important to us because you're supporting the basic research, and it's a hole that needs to be filled."
Every year since Lilli passed away, Sunday at String Summit has seen festivalgoers dress in pink and wear tutus, one of Lilli's favorite accessories. And each year, someone shaves onstage for St. Baldrick's.
Peggy's first glimpse at her new look. Photo by Dorothy St. Claire Photography.
This year, Peggy felt it was her turn. It just felt right, she said, to honor her niece at the place she so loved to be.
Peggy, like many of the thousands of people facing her in the crowd that day, was dressed head to toe in pink. But if you looked closely at her left wrist, peeking out from underneath a pink corsage was a blue bracelet bearing the words, "Hope for Lilli."
"Hope for Lilli didn't quit when Lilli passed away. It keeps on going," Peggy said. "We want to bring hope to everybody else now."
Peggy is still raising money for childhood cancer research. Donate on her page through this weekend and your gift will be matched by an anonymous corporate sponsor.
You can bring hope to children with cancer. Get involved.
Get Involved
Read more on the St. Baldrick's blog: