Sammy was diagnosed with a very rare cancer in children when he was 2. Now 4, his tumor is stable and he recently shaved his head for St. Baldrick's. His mom, Jessica, describes their family's journey. Help kids like Sammy — get involved!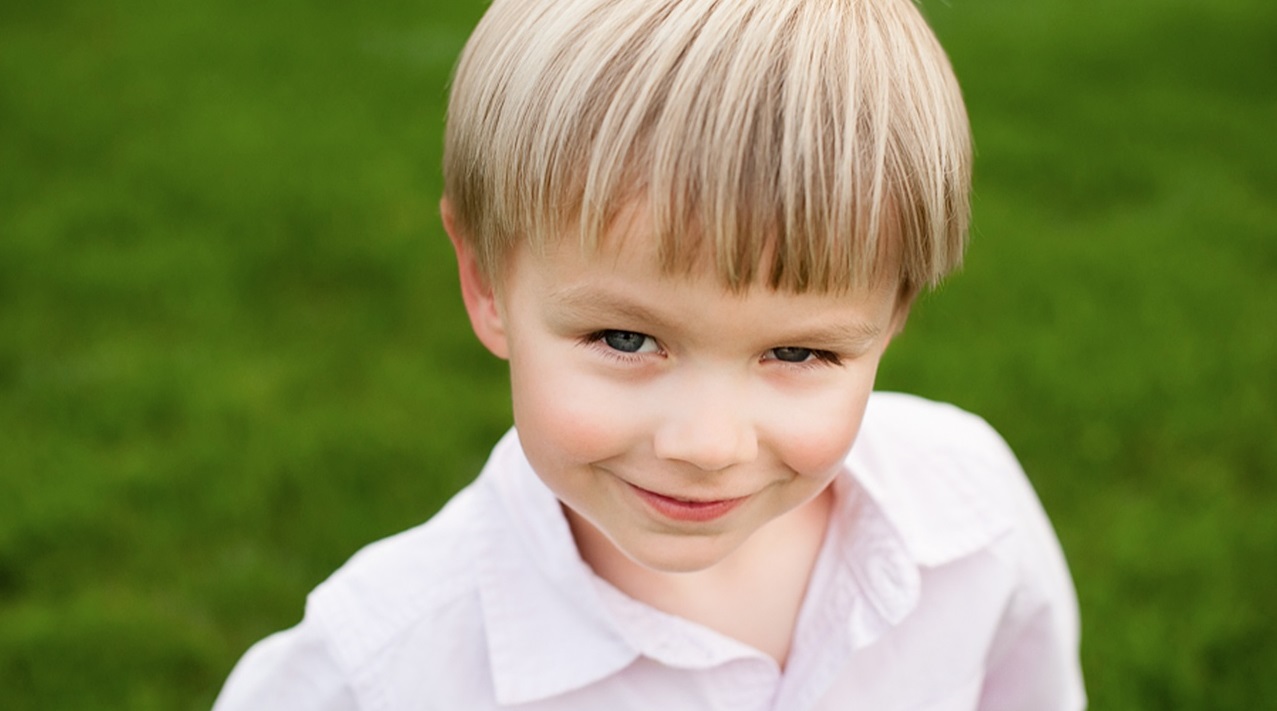 LifeExposed: Photos by Lindsey.
It's been exactly two years. Two years since that first appointment, two years since that first doctor hesitated, two years since our world was rocked.
It was just before Sammy's second birthday when I took him in for an appointment with a pediatric ophthalmologist to check a spot on his eye. I'm sure it was hardly noticeable to anyone else, but I made the appointment, even though I felt I was being a neurotic, overprotective mom.
It was the last appointment of the day on a Friday and we made it just in time. This doctor wasn't sure what the spot was — could be something called melanoma — so he was sending us to see a more specialized ophthalmologist.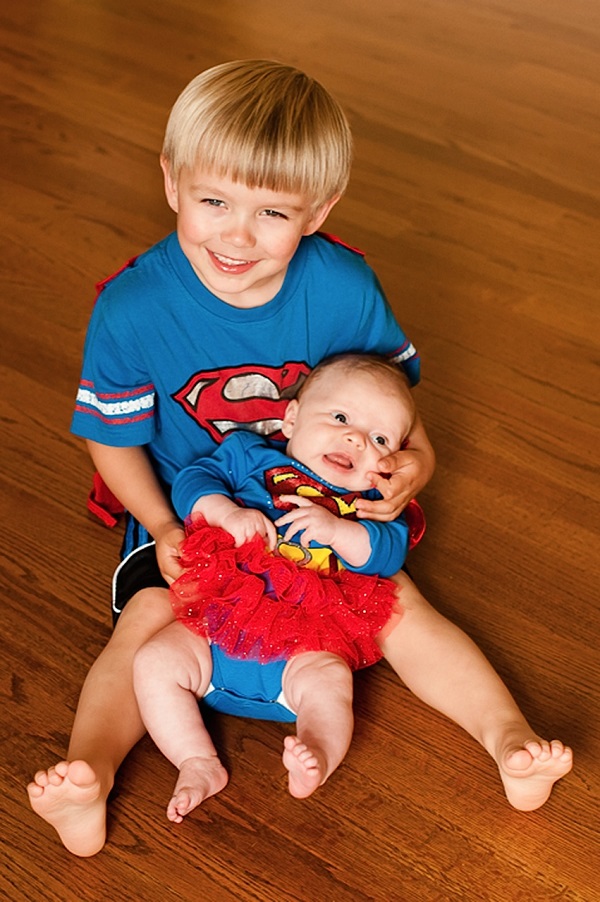 Sammy, now 4, with his baby sister, Livie.
It wasn't until later that night that I looked up this doctor we were scheduled to see, an ocular oncologist. My heart broke. I told
my husband
as we lay in bed that night, "Our son
does not
have cancer." I could hardly say the word.
That began a whirlwind of appointments and tests. The only way to exam his tumor was to place him under anesthesia. EUAs (exams under anesthesia) became a common acronym in our household.
The doctors had never seen a case of iris melanoma in a child as young as Sammy. They couldn't be sure that it was melanoma, nor that it was malignant. By July of that same year, just three months after our first appointment, the tumor had grown enough to justify going in for the biopsy. Like every other parent on Earth, I just wanted to take his place. I dreaded the pain I knew he would feel.
But it was good news: The biopsy came back benign. Our little boy did not have childhood cancer! We breathed a sigh of relief. They would still monitor the tumor, but it was diagnosed as a benign growth. Now we just had to allow the eye to heal from the biopsy, and we would be able to resume life without the fog that had been surrounding us for the past few months.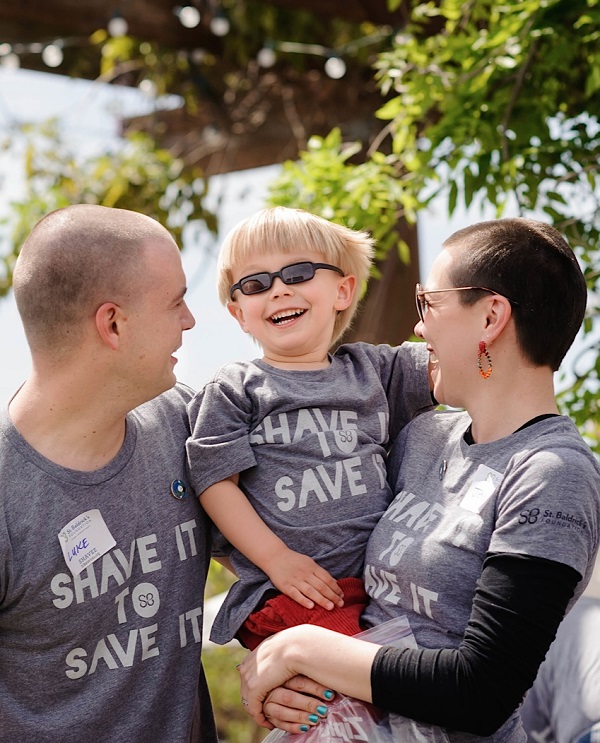 Sammy with his parents last year after they shaved their heads for St. Baldrick's.
On November 5, 2012, we went in for an EUA. This was "normal" for us now. We were old pros and this day wasn't going to be any different.
Except it was. The doctor asked us to follow him into the conference room. Normally he just spoke to us in the waiting room, or hallway, or wherever we happened to be at the time. But this time, he ushered us into a private room and closed the door.
I wasn't prepared. I didn't expect to hear "I'm not happy with what we've found." The tumor had grown. It had seeded a new growth. It was malignant melanoma.
Even as I write this, my heart races and the tears swell as I remember the feeling of hearing those words. After discussing our next steps and options, I went in to hold my baby. He was only 2. He was still asleep, so I rocked him and held him and prayed for him.
I felt helpless. I couldn't fix this for him or make it better. I had to trust in God and his team of doctors. I had to love him through this — that was the best I had to offer.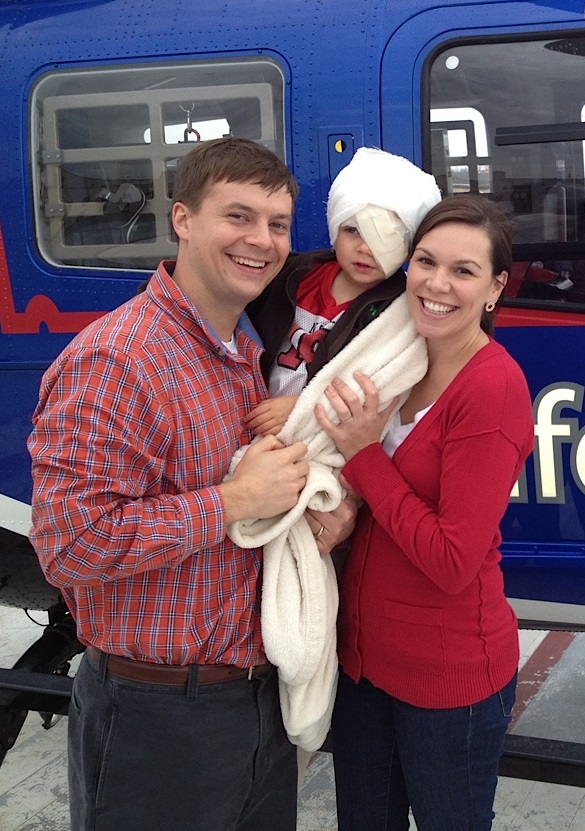 Sammy and his parents.
After a few weeks of more tests, it was determined that surgery to remove the tumors was just too risky. They could miss one, or there could be microscopic growths yet to be visible under a lens. So we decided to proceed with a unique radiation therapy to try to kill the cancer cells in the tumor while saving his vision and his eye.
On December 12, 2012, Sammy was admitted for treatment. They used precise measurements of Sammy's eye to create a plaque that would be sewn over his eye. Within that plaque were 13 radioactive seeds strategically placed above the tumors. These seeds were activated and to be left in place for five days.
An EUA at the end of the week confirmed we were able to keep his plaque stabilized enough during that week that it did not shift and seeds stayed where they needed to.  Now the real waiting game began. It would be months before they expected to see any difference in tumor size.
Finally, in April 2013, the good news came: The tumor was smaller. By the tiniest of measurements, it had reduced in size.
For the last year, Sammy has been constantly monitored for metastasis and new growths with his eye. As he approaches his fourth birthday, he has shown no signs of melanoma outside of his eye and his tumors appear to be stable.
While going through the peaks and valleys that come with a cancer diagnosis, we had family and friends constantly asking how they could help. Sometimes it's really hard to answer that question, so we decided we would get involved with a nonprofit and ask people to support that organization in Sammy's honor.
After doing my research, I found St. Baldrick's. While looking at the St. Baldrick's website one day, Sammy asked about the children he saw in the pictures. I told Sammy how people shave their heads to support kids who are sick, like the ones we met at the hospital. With the genuine compassion that only a child can have, he looked at me and said, "Let's do it, Mama!"
So we started Team Shave It for Sammy. While I wasn't initially going to shave my head, I decided for the right amount of money, I would do anything. So, I put a $10,000 price on my hair. I never expected to raise that much money! However, when the day arrived, our team had raised almost $18,000, and I was going bald for the cause!
My husband
and I, along with other family and friends, shaved our heads. Sammy wasn't interested in getting on stage to shave his, and we didn't push him. But as this year's event approached, Sammy began asking about Shave It for Sammy. He became very frustrated when I told him that we shaved our heads in honor of him because he didn't want us to do it
for
him —
he wanted to do it himself
!
Last weekend was perhaps one of my proudest moments. He sat on stage with his daddy, very patient and very still while his beautiful blonde hair fell to his feet.
He has rocked his new 'do with pride. He will correct you quickly if you refer to his shaved head as a haircut. He didn't cut his hair; he "shaved it. For the other little boys and girls! Because cancer is stinks, right, Mom?!"
My prayer is that this becomes a part of his testimony: a journey that has strengthened him and shaped him as person, but not something that defines him. I pray one day he will be cancer free.
My son is my hero. His bravery, his confidence, his energy, and his spirit have all been magnified by his experiences. He is a kind soul and he makes me proud every day. And yes, Sammy, "cancer is stinks."
Help Shave It for Sammy meet their fundraising goal! Donate on their team page.
Make a difference for kids with cancer like Sammy. Get involved with St. Baldrick's or make a donation to childhood cancer research.
Get Involved
Donate
Read more from parents of children with cancer: