Families
---
Earlier this year, Matt posted the following blog on his website. He was shocked by the response. "The comments and emails came flooding in," Matt said. Read about what it's really like to be a cancer dad, and check out Matt's follow-up post about what he's learned from his fellow cancer dads since then.
Matt holds his daughter, Sally. Sally was diagnosed with leukemia as an infant.
As a veteran childhood cancer parent, I have seen countless fathers rise to the challenge of being cancer dads, whether holding a vomit bucket while their child empties their insides, squeezing into a tiny bed with their child overnight in the hospital, or delivering countless meds through syringes. I have been witness to ordinary dads becoming extraordinary, just as I have seen ordinary moms do the same.
But judging by the articles and comments you see out there, you'd never know that many dads play an active role in their child's cancer fight. From the numerous "Things Only Cancer Moms Know" articles that have nothing mom-specific listed, to the term "momcologist," the overwhelming majority of articles on cancer parents only focus on the mothers.
---
Facts
---
Anyone can get cancer — even babies. Dr. Erin Breese, a St. Baldrick's Fellow studying infant leukemia, explains the signs, symptoms and treatment of babies with cancer, and how research is helping pinpoint better therapies so babies with cancer can grow up to live long, healthy lives.
Can babies get cancer?
Unfortunately, cancer can occur at any age including during infancy. According to recent statistics, roughly 23 of every 100,000 babies are diagnosed with cancer each year.
---
Head-Shaving
---
Peggy is raising money for children's cancer research in honor of her niece Lilli. Donate through this weekend and your gift will be matched by an anonymous corporate sponsor!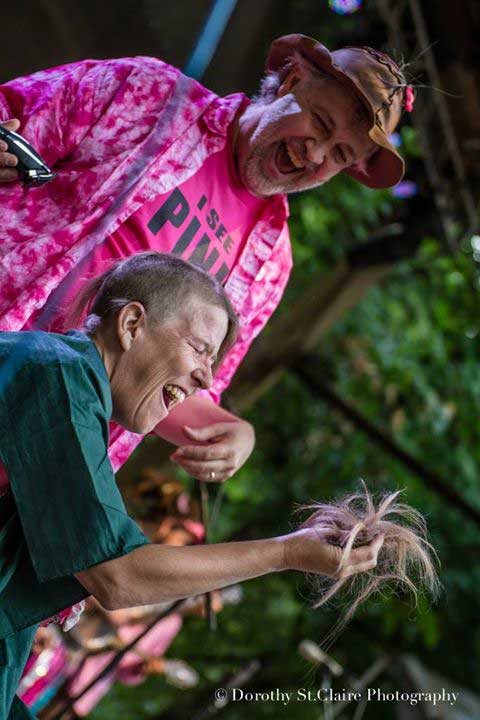 Peggy shaved her head for St. Baldrick's onstage at a music festival. Photo by Dorothy St. Claire Photography.
When
Peggy Davis
sat down to shave her head for the second time, she was nervous. "I wasn't nervous about being bald because I already knew what that was like," she said. "But I was nervous about being in front of 5,000 people doing it."
She was onstage at Northwest String Summit, an annual bluegrass festival in North Plains, Oregon. It was the last day of the festival during the headlining band's set break, and all eyes were on her.
And as her eyes scanned the crowd adorned in pink, she remembered her niece Lilli.
Lilli was diagnosed with acute lymphoblastic leukemia, or ALL, when she was 8 months old. Although ALL normally carries a good prognosis, when it strikes children under 1 year old, the disease is much more aggressive and difficult to treat.
But despite spending the better part of four years in treatment, Lilli never stopped being a kid. She danced. She sang. She played. She wore costumes to the hospital.
---
&nbsp