You don't have to shave your head to raise money for childhood cancer research. You can Do What You Want instead!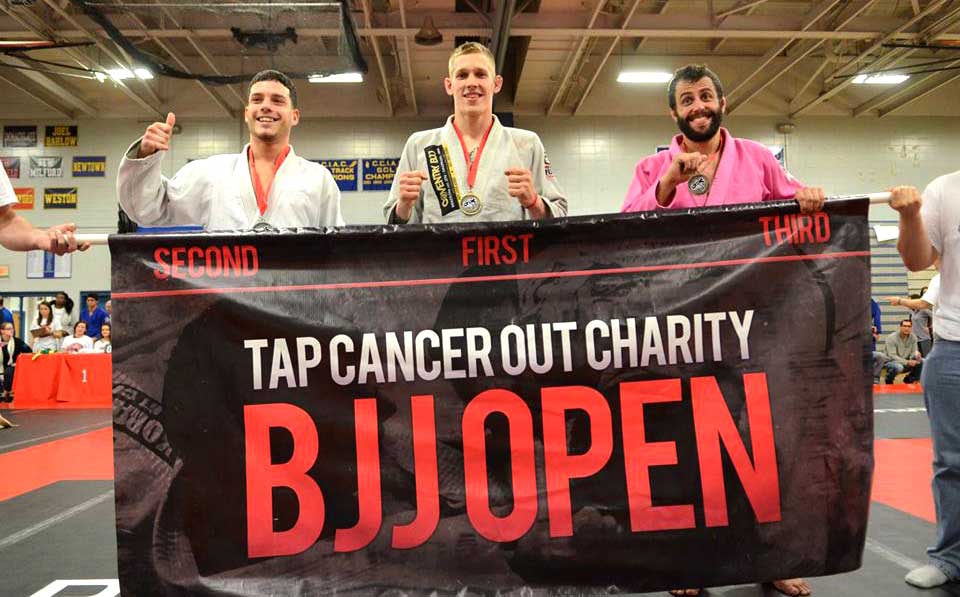 Competitors from the 2014 Spring Tap Cancer Out BJJ Open in Stratford, CT. The tournament helped raise $54,000 for St. Baldrick's.
With precise and careful technique, a small and relatively weak person can defend themselves against, and even overcome, a larger and stronger assailant.
That could easily be the description of a child fighting cancer with the best available treatment, but it's also the concept behind Brazilian jiu-jitsu (BJJ) — a martial art that focuses on grappling and ground fighting until the opponent "submits" to defeat by "tapping out."
And now the two have become one. The BJJ community is coming together to put childhood cancer into submission — they want to Tap Cancer Out.
Tap Cancer Out, a BJJ-based nonprofit, was founded in 2011 by Jon Thomas, a BJJ practitioner. Thomas is no stranger to childhood cancer. In 2006, he lost his 9-month-old nephew, Michael, to leukemia.
"That hit all of us hard," said Thomas. "I knew that if I was going to start a nonprofit, it was going to end cancer, and I would do it in Michael's honor."
When they started in 2011, they hadn't yet defined who they were or exactly what they would do. "Were we going to be an apparel brand? How were we going to get people to donate?" asked Thomas. "We had a lot of false starts before we landed on the fundraising tournament model, and that changed everything."
At their first tournament in 2012, they raised $26,000 for their beneficiary. In 2013, with two tournaments, they more than doubled that amount, raising $60,000.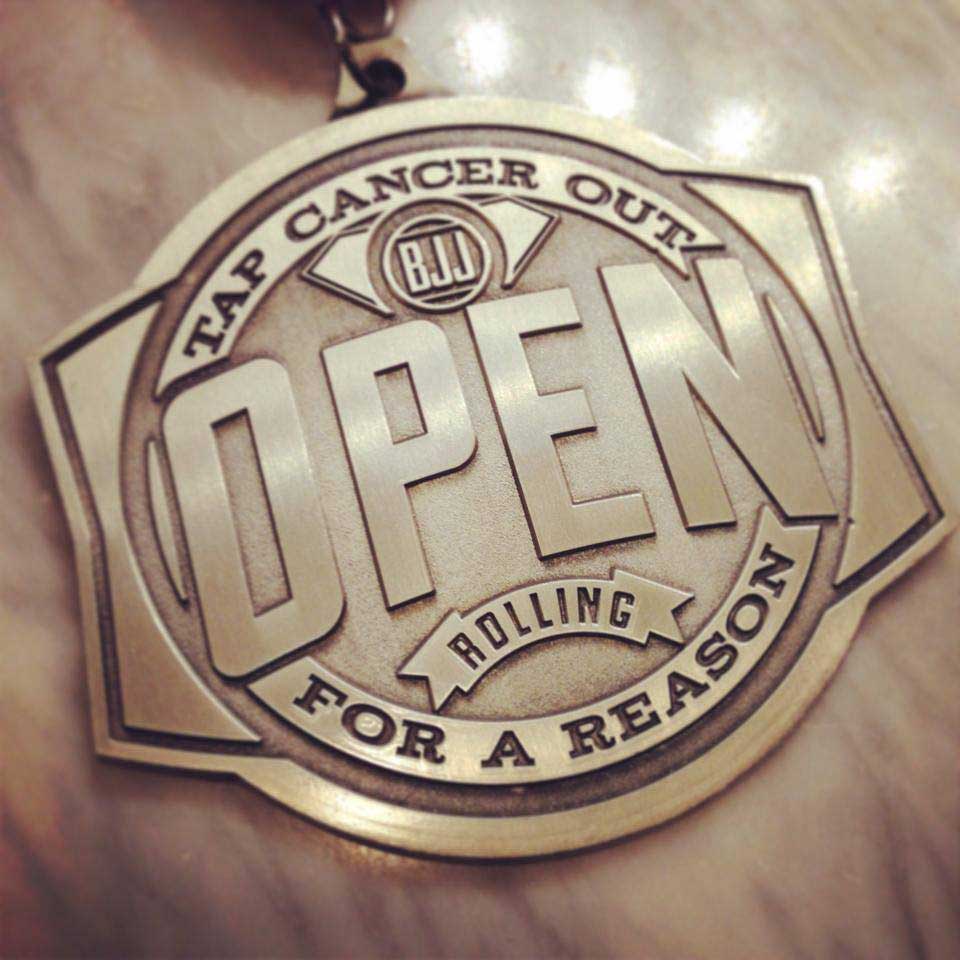 The new 2014 competition medals.
"This year, we're working tirelessly to host three tournaments. We've expanded our merchandise offerings from a few t-shirts to a whole line of products, and as far as financial growth, we hope to give $100,000 to the St. Baldrick's Foundation to support multiple childhood cancer research grants." said Thomas.
The money raised by Tap Cancer Out in the beginning of 2014 will support the research of two physician-scientists and their work on finding cures and better treatments for childhood cancers.
Based on progress to date, Jennifer Wu, M.D., Ph.D., Tap Cancer Out St. Baldrick's Fellow, was awarded an optional third year of her fellowship at Boston Children's Hospital. Dr. Wu's research focuses on acute lymphoblastic leukemia (ALL), one of the most common types of childhood cancer, specifically looking at steroid therapy and how to improve this standard method of treatment to help cure more patients.
Colleen Annesley, M.D., also named a Tap Cancer Out St. Baldrick's Fellow, received an additional year of her research project at Johns Hopkins University School of Medicine. Dr. Annesley is studying acute myeloid leukemia (AML), a malignant cancer of the white blood cells. Her team is looking at a specific mutation and how it causes blood cells to behave abnormally and ultimately turn into leukemia cells, with the goal of developing new targeted treatments.
"Our community of grapplers immediately responded to the call to put an end to pediatric cancer," said Thomas. "Seeing our efforts supporting such groundbreaking research by Dr. Wu and Dr. Annesley allows our competitors, fundraisers, donors and volunteers to realize the tangible difference they're making in this world and motivates us all to continue moving forward in the fight against cancer."
On August 16, the grapplers will gather in Danvers, Massachusetts, for the second Summer BJJ Open where they're expecting more than 300 competitors to grapple throughout the day.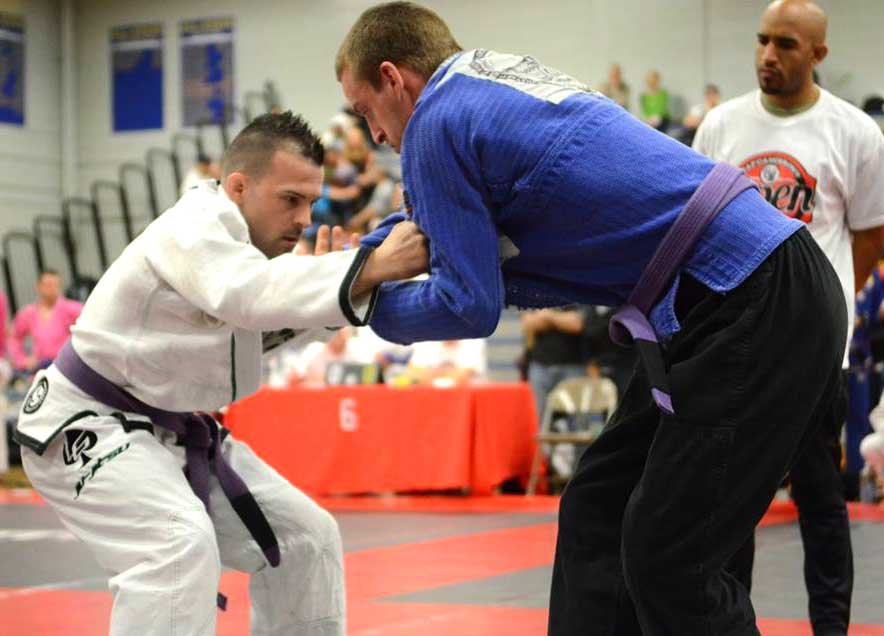 James Curry (right) competing in the Spring Tap Cancer Out BJJ Open.
"You may have attended cancer fundraising events before, and you may have attended a BJJ tournament before, but we're the only organization bringing those two elements together," said Thomas. "I simply want everyone to enjoy themselves. I want them to leave our tournament feeling good, whether they won or lost, because they made a difference in the world and had fun doing it."
Are you involved with an activity that could help kids with cancer? Register your Do What You Want and start raising money for childhood cancer research.
Do What You Want
Read more about St. Baldrick's nonprofit partners
: