2013 Ambassador Avery has had one wild ride during her childhood cancer experience. Read an update on how she's keeping her "can do" attitude throughout her relapse, clinical trial, and everything in between.
While news of a brain tumor might stop some people from having a positive outlook on life, that's not the case for 2013 Ambassador Avery.
"Some people get cancer and others don't," she said. "This is just what I have to deal with."
Avery was diagnosed with pilocytic astrocytoma, a low-grade brain tumor, in June 2011 when she was 8 years old.
Learn more about childhood cancer >
Her "can do" attitude is what kept Avery strong through a craniotomy that removed 60 percent of her tumor. She maintained her strength during three months of steroids and eight rounds of chemotherapy.
Things were looking bright for Avery. Treatment ended in the spring of 2013, and she looked forward to using her experience to help other kids like her.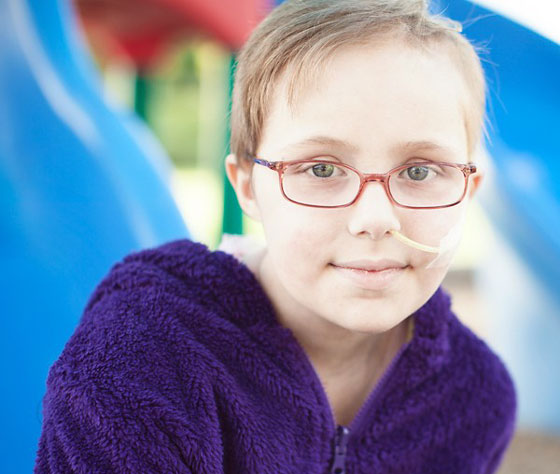 "Some people get cancer and others don't," Avery said. "This is just what I have to deal with."
"When I grow up, I want to be an oncology child life specialist so I can work with kids with cancer," Avery said, "but I definitely don't want to give them shots."
Avery's tumor was classified as low risk and stable. She left the hospital behind and was enjoying life, just being a kid.
Then, in December, Avery started having episodes of confusion and she lost a lot of weight. Her parents took her to the doctor where her brain tumor was reclassified as high risk.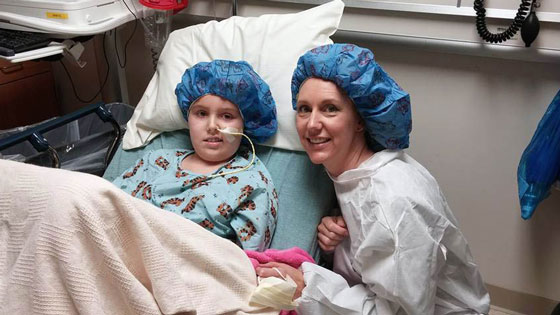 Avery and her mom, Stephanie, in the hospital.
Now Avery is mustering her "can do" spirit in a clinical trial. While Avery's mom, Stephanie, is excited that a clinical trial is available for Avery, she is careful to point out that this is a phase 1 trial, which means the treatment is still very new.
"It says right in the papers we sign that they don't expect this to cure our child," Stephanie recently wrote to Avery's supporters on Facebook. "The list of side effects are daunting."
BLOG: What Being a Mother Means to This Cancer Mom >
"That said," Stephanie continued, "genetics is super cool. And it's making significant developments when it comes to targeted treatment options." She added that genetic markers on Avery's tumor are being used to determine the best treatment for her daughter.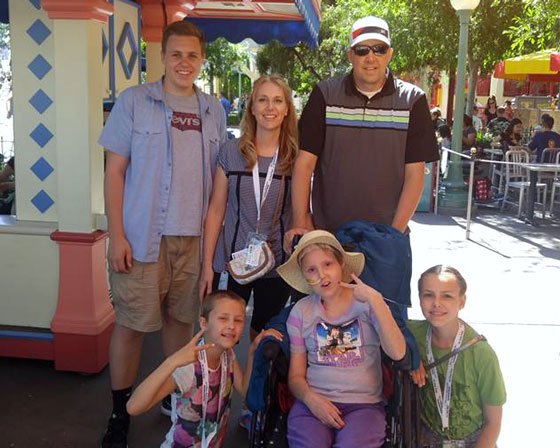 Avery and her family on vacation at Disneyland.
See how your support is helping kids with cancer >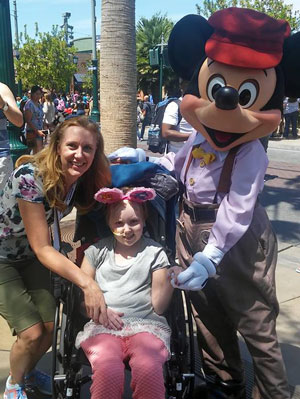 Avery and Stephanie take a celebratory picture with Mickey Mouse at Disneyland.
Avery is six weeks into the trial, and so far, so good. Her latest scan showed no tumor growth after four weeks. Her doctors say as long as the tumor doesn't grow by more than 25 percent, Avery can stay on the trial.
Stephanie said Avery is gaining strength and making big strides in doing the basics on her own, like dressing herself and brushing her teeth.
"She still gets tired and doesn't eat enough to take out the NG tube," Stephanie said, referring to the nasogastric tube being used to feed Avery for now. "But she is getting around on her own pretty darn well. At physical therapy the other day, she zipped up and down the stairs. I was stunned, to be honest."
"Even if the trial is just buying us time, it's good time," Stephanie concluded. "I'll take any time I can, so good time sounds wonderful."
Avery's artwork is featured in our special ecard for Mother's Day. Donate to childhood cancer research and send an ecard today.
Send a Mother's Day ecard
Read more about Avery's story: