When 2013 Ambassador Avery was diagnosed with a brain tumor, her mom was her biggest support. Now 12 and two years post-treatment, Avery shares her sweet letter to her mom for Mother's Day.
Dear Mom,
I love you because you love me.
Thank you for teaching me how to sew, taking me to piano and helping me when I had cancer. You are the best mom in the world.
I love you, Mom, because you have helped me in all my times of need. Whenever I was in the hospital you were always there for me.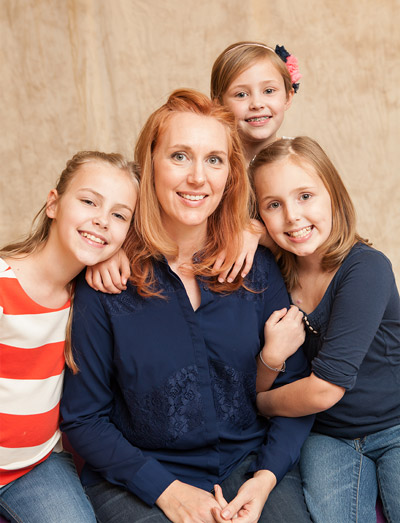 A recent photo of Avery (right) with her mom and sisters.
You were always by my side during cancer. There was nobody that helped me more than you, Mom.
I am so happy I have you because without you I wouldn't be able to go shopping or know how to sew.
I am so glad I have you so that you can cook your amazing meals every night.
Mom, you are a mom unlike any other. You are special in many different ways.
You brighten my day every day of my whole life. I love seeing your smile and seeing you happy!
I know I have said this a lot, but I love you. You are my hero and the best mom anybody could ever ask for. I love everything you do.
I hope someday I can follow in your steps.
You are a unique person and I love you. Thank you for being my mom and my hero.
Sincerely,
Avery
This Mother's Day, give your mom a gift that gives back. Make a donation to childhood cancer research and send her a special Mother's Day ecard designed by Avery.
Send a Mother's Day ecard
Read more on the St. Baldrick's blog: