2013 Ambassador Avery has been fighting a brain tumor since she was 8. Her mom, Stephanie, has been by her side every step of the way. Read what Stephanie has to say about how childhood cancer has changed her job as a mom.
Stephanie smiles with her husband and four children on a recent trip to Disneyland.
I always wanted to be a mom, and I have always taken my role as a mother to heart. But now, I'm an advocate for my kids, too.
I say sometimes my only job is to keep them alive. With Avery and her sister, who is diabetic, some days that is actually 100% true.
Read the most recent update on Avery >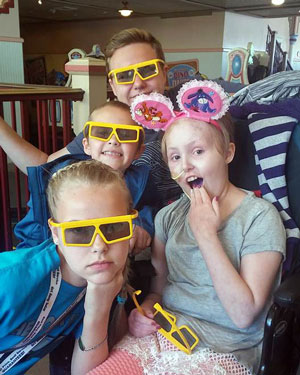 Avery and her three siblings acting goofy.
When Avery and I left our home in Las Vegas for Seattle for her treatment, we were in such a rush that I didn't get to hug my younger two goodbye. That stuck with me for a long time.
It's not that I felt responsible — just sad that I didn't get that chance. I try not to let those moments slip away again.
I'm grateful to have a great husband. He has been able to work full time and take care of the other three — sometimes with help, sometimes alone. He never once complained or said, "This is too much."
BLOG: What You Need to Know About Cancer Dads >
That has helped the most — knowing the other three are in great hands.
Now that Avery and I are back home, it's sunk in how much I missed. The other kids have learned how to be without mom around. It's hard to not to feel sad about that time apart.
Being back home has been an adjustment for all of us. Much more than I realized it would be.
Being a mom is the hardest, lowest-paying job on earth. Adding cancer — and the stress and financial burdens that come with it — can be overwhelming.
Avery and Stephanie have fun on the merry-go-round.
People say, "I don't know how you do it." I don't either. But I wasn't given the choice.
I still don't like doing laundry for six or cooking healthy meals the kids complain about. But I enjoy the little things more. I'm taking life one moment at a time.
Because as hard and as stressful as it can be, I know being a mother is still the best job on earth.
Thank a mom in your life with a special ecard that gives back to childhood cancer research. (Bonus — it was designed by Avery!)
Send a Mother's Day ecard
Read more on the St. Baldrick's blog: