An inside look at what St. Baldrick's Infrastructure Grants are really doing. See all the 2014 Fall Grants.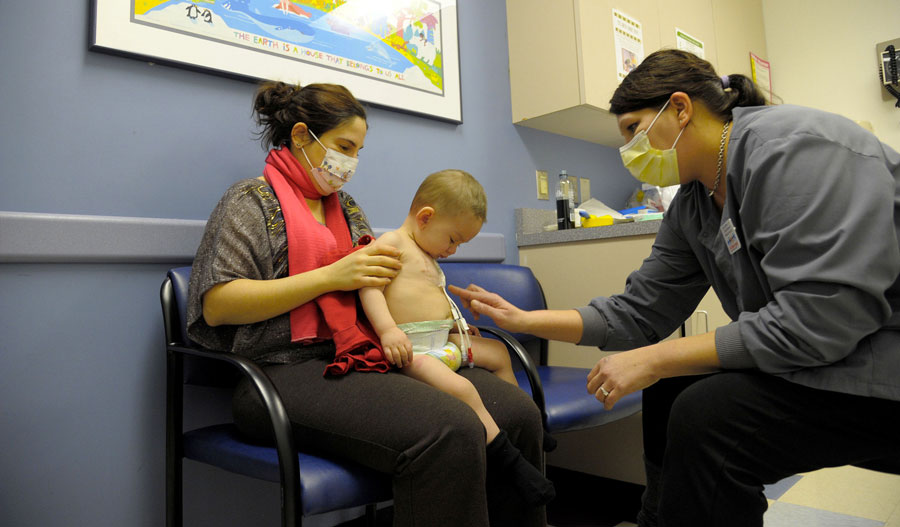 Kelly Clickner assists a patient enrolled in a clinical trial at Albany Medical Center. They were able to hire Kelly as a full-time CRA with their first St. Baldrick's Infrastructure Grant in 2007.
You've probably already heard that most of our Infrastructure Grants fund a clinical research associate, or CRA, who makes it possible for more childhood cancer research to happen. But what exactly does a CRA do? To get an inside look, we sat down with Dr. Vikramjit Kanwar, who has received a St. Baldrick's Infrastructure Grant every year since 2007, and Kelly Clickner, R.N., the CRA whose salary is funded by the grant.
What is a clinical research associate?
A CRA is someone who oversees clinical trials and makes sure they are conducted exactly according to protocol.
Clinical trials have multiple moving parts. In pediatric cancer research, most clinical trials are conducted through the Children's Oncology Group, or COG.
In order for an institution to enroll patients on a COG clinical trial, the institution must have a CRA.
What are some of a CRA's responsibilities?
A CRA works directly with the patients and their families, and they also take care of a lot of work behind the scenes.
They are in charge of everything from:
making sure the families understand everything involved in the treatment,
to collecting samples and medical records,
to making sure the families and all hospital staff are following the treatment plan exactly according to the study protocol,
and so much more.
As Dr. Kanwar puts it, "It's like multi-multitasking."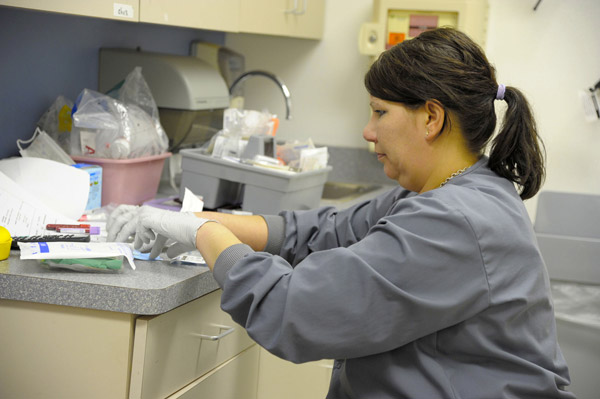 Kelly prepares patient samples to be sent to a national biopathology center as part of her role as a CRA.
How are CRAs helping kids with cancer?
Without a CRA on staff, an institution wouldn't be able to open a clinical trial. And for many kids with cancer, a clinical trial is their only hope for a cure.
"A lot of our patients would have to leave and go to a clinical trial elsewhere if we weren't able to offer them here," Kelly explains. Going elsewhere can mean spending hours in the car every day, or even moving to another city for the duration of treatment, which can be a huge financial and emotional burden for a family.
"So we offer them the ability to stay local with their support network and not go into financial ruin," Kelly explains. "And as a bonus, you have someone watching over your every move to make sure all your stuff is done right, and you can call them anytime you have a question."
Read about how St. Baldrick's Infrastructure Grants are helping kids in Detroit, Michigan.
Kelly interacting with a patient.
What is the biggest challenge to finding a CRA?
"Money," explains Dr. Kanwar.
Institutions often won't pay for a full-time CRA in pediatric cancer because the number of patients enrolled in those studies is much smaller than in adult cancer studies. "So the main challenge is really proving the value of the research program to the institution," Dr. Kanwar continues.
An institution might only enroll one or two patients on a single study, but since the study protocols are so complex, they can't just borrow a CRA from a different department, Dr. Kanwar explains. There really needs to be one individual who is fully dedicated to the management of those pediatric cancer clinical trials.
How is St. Baldrick's funding making an impact?
With Albany Medical Center's first St. Baldrick's Infrastructure Grant in 2007, they were able to hire Kelly as a full-time CRA. "Once she was there full time and we could show how many patients we could accrue, we could show that the program is providing a lot of value to the community," Dr. Kanwar says.
With that proof, the institution hired a second full-time CRA to help Kelly.
Since their first infrastructure grant, the number of patients enrolled in clinical trials has increased tenfold — from about three or four patients in 2007 to 40 in 2014.
"Our accrual of patients exploded," Dr. Kanwar says. "It was a huge quantum leap in terms of patient service."
Help make more childhood cancer research happen. Donate now.
Donate to Research
Read more about the impact of St. Baldrick's grants: