Burkitt lymphoma is one of the most common cancers found in children in Africa, but early detection — and survival — is heartbreakingly rare. As one of St. Baldrick's Foundation's first International Scholars, Dr. Joseph Lubega is working in his birth country of Uganda to develop diagnostic tools that can help catch this cancer early and give kids in Africa a chance at a healthy life.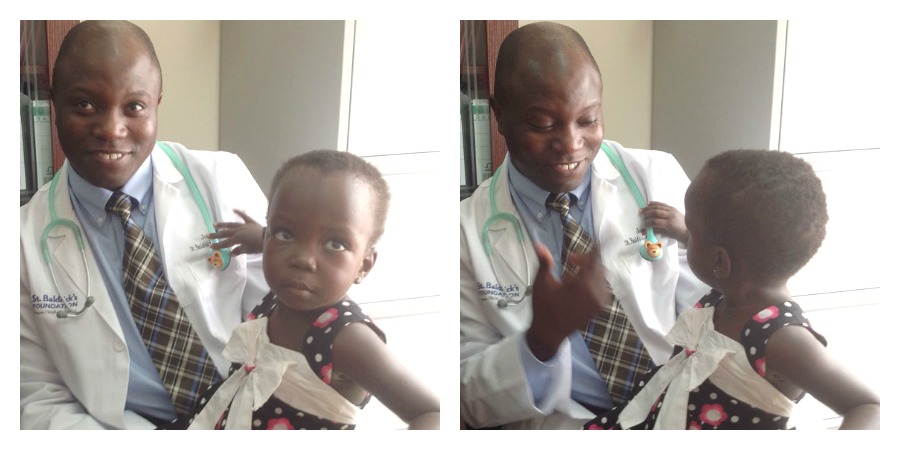 St. Baldrick's International Scholar Dr. Joseph Lubega is studying methods for early detection of cancers common in children in Africa, who are often diagnosed too late or not at all. Dr. Lubega visited with 2-year-old Portia, who has chronic myeloid leukemia, in Uganda.
St. Baldrick's International Scholar Dr. Joseph Lubega is working to solve a mystery that could save kids' lives in his home country of Uganda.
Burkitt lymphoma is one of the most common cancers found in children in Africa. It's associated with infections, primarily Epstein-Barr virus and malaria, but no one knows how the infection actually causes the cancer. That's what Dr. Lubega wants to find out, so he can develop tools to diagnose the disease early, fight it, and save young lives.
"The way we are doing it is that we are focusing on the immune system, because we think it's probably where the answer lies — in how the child's body responds to the infection," he said.
Dr. Lubega and his team conducted immune system tests on samples of blood, saliva, and tumor tissue collected from healthy children and from patients at the Uganda Cancer Institute and Mulago Hospital in Kampala, the capital of Uganda. Those patients have been open and excited about the research, but there have still been challenges.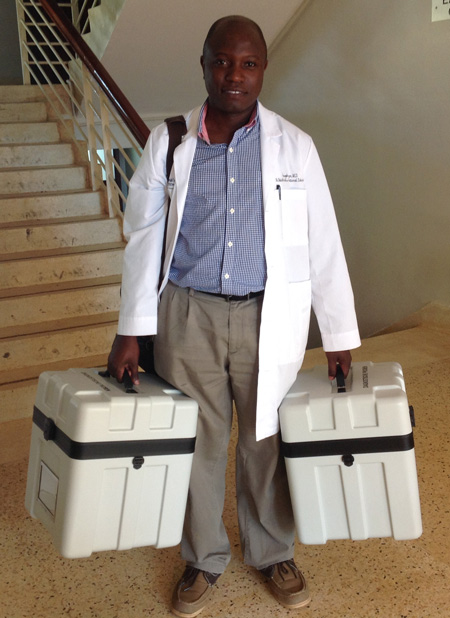 Dr. Lubega carries samples into the Uganda Virus Research Laboratory for analysis.
"The challenges are more logistical, because it is an environment that is not used to conducting high-tech research and yet what we are doing is really cutting edge research," he said.
For instance, Dr. Lubega and his team needed to get their samples to the lab in as fresh a state as possible. The facilities where the samples were being collected didn't have the capability to run the necessary tests right away, but freezing and shipping them would have made the samples useless. Instead, when they needed to get samples to the lab, they'd hail a taxi.
"We put them in our carriers, get a cab and hit the road," he said. With traffic on the narrow country lanes, the ride often took two hours.
"But it's working well," he said. "It's really working well."
Dr. Lubega expects to have preliminary results to report from his St. Baldrick's-funded research in January. Now he is back in the United States, at Baylor College of Medicine and Texas Children's Hospital, where he is a postdoctoral clinical fellow in pediatric hematology-oncology.
Having grown up in Uganda, he knows firsthand the lack of care for kids with cancer in Uganda, the dearth of diagnostic tools and facilities, and the long distances people have to travel just to get to cancer centers. Then there's the cost of drugs, which can be out of reach for many — so much so that Dr. Lubega raised funds to help pay for one young patient's chemo medicine.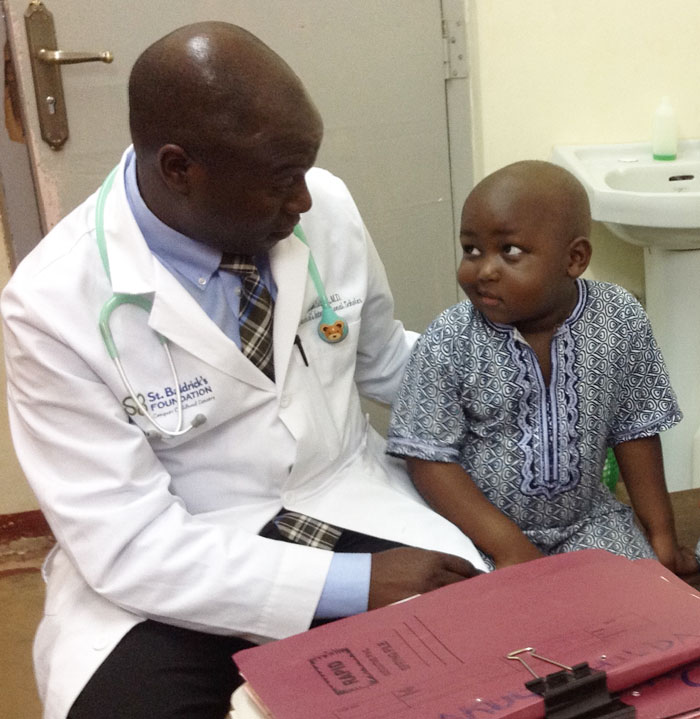 Dr. Joseph Lubega visited with Amaani, who is in remission from acute lymphoblastic leukemia.
When he was awarded the St. Baldrick's grant, he immediately saw the massive opportunity for doing good, not only in Uganda.
"What St. Baldrick's has done is not so much for me as an individual," he said. "But the whole idea that there is a need to invest in pediatric oncology in poor countries."
Support the work of scholars like Dr. Lubega. Invest in childhood cancer research.
Donate
Read more stories from the St. Baldrick's blog: