Today we announced the 2014 St. Baldrick's Infrastructure Grants, totaling more than $2.5 million to 40 institutions across the United States. Read on to see how one of our grants is helping keep clinical trials open to children with cancer in Detroit, Michigan. You make these grants happen. Donate today.

Dr. Wang and her team with the COG Research Program at Children's Hospital of Michigan in Detroit received a St. Baldrick's Infrastructure Grant. Photo by Shawn Wilson.
Located in the heart of Detroit, Michigan, Children's Hospital of Michigan (CHOM) often treats patients who are underserved, uninsured, and living under the poverty line.
That same population is often underrepresented in clinical studies, making the program run by St. Baldrick's Infrastructure Grant recipient Dr. Joanne Wang even more essential in helping all children with cancer.
But opening and then maintaining those trials on a shoestring budget and with a stretched staff is a challenge.
"When I took over [in 2011], the program had an over $50,000 deficit," said Dr. Wang, a pediatric oncologist at CHOM and site principal investigator for the Children's Oncology Group (COG) at Wayne State University.
Read more about the COG and the importance of clinical trials >
This lack of funds made it hard for the hospital's COG Research Program to hire adequate help. But now, thanks to an Infrastructure Grant from St. Baldrick's for the third year in a row, they are able to keep their Clinical Research Associate, or CRA.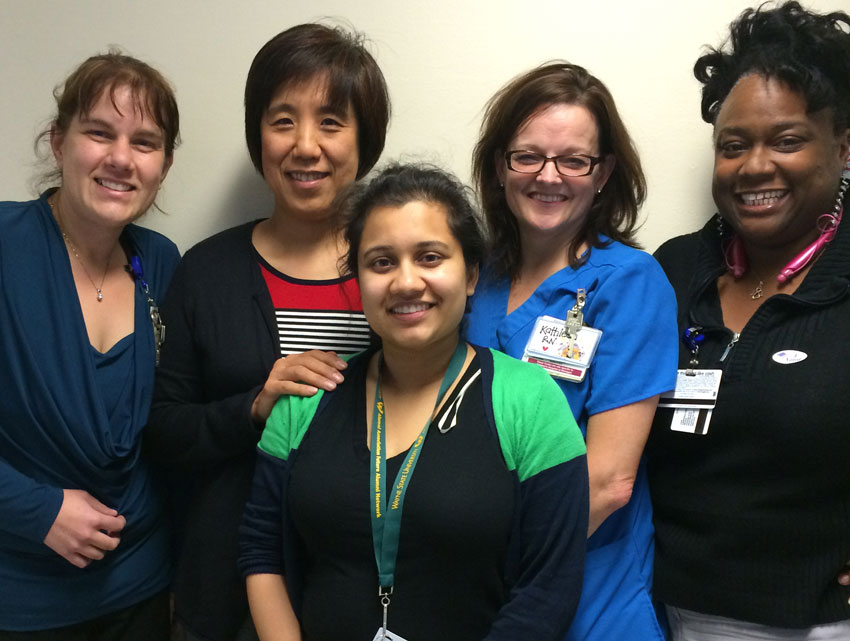 Dr. Wang and her team at the COG Research Program from left to right: Laura, Dr. Wang, Nicky, who is the CRA funded by St. Baldrick's, Kathleen, and Michelle.
Dr. Wang was relieved when she heard that she would be able to keep her CRA around for at least one more year.
"I don't have to lose her and struggle to cover all the work we have started," she said. "Since we have more CRAs, we have started more initiatives and we want to continue that."
At the Detroit site, the CRAs do everything from submitting paperwork to review boards so new clinical studies can be opened, to amending protocol to make the trial safer or more efficient as the study continues. They also collect, record and report the data from the studies, essentially connecting the actual treatment with the research.
"Basically, without the CRAs, nothing would be done," Dr. Wang said.
This manpower helps maintain 80 trials for everything from new chemo combinations to immunotherapy, paving the way to increased cure rates and safer treatments for children with cancer.
"We really appreciate your support," Dr. Wang said.
Support Infrastructure Grants that help programs like this — donate today.

Fund grants
Read more stories from the St. Baldrick's blog: