Becky's hair was a source of comfort for her son, Jack, when he was in treatment for childhood cancer. This Sunday, she's shaving her head to honor his memory and raise money for childhood cancer research. Donate on her page.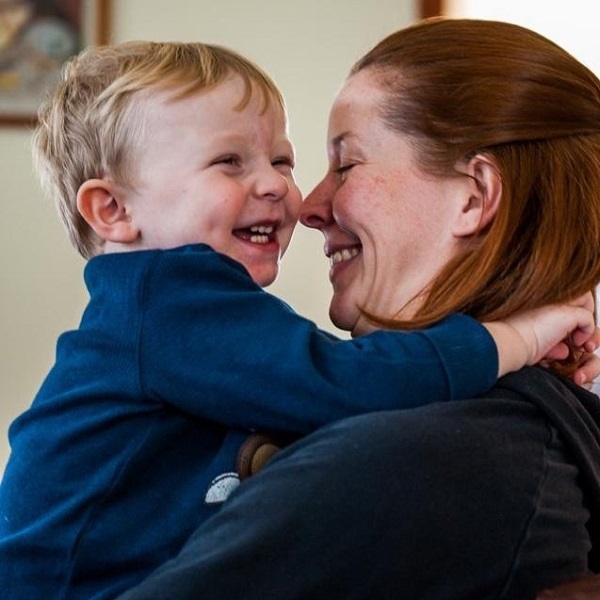 Becky is shaving her head for St. Baldrick's in memory of her son, Jack.
Our son, Jack Stanley Podkaminer, was born February 18, 2011, almost 15 months after his older brother Witt. He was a big, healthy baby with beautiful blue eyes and fuzzy blond hair.
I remember his cheeks puffing out so we jokingly called him our little bulldog. And the name was fitting. He was tough right from the start.
When Jack was 2, doctors found a tumor behind his throat. We were shocked to learn it was embryonal rhabdomyosarcoma, a type of cancer in children.
Because of the location, the doctors couldn't remove it surgically. He immediately began his first round of chemo.
The tumor had paralyzed one of Jack's vocal chords, and he was choking and having difficulty swallowing. He underwent surgery to have a tracheotomy tube placed in his throat, a feeding tube place in his stomach, and spent five days in a drug-induced sleep to allow for healing.
Our family spent more than 70 days in Boston, five and a half hours away from home, while Jack endured chemo, radiation, and all their horrific side effects.
In September, his scans showed the tumor was almost gone. We were so relieved! We went home with plans to continue chemo, assured we were on the right path.
We had so much medical equipment at our house that my husband and I needed special training to use it and to care for Jack. I could never leave Jack's side. I needed to suction his tracheotomy tube, monitor his oxygen levels, give him his medications, feed him through his feeding tube, and make sure he wasn't choking.
Jack holding his new baby sister, Ellison.
In November, I gave birth to a baby girl. We named her Ellison after the name of the hospital building Jack was treated in, where I spent so many days of my pregnancy. I pushed to be released from the hospital just two days after my C-section. I needed to be home with Jack.
On December 17, after another set of scans, our world came crashing down again. Not only had Jack's tumor grown a bit more, but it had spread to his brain.
The doctors changed his chemo and he began a more aggressive treatment plan, but his next scans showed no response to the drugs. Both tumors had grown significantly.
They tried to find a drug combination that would work for Jack, but he had become so weak. His little body was shutting down and there was nothing more the doctors could do.
Our sweet Jack flew into the arms of the angels on February 6, just 12 days short of his third birthday.
"My hair was the one thing Jack found comfort in," Becky said.
The past couple of months have been incredibly difficult for us as we are reminded of what we and Jack were experiencing at this time a year ago. I wanted to try to do something positive in his memory, rather than being completely consumed by grief.
My hair was the one thing Jack found comfort in. He always held it as a baby when he was drinking his bottle. But it really became his security once he got sick.
He constantly wanted to touch my hair — at the doctor's, in the hospital, and at home. He fell asleep every night in my arms holding onto it.
I thought, what greater gift could I give than to raise money for childhood cancer research and shave my hair? Even more, I could donate my hair to charity so a wig could be made for someone else undergoing treatment.
We miss our sweet boy so much. We did every treatment and procedure Jack's team of doctors suggested. Still, it wasn't enough.
Such is the unpredictable nature of rhabdomyosarcoma and many other childhood cancers. We need the research to be done so that no other child or family has to go through what we've been through.
We love you, Jack.
Fund kids' cancer research for better, safer cures for all childhood cancers.
Donate by June 30 and your gift will be put to work in the research grants we give this summer.
Fund Research
Read more kids' cancer stories:
What Childhood Cancer Did Not Do
Keeping My Heart Full with Memories of Henry
A Mother's Love and a Head of Hair: The Best I Have to Offer
Chase's Best Shot: One Boy's Remarkable Triumph Over Pediatric Brain Cancer