Help change the reality of childhood cancer. Get involved.
I still count the days that
Henry
has been gone. I'm slowly moving to thinking in weeks. Months still seem like too long of a time.
Time is a tricky thing. It moves forward, no matter what you want it to do. And we, too, are moving forward.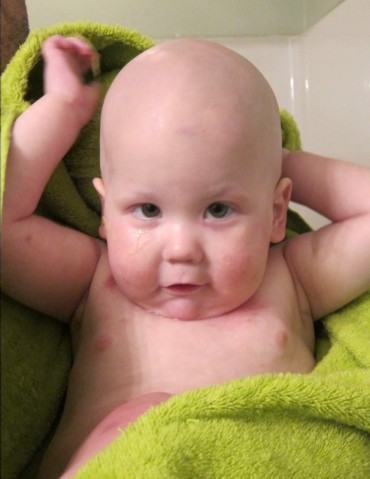 Henry was diagnosed with infant acute lymphoblastic leukemia (ALL) when he was 12 months old.
We play, we work, we laugh. We cry, and we mourn. We fill days with life, and we remember Henry's life.
After a perfect pregnancy, my son Henry was born on February 9, 2010. We quickly learned that he had a birth defect called Pierre Robin syndrome, which meant he had a cleft palate and a very small jaw. He would choke on his tongue every time he was on his back. He spent 16 days in the neonatal intensive care unit before we could take him home.
In January of 2011, we had his palate fixed surgically. Throughout the next month, we noticed he was pale and lethargic. The doctors told us this was from his recent surgery.
On February 10, 2011, the day after his first birthday, we took him to the doctors again. This time, they sent him for lab work.
I remember falling to the floor when the doctor told us he had infant acute lymphoblastic leukemia, a type of cancer in children. Our lives were forever changed.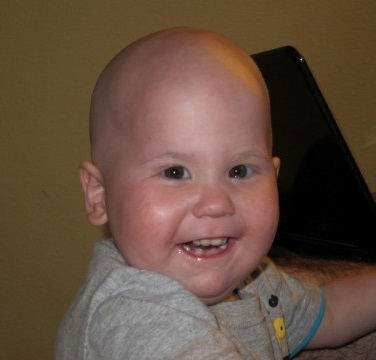 Henry while he was in treatment for childhood cancer.
Infant leukemia is rare and aggressive, and his treatment plan was intense. We spent almost a year in the hospital. He received high-dose chemotherapy. He had chemo injected into his spine. He underwent countless blood transfusions and suffered many complications from his treatment.
The second year of treatment was "easier," at least by comparison. We were mostly able to give him his oral chemo at home with monthly visits to the clinic to receive IV chemotherapy.
On February 12, 2013, after two years of chemotherapy, Henry took his last dose. He was in remission. He looked amazing.
Less than four months later, we noticed a rash on Henry. After many tests, we learned that not only did he have a rare reaction to a medication he was taking to prevent pneumonia post-chemo, but he also had a devastatingly malfunctioning immune system.
The chemo that killed his cancer also killed his immune system. We saw multiple specialists and tried everything to save him, but in October, Henry was placed on hospice.
On December 20, 2013, Henry died in my arms. He lived three years, 10 months and 11 days.
The cure for Henry's cancer ended up killing him. This is why it is so important to raise more money for childhood cancer research. We have to find better cures for our children.
Henry dressed as a fireman for Halloween.
It's been 19 weeks — 133 days — since Henry died in my arms. And while I count the days Henry has been gone, I have so many more memories of him to keep my broken heart full.
I find myself enjoying life. Don't get me wrong — I miss Henry more than I ever thought I would. I miss holding him. I miss watching Thomas the Train with him. I miss making macaroni and cheese for him. I miss his laugh. I miss his smile. I miss hearing him say "love you to the moon and back" in a voice only Henry had.
But, while my heart continues to ache, my heart is also allowing me to live. To laugh. To love.
Henry was too young for self-pity. He only knew to play when he felt good, and to be snuggled when he didn't.
So, I will learn from my young son and live my life fully. I will laugh when I feel like laughing, cry when I need to cry, and be held when I need to be held.
Life is short. So, I will live it.
Children with cancer shouldn't die from the treatments meant to save their lives. Fund research for better, safer cures for all childhood cancers.
Fund Research
Read more from mothers of children with cancer: