In August 2012, Chase was diagnosed with a rare and deadly pediatric brain tumor. Chase is now 4 and participating in a St. Baldrick's-funded children's cancer study, and his scans continue to show no evidence of disease. Chase's mom, Ellie, shares his story.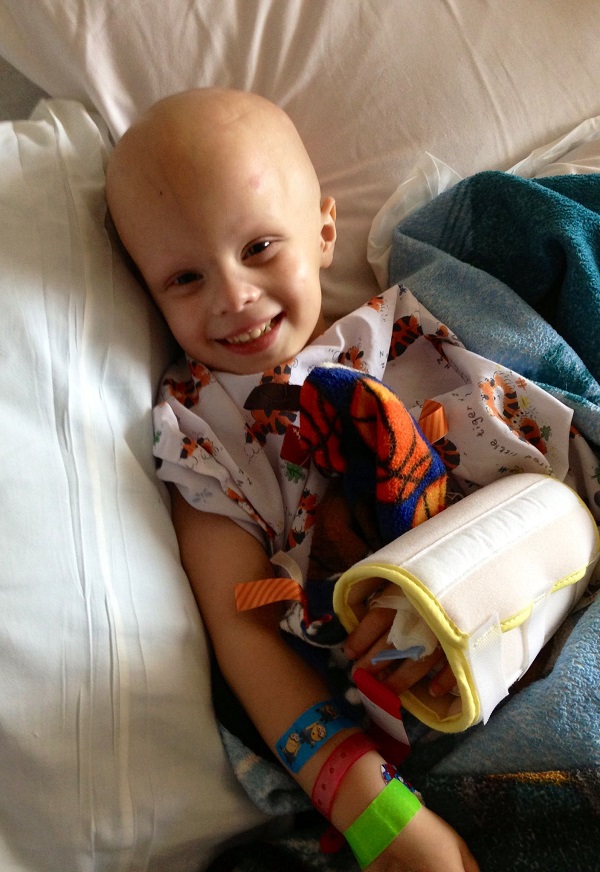 Chase was diagnosed with ATRT, a type of brain cancer in children, when he was 2.
"He's holding his head up on his own! This boy is going to be strong!"
The joyful doctor laid the small newborn baby on my chest as the oxygen raced into him and a tiny scream, that first sound, echoed in the room. This small, headstrong baby, born with so much fight, would be named Chase.
Two years, seven months, 18 days, and about 13 hours later, Chase's older sister would run into our room in the middle of the night and tell us that Chase wouldn't stop moving in his bed and it was keeping her awake. He wouldn't stop because, as we quickly discovered, he couldn't. He was having seizure.
Within minutes, I lay on an ambulance stretcher, one hand holding my headstrong baby and the other clutching an oxygen mask to his precious face.
"There's a large mass…" The look on the ER doctor's face as his eyes welled up.
"The preliminary pathology report indicates that this is malignant, and when I was in there, I could see cancer cells all around — too many to remove. It's spreading, and quickly." The weary and kind eyes of the neurosurgeon as he sat in rumpled scrubs fresh from the operating room.
"We'll be honest with you — there's only about a 20% chance and this … this is his best shot at survival." The quiet calm of the pediatric neuro-oncologists across the conference room table.
In the first week of August 2012, just a few days after that early morning seizure — what we would later learn was the result of a peach-sized tumor pushing the left hemisphere of his brain too far right — our precious, headstrong Chase was diagnosed with an aggressive childhood cancer of the central nervous system called atypical teratoid rhabdoid tumor, or ATRT.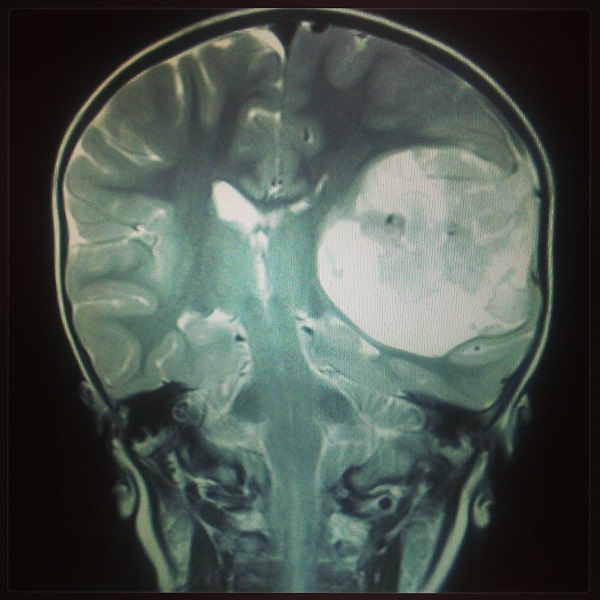 The large mass in Chase's brain would prove to be cancer.
With only about 100 cases diagnosed in the United States every year,
this rare cancer is trademarked by its vicious and tenacious attack on children, many of whom are still babies in their mothers' arms.
But this — all of this shock and pain — was only the first part of the nightmare.
I can count on one hand — or a few fingers — how many treatment options there were for Chase. In a moment when we lay on the floor just trying to breathe and understand, we were confronted with the terrible reality of pediatric cancer treatment:
The treatment could kill our child, but the cancer certainly would.
Which were we to choose?
We gave our sweet fighter, our headstrong boy, the best shot we could. The decision, though agonizing for us, was clear. We would die trying and Chase would let us know when he'd had enough.
So we started the "best shot" — a rigorous, year-long plan of nine or so chemotherapy drugs, sometimes as many as five at a time into his veins and his spine. And when even that failed to eradicate the tumor, proton radiation was added for six weeks — not instead of, but in addition to, chemo. This was the best shot.
For 14 months and 129 inpatient days (the outpatient days are too numerous to count), 37 bags of platelets and 29 bags of red blood cells, 33 days of radiation, 16 spinal taps, and 15 central line placements or removals or repairs, our headstrong Chase took his best shot. Through too many sedations, labs, audiology exams, echocardiograms, and other various tests, he has fought — and fought well.
On January 17, 2013, about five months into the treatment, his beloved doctors entered our room as Chase was receiving a transfusion and told us something we dared not believe we'd ever hear: "The MRI shows no evidence of disease."
From then until this moment, our fighter has remained NED — no evidence of disease. It was a best shot that beat every odd.
So why take you on this journey with us?
Chase will need echocardiograms to monitor his heart, as one of the adult chemo drugs given to him is known for weakening the heart. He's already started to lose some of his hearing because of another chemo drug. And because he was irradiated, he will face many physical, neurological, and developmental challenges. All this in addition to areas of permanent hair loss and the scar that crosses his head like baseball stitching from forehead to nape.
All too often, this is what it means to fight pediatric cancer. The collateral damage of the battle is so high — sometimes too high.
This is why our family participates in and promotes pediatric cancer research. It will not change what Chase has gone through or the life-altering scars on his small body, but it can change what is yet to come.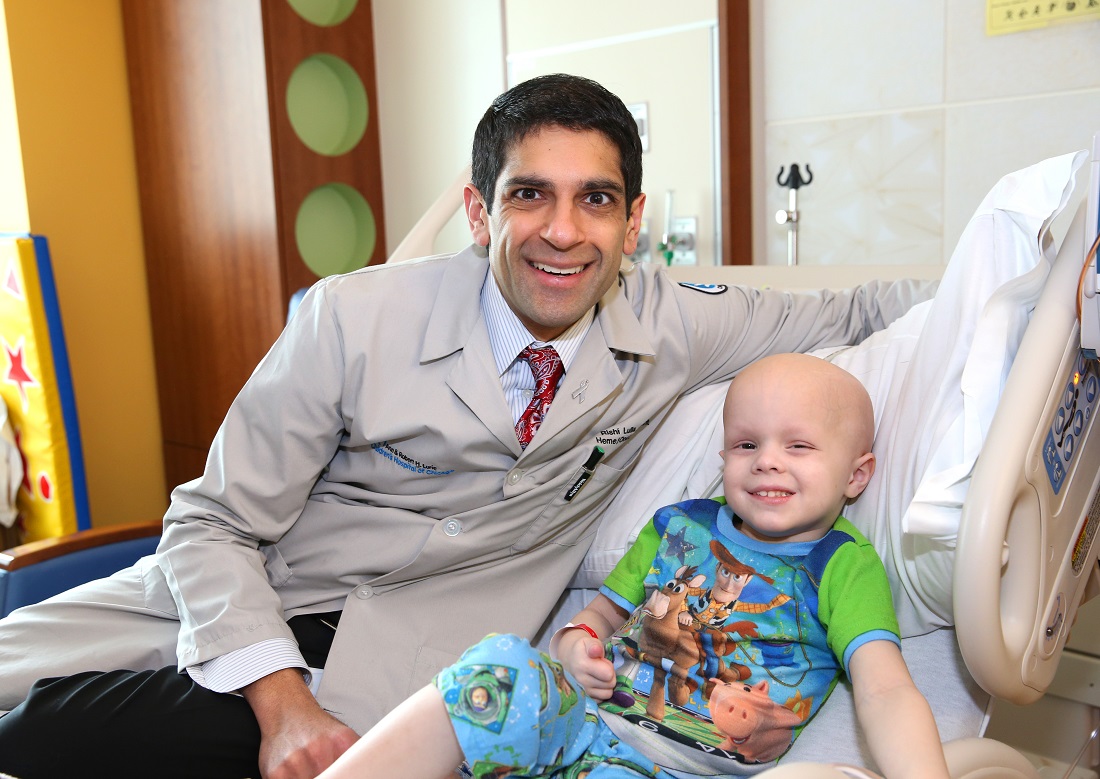 Chase with Dr. Rishi Lulla, a St. Baldrick's researcher.
Our dream is that someday, in some room, in some hospital, pediatric cancer won't mean what it means today.
It is for our headstrong boy and his fighting friends and all the ones for whom the battle is already done that we fight on.
Join us.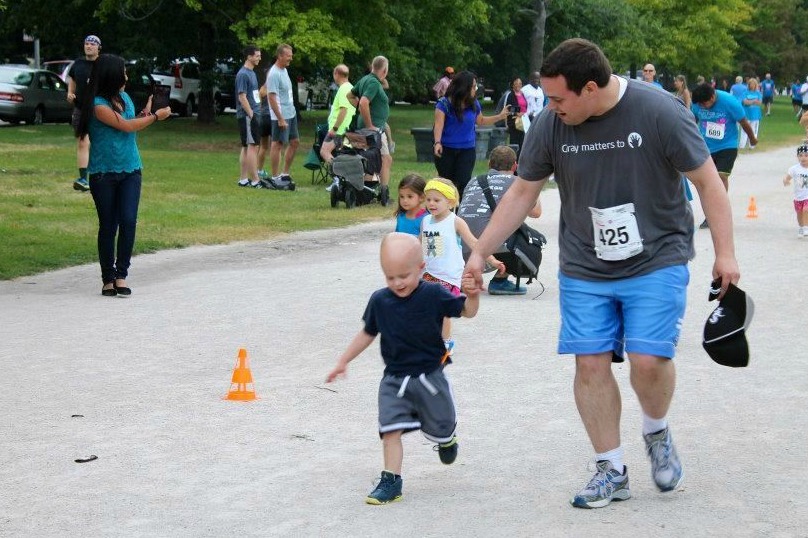 Chase, now 4, continues to show no evidence of disease.
Chase is participating in a St. Baldrick's-funded study looking at biomarkers in pediatric patients with brain and spinal cord tumors under the care of his attending neuro-oncologist, Rishi Lulla, M.D., at Ann and Robert H. Lurie Children's Hospital in Chicago.
See how you are making a difference with the St. Baldrick's Foundation or make a donation to support childhood cancer research.
Read more about Chase on our blog: