Diagnosed with a rare sarcoma when he was a toddler, Honored Kid Alan passed away five years ago. With his chubby-cheeked grin and bright personality, the 2014 St. Baldrick's Ambassador has inspired all of us — and as his mom writes in this blog, Alan's impact continues to be felt in a big, brilliant way. Read on to learn how…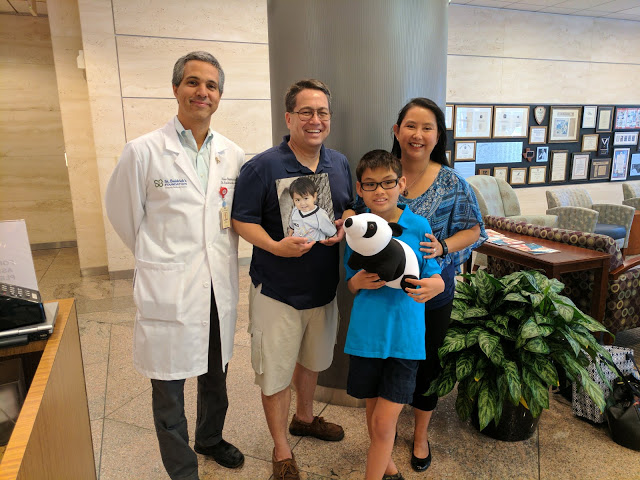 Dr. Nino Rainusso meets with Alan's family, plus Hilly the bear, a stuffed panda purchased in Washington D.C. to represent Alan's lost opportunities.
Four years ago, we established a Hero Fund with the St. Baldrick's Foundation to raise money for sarcoma research in Alan's memory. Last July we were thrilled to share that the fundraising we had done through Alan's Sarcoma Research Fund had given us the opportunity to name a grant.
Dr. Nino Rainusso of Baylor College of Medicine at Texas Children's Hospital would be named the Alan's Sarcoma Research Fund St. Baldrick's Scholar for his work in identifying and examining the most difficult-to-treat cancer cells from patients at Texas Children's.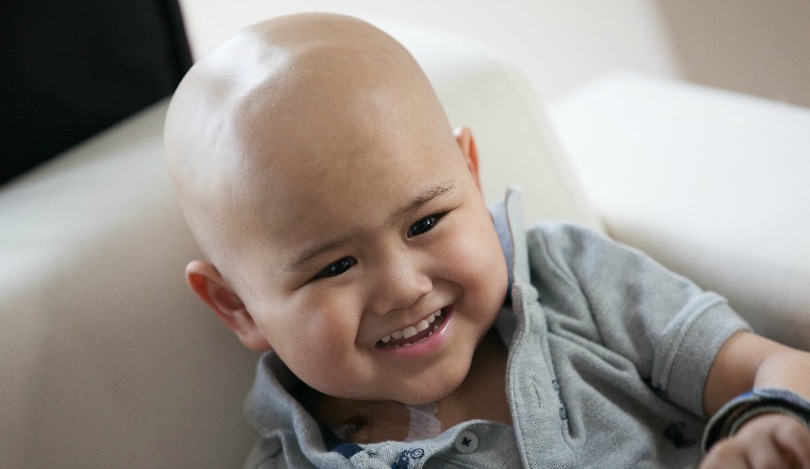 Alan was just 17 months old when he was diagnosed with a rare sarcoma in his hip. He fought cancer for most of his life.
Last month, we had the opportunity to meet Dr. Rainusso and have a tour of his lab. The first stop was the outpatient clinic, where Dr. Rainusso takes care of the some of the patients who have contributed tumor samples to his study.
When we got off the elevator, we saw one of the cows decorated in a star motif. It seemed like a sign, since we were here to see the work being done in memory of our supernova. (More on that topic later.)
As Dr. Rainusso showed us through the clinic, it was obvious how passionate he was about the work. Because the tumor samples are from his patients, they are not anonymous cells to him, but represent real people and real connections.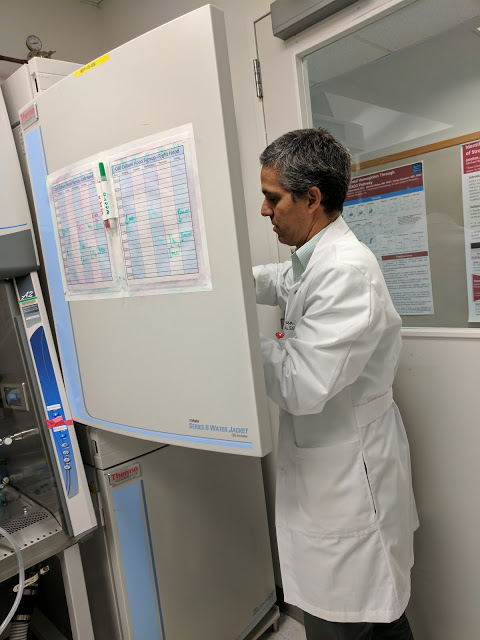 Dr. Rainusso pulls tumor samples from the incubator.
Then it was on to Dr. Rainusso's lab at the Faris D. Virani Ewing Sarcoma Center, where he works with other sarcoma researchers. We were very impressed by the collaborative spirit there. One of the rooms he showed us housed the incubator, which grows the cells that he has identified and separated for further study. We got to see some of the equipment used to analyze the genes of the tumor cells, and where he would harvest samples of tumors for further investigation.
He was very patient in explaining his work in lay terms and we were very impressed by the open nature of his sense of inquiry and all the possibilities that could come from his work.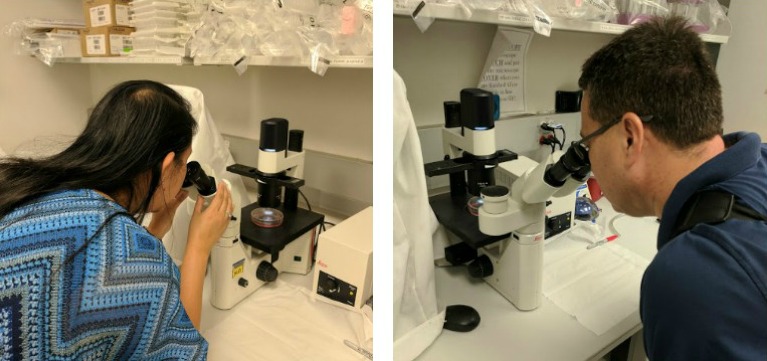 Judy and Harold Sanders look at cancer cells under the microscope.
If you look at what my husband, Harold, wrote in the program for Alan's memorial, he referred to Alan as our supernova:
Alan's spirit was 'supernova bright'. A supernova is a very large star (which typically shines brighter with a much shorter life span) that comes to the end of its life cycle and explodes with an intensity that can exceed an entire galaxy of stars. And that explosion of light forms the building blocks for new stars and new planetary systems. The word 'nova' itself is Latin for 'new'.
This work is Alan's explosion — new knowledge and new understanding, building blocks towards better treatments and eventually a cure. The work we are helping to fund is in place of all of Alan's lost opportunities, for all the things he might have done.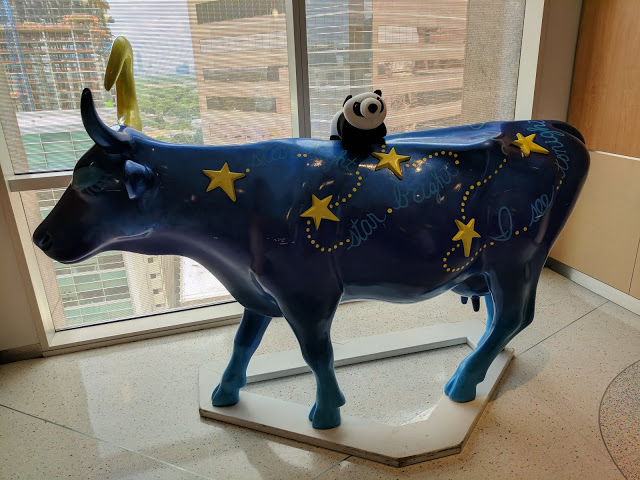 Alan's family spotted this starry sculpture of a cow when they visited Texas Children's Hospital. The art piece reminded them of their 'supernova' Alan, so they posed Hilly the bear riding the bespangled bovine.
This fall, Alan would have been turning 10 years old. Celebrate his birthday by funding brilliant researchers like Dr. Rainusso — give to Alan's Sarcoma Research Fund today.
Donate
Read more about Alan on the St. Baldrick's blog: