Find a St. Baldrick's event near you!
The Sanders family at a St. Baldrick's event in San Antonio on March 8.
We attended our third St. Baldrick's San Antonio event as a volunteer/shavee family on March 8. When I was talking to
our Volunteer Event Organizer
at the beginning of the day about speaking as our team,
Alan's Angels
, took the stage, he asked me if I would recognize the other
Honored Kids
who were represented there that day.
Of course I was happy to, and as I introduced myself to some of the families I didn't know, I really began to feel the purpose of why we had agreed to have Alan serve as one of the five 2014 Ambassadors for St. Baldrick's.
Of course we wanted to share Alan's story to raise awareness and money for childhood cancer research. Keeping Alan's story out there allows us to keep him in our lives on a regular basis. But we also wanted to represent all the other children and their families.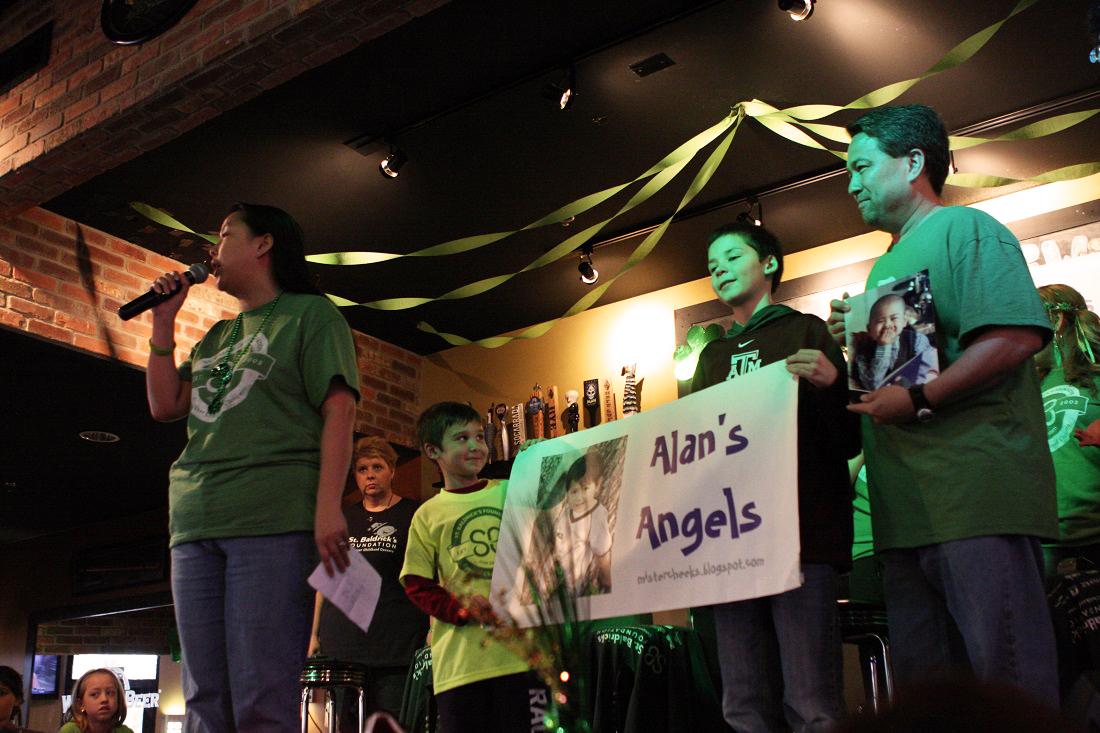 Judy addresses the crowd as members of Alan's Angels prepare to shave their heads.
We had some families at the event who were new to St. Baldrick's — some because they had just found the Foundation, and some unfortunately because they were newly diagnosed. As I introduced and shared a little about each child, the crowd at
World of Beer
roared with approval, especially for our Angels.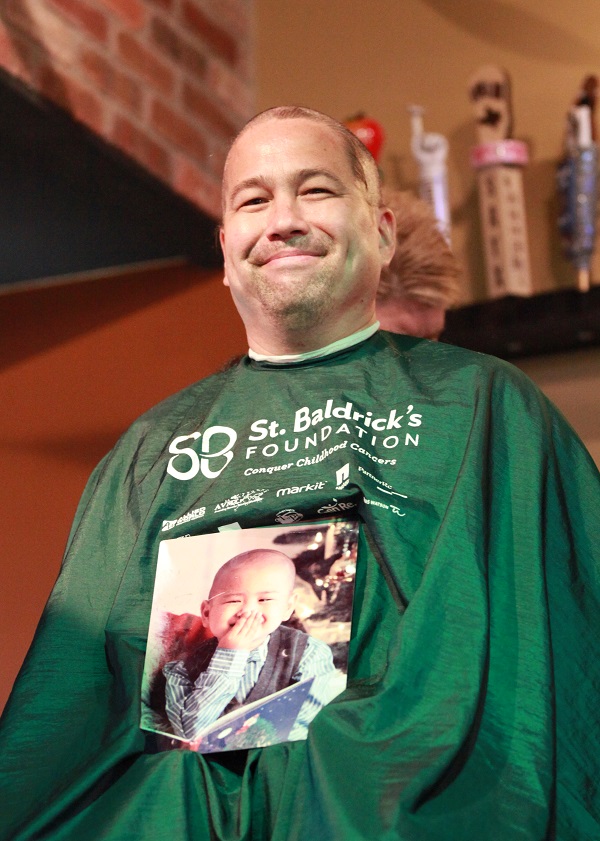 Alan's dad, Harold, holds a photo of Alan as he has his head shaved.
I could feel each wave of cheers and support for our Honored Kids like a physical blow, one that lifted me rather than knocked me down. I hope our fellow families felt it, too.
Personally, I see the mission of the Foundation as a trifecta – fundraising for research, advocacy for awareness, and shaving to show solidarity. As a non-shaving volunteer, I've always been more invested in the fundraising and advocacy. But that afternoon, speaking to that crowd, feeling their energy, feeling that palpable physical wave of support from everyone gathered there each time I invoked an Honored Kid's name, I felt Solidarity with a capital "S."
Angels, Survivors, and Fighters and their families, friends, and community, all coming together to Conquer Childhood Cancer. Uniting forces — it's a powerful thing.
Did you know that adding an Honored Kid to your participant page gives you fundraising superpowers? It only takes a few quick steps!
Not yet a St. Baldrick's participant? Get involved!
GET INVOLVED
You may also like these stories:
Photos by S.L. Smith Photography.