Acute myeloid leukemia (AML) is tough for doctors to treat. Because of that, the intense treatment needed to beat AML can be especially tough on the kids who have it. St. Baldrick's researcher Dr. Anders Kolb wants to change that with targeted therapy. To do this, he's getting a little help from his friends – including St. Baldrick's.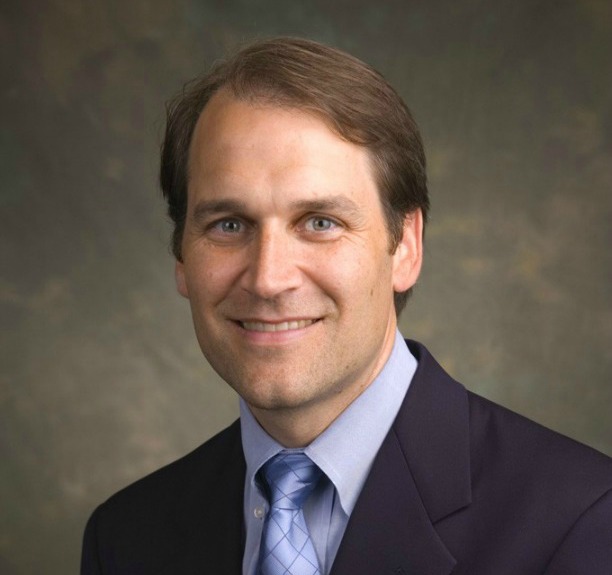 Dr. Anders Kolb is one of St. Baldrick's newest grantees.
Many kids in treatment for AML are getting hammered by strong treatments, like intense chemotherapy and bone marrow transplants. These therapies can save their lives, but often come with a steep cost as they grow up.
"There's only so much we can do with the tools in our toolbox," said Dr. Anders Kolb, who works at the Alfred I. Dupont Hospital for Children in Delaware. "We have five different hammers and they're all really big hammers. We don't have anything that is more subtle and more targeted."
Not yet, at least.
A subtle and targeted therapeutic tool is exactly what Dr. Kolb and his collaborators at Seattle's Fred Hutchinson Cancer Center are working on, thanks to a St. Baldrick's research grant.
"Lots of problems with cancer therapy comes from the fact that we use treatments that kill normal cells as well as leukemia, though it kills the leukemia cells faster," he said. "So, if we have a target we can go after, it allows us to pick out the cancer cells among all the healthy cells and go after just that one."
Dr. Kolb's award was part of our newest round of grants — St. Baldrick's Summer Grants! Learn about how YOU made them possible >
This target is called mesothelin. Discovered by St. Baldrick's researcher Dr. Soheil Meshinchi — who is collaborating with Dr. Kolb — mesothelin is found only on the surface of leukemia cells.
But how do you turn that target into a therapy?
Enter another one of Dr. Kolb's collaborators — Dr. Colin Correnti at Fred Hutchinson Cancer Center. Dr. Correnti is an expert at engineering antibodies. For this project, he's building and customizing an antibody – a targeted therapy – straight from his lab.
"Antibodies are the proteins that our body makes part of the immune system that help fight off foreign infections," Dr. Kolb explained. "In this case, Dr. Correnti is going to make an antibody that goes after this mesothelin, so we can target the mesothelin with the patient's own immune system."
Called a BiTE antibody, it not only targets mesothelin for destruction. It also recruits special white blood cells, called T cells, to help in the fight.
2015 Ambassador Sam was diagnosed with AML in June 2012. Affectionately nicknamed Superman Sam, the spirited 8-year-old passed away in 2013 after relapsing for the second time.
Kolb and his colleagues would like to bring this targeted therapy to a clinical trial within the next couple years. They're hoping it could turn into a new treatment for kids with AML – one that's less toxic than the current intense chemotherapy regimens that can leave kids with devastating late effects, like heart and cognitive problems.
"If we're going to make any advances in the future, we have to have targeted therapies. We have to go after those things that make the leukemia cells unique, otherwise the collateral damage in the rest of the patient's body is just too great," Dr. Kolb said. "So, our goal is to take all of the information that we've learned from understanding leukemia cells — from sequencing and understanding the genetics of leukemia cells — and use that to build a better therapy. If we don't, we're not going to make any progress."
Here are the 2 biggest threats childhood cancer survivors face today >
When it comes to progress for kids with cancer, collaboration is an essential ingredient. As Dr. Kolb said, he's no expert in the molecular genetics of AML, like Dr. Meshinchi, or in engineering antibodies, like Dr. Correnti. And they can't do what he does, which is to prepare the research for clinical trial testing.
"I couldn't build an antibody. I'm not very good at molecular genetics and those guys don't have the resources that I have," he said. "I think in the pediatric cancer world, and I hope the cancer world in general, all of us are so mission-focused that institutional lines don't matter. This is about getting the best therapies to kids."
That's why they work together – with help from St. Baldrick's. This research started with a consortium grant and is now funded with a new year-long research grant.
"St. Baldrick's knows the challenges that we face. They know that they have to get the money to the researchers to fund the best projects as quickly as possible with as few barriers as possible," Dr. Kolb said. "Federal funding levels are not as high as they should be for childhood cancer and there are many barriers between investigators and those funds. Without St. Baldrick's we wouldn't be able to do what we're doing."
With this promising targeted therapy, these researchers are not just helping kids with AML survive. They are helping them thrive.
"Our hope in the journey is that we come up with better therapies that cure more children with fewer side effects," he said. "That's the mission."
Join us and Dr. Kolb in our mission to conquer childhood cancers. Fund lifesaving kids' cancer research today.
Donate
Read more on the St. Baldrick's blog: