Judy, mom to Ambassador Alan, explains how she turned a simple game into a fundraiser for childhood cancer research.
Judy, right, and one of the event organizers.
I had an epiphany last fall. I was at a fundraising gala and started chatting with the people sitting at our table, asking them what brought them out that night. I expected to hear about their child, or a child that was dear to them. In fact, over half our table came because they were on the restaurant's email list, with no connection to the nonprofit we were supporting that night. A great dinner and a good cause to boot — what's not to like?
My conclusion was that the way to boost your fundraising is to reach beyond your constituency, beyond the people who have a vested interest in fighting childhood cancer. So, to mark the first anniversary of Alan's passing, two groups of friends held Bunco events to raise money for Alan's Hero Fund. This would be our first event since the announcement that Alan was one of the five St. Baldrick's Ambassadors for 2014, and we would be unveiling the banner with his picture. It would also be our first event for the Hero Fund in 2014 and a good start to a new fundraising year.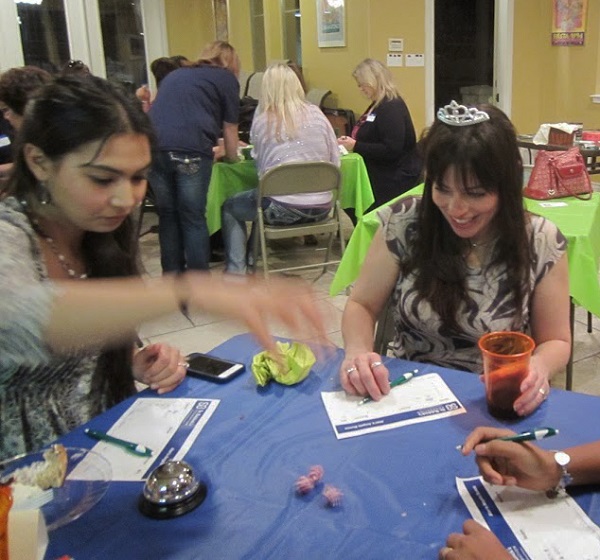 Players roll the dice during the Bunco game at one of the Bunco Night fundraisers.
If you're not familiar, Bunco is a simple dice game — four people to a table, two to a team. If you can count to six, you can play. Add as many tables as you need for however many people attend. We chose this game because it's very popular, easy to teach, and only requires dice, pencils, paper, tables, and chairs to play.
To throw the fundraiser, we asked people to give a donation to play. We set "admission" at $10, but with the food and beverages offered along with the game, we will probably ask for $15 next time.
Prizes, food, and beverages as well as items for a raffle and silent auction were donated. Prizes — given out for Most Wins, Most Losses, Most Buncos and Last Bunco — were Votre Vu gift sets, so that St. Baldrick's could benefit twice!
The organizers asked for donations from friends with home businesses for the silent auction. St. Baldrick's makes it easy to run the silent auction by providing bid sheets and auction payment forms in the Document Library. People bid on silent auction items before the game started and during the break.
Auction items at the event.
Between the Bunco game and the silent auction, we needed a lot of pens. We asked a local business to donate promotional pens, so we didn't need to buy any pens and we promoted their business.
A raffle ticket was given to every person coming to play, and additional raffle tickets were available to purchase. Smaller items like pen and notepad sets, pretty bracelets, sample sets from Votre Vu, and St. Baldrick's T-shirts were given out as raffle prizes. We drew several prizes at a time starting soon after people arrived to get them excited about the raffle and continued to draw throughout the night.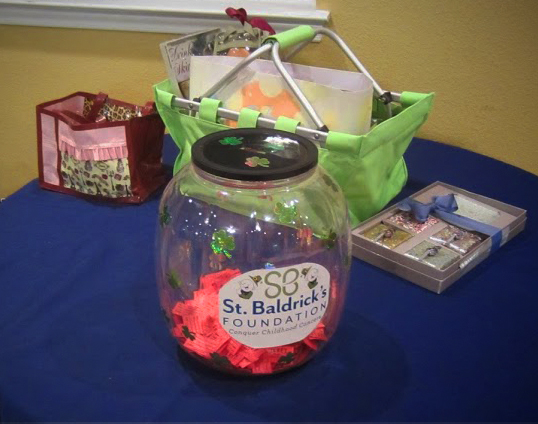 Raffle tickets at the event.
Organizers and supporters brought food — bottles of wine, water and soda, and heavy appetizers. Another talented supporter dipped strawberries and rich Danish butter cookies drizzled in white and gold for a delicious and beautiful tray. Bite-sized desserts kept things simple, which meant we only needed small plates and minimal cutlery.
Because everything for the evening was donated, every cent we raised was given directly to St. Baldrick's. One small event with a dozen people attending raised over $700, and the second event with approximately 40 people raised almost $2,200.
If you're not interested in Bunco, you can do this kind of fundraiser with any kind of fun get-together — like poker, Scrabble, or Twister. Tailor the prizes and refreshments to your target crowd and not only will you raise money, you'll spread the word about St. Baldrick's to new people.
Though many people attended because they knew or wanted remember Alan with us, people also came because it was a fun evening!
Follow Judy's lead and organize a Bunco night to benefit children's cancer research, or come up with your own way to help kids with cancer!
DO WHAT YOU WANT
Get more Do What You Want fundraiser ideas: