Start a Do What You Want fundraiser and help cure childhood cancer!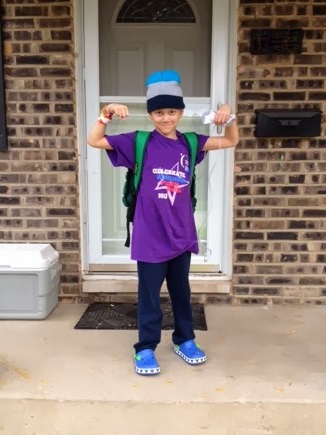 Sam was diagnosed with acute myeloid leukemia when he was 6.
Sometimes being a superhero doesn't have anything to do with a cape. Everyday superheroes seem to be changing the world without them.
Superman Sam Sommer showed us all what a true superhero looks like. In 2012, Sam was diagnosed with acute myeloid leukemia. This past November, at 8 years old, Sam lost his battle with leukemia — but not before proving that he did indeed have super powers.
Super Power 1: The Power to Bring People Together
Not only did Superman Sam rally more than 50 Reform Rabbis to shave their heads in support of St. Baldrick's, but his powers reached all the way to West Coast Party, our biennial three-day retreat for teens from all over the West Coast.
Because of Sam, 400 teens and 100 young adults from the Reform Jewish community came together at URJ Camp Newman to pray and dance at our dance-a-thon fundraiser to show support not only for Sam's family, but for other families who are fighting similar battles.
The community we created in only three days was full of ruach (spirit), deep emotional connections, and a strong desire to change the world.
Super Power 2: The Power to Inspire Others to Make a Difference
Because of Superman Sam, the teens learned how to "Pray With Their Feet: Making Change One Step at a Time."  Over the course of the weekend, they raised over $9,000  for the St. Baldrick's Foundation to help find a cure for pediatric cancer.
Super Power 3: The Power to Spread the Light of Hope
Several days following West Coast Party, Camp Newman received the following email:
My name is June.  I was a Solel camper back in the seventies.  Today, I am a 51-year-old mother of a pediatric cancer survivor.
Our daughter, Emily, was diagnosed with osteosarcoma in December of 2011. She finished treatment in August 2012. She endured 18 grueling chemotherapy treatments and a 10-hour surgery on Purim day in March of 2012, wherein 7 inches of her right tibia was removed and replaced with donor bone.
She is now 17 months post chemo. Emily is has no evidence of cancer in her body. She is a high school senior and she is on her way to NYU in the fall. Emily was a 2013 Ambassador for the St. Baldrick's Foundation. A friend, whose daughter was recently a Camp Newman camper, forwarded the news to me of Camp Newman's dance-a-thon and support of the St. Baldrick's Foundation.
I am moved.  I am grateful.  I am proud. Todah Rabah.
Superman Sam's legacy lives through not only those who knew him personally, but through the impact his memory and story continue to make in the fight to end childhood cancer.
The West Coast Party Dance-a-thon raised over $9,000 to help the 36 Rabbis Shave for the Brave reach their fundraising goal. You, too, can link a fundraiser to your team or event and blow right past your goal!
Want to start your own fundraiser for childhood cancer research? It's easy — just do what you want!
DO WHAT YOU WANT
Read more stories on the St. Baldrick's blog: