To most parents, the first day of school is a big deal in a good way. For the parents of kids fighting cancer, however, the first day of school can be the start of one more scary, uncharted journey. But it doesn't have to be. Read on for the story of two cancer fighter classmates who were embraced by their school, where their cancer journeys became a valuable lesson in acceptance and the realities of childhood cancer.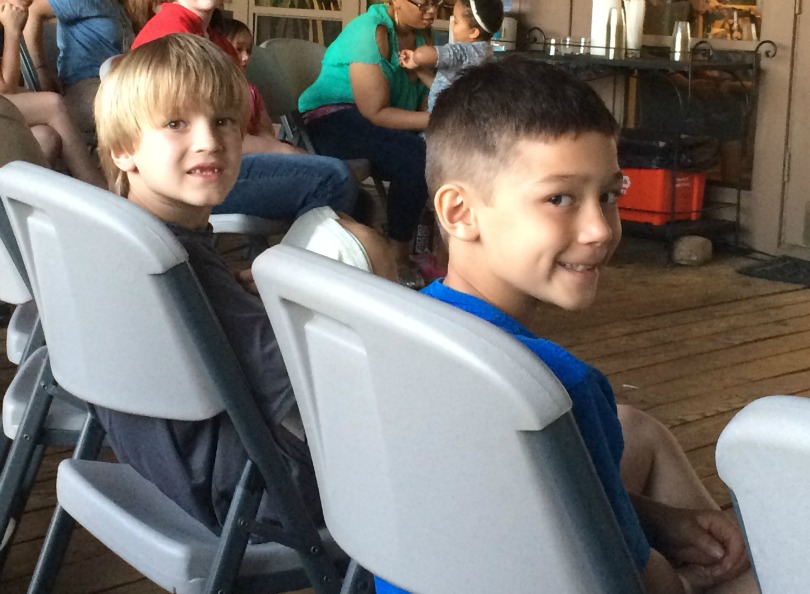 Alex and Scott sit together during a meeting at the clinic.
Every day, the first-graders at Triangle Math and Science Academy used to break out the Clorox wipes to clean their desks. The scrubbing of their workplaces became so routine that it's now second nature to some of the kids who attend this charter school in North Carolina.
But to Liz Ferm and Nancy Lenfestey, it means the world.
That's because both of their sons were in that class, and their classmates started the routine to keep them safe.
Alex's Childhood Cancer Story
Alex's cancer might have gone unnoticed if his mom, Liz, hadn't pushed his kindergarten wellness check up to July because of the birth of his little sister.
"If we had gone in May when we should have, she probably wouldn't have detected it," Liz said.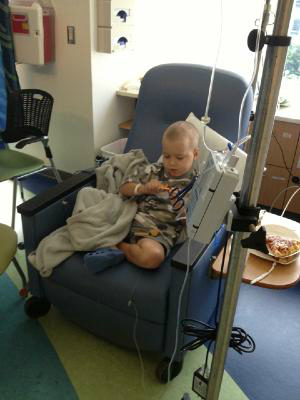 Alex gets his treatment.
The pediatrician was checking his lymph nodes when she felt something that made her stop and  order an ultrasound.
It was non-Hodgkin lymphoma.
Alex went into chemo just two days later. In November 2015, he finished treatment.
"I thought from day one, he's going to make it," Liz said. "I had no doubt in my mind. We're going to fight it."
Scott's Childhood Cancer Story
Scott's cancer was caught early, thanks to a bunch of vinyl grapes. That sounds strange, but it's true.
When Scott was 3 years old, he plucked fake grapes from a fake bunch and ate them.
"I don't know what possessed Scott to eat them – like, a lot of them. He didn't just eat one," Nancy said.
Scott enjoys a day at the bowling alley.
Scott was complaining of being tired and looked pale, so Nancy took him in to the doctor to get tested for lead poisoning, just in case the grapes had been contaminated.
"Everything looked fine. Vision, hearing, everything," Nancy said. "Then we get a call that night at 9 o'clock and he says, 'I'm afraid it's bad news.' I say, 'Lead poisoning, right?' And he said, 'No, I'm afraid it's leukemia.'"
It was acute lymphoblastic leukemia, the most common type of childhood cancer.
Nancy and her husband, Rob, were in disbelief.
"Where did that come from? We had no idea that what he was experiencing was something of this magnitude. It was shocking." Nancy said.
Scott was on treatment for three and a half years — at that point, half of his young life.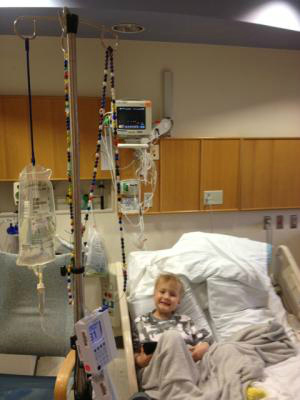 Alex grins from his hospital bed during treatment.
A New Friendship
Scott met Alex in the clinic, where the two boys bonded over how much they hated steroids.
Soon enough, the two cancer fighters would not only be clinic buddies, they would be first-grade classmates.
"It's been really comforting for the boys and for us as parents, because I know that the two boys have talked about their shared experiences, about being on steroids and chemo and some of the other challenges that they've faced," Nancy said. "They know that they understand what each other went through."
Shared Fears Eased
Cancer parents know that the anxiety and fear doesn't end when treatment is over, or when a child shows no evidence of disease and is in the maintenance phase of their treatment.
"What people don't fear — a simple fever — our kids end up having to go to the hospital for. They need to rule out that it's not sepsis, it's not an infection that could kill them instantly," she said. "Even just a minor cold becomes a big deal for us."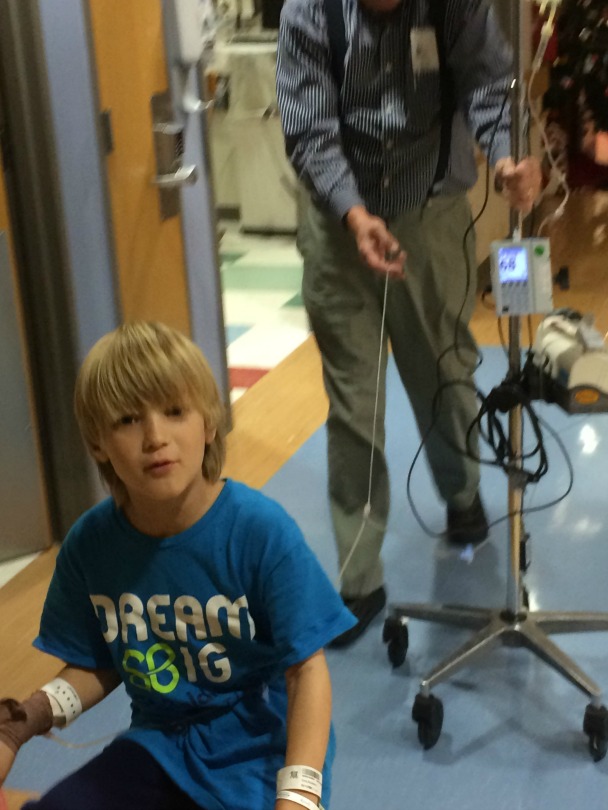 Alex sports a St. Baldrick's shirt while riding his bike through the hospital halls.
Liz and Nancy both worried about sending their boys to school, but they found the boys' first-grade classroom to be a very supportive environment for two children fighting cancer — something Liz described as "phenomenal."
The teacher, Michelle Tyndall, talked openly with the first-graders about their classmates having cancer. The students were taught to wipe down their desks regularly and sanitize their hands before every snack and during class parties when they shared food.
"We felt really supported. It erased some of our fears, I think, because we knew that the kids have a good understanding of why it's important for them to do this. Now that it's become second nature to them, it's just like a sigh of relief," Nancy said.
To protect his delicate immune system from germs, Nancy and Rob got permission to have Scott seated alone, instead of in an island of a few desks like the other kids. He received his own kit of scissors, glue and markers, instead of sharing a class set.
"Since I was in treatment and didn't get to go to kindergarten, first grade was my first time ever being in a classroom," Scott said. "I was a little nervous at the beginning of the year because I knew that I had to be very careful about germs, since my body was trying to build itself back up."
Read Scott's speech to Congress about childhood cancer >
"I was really thankful that Mrs. Tyndall was understanding about letting me sit separately from everyone," he added, "kind of like on my own island."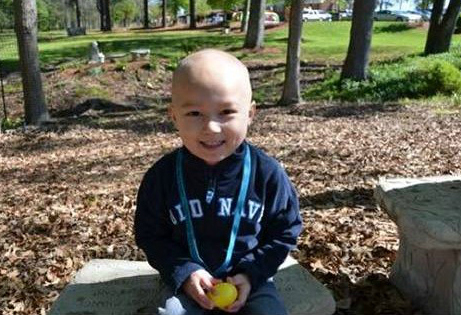 Scott beams after finding an Easter egg.
Childhood Cancer Awareness in the Classroom
But that wasn't all.
A child life specialist came to the classroom and did a special presentation on childhood cancer and the boys' cancer journeys.
She explained that childhood cancer wasn't contagious and that it wasn't caused by either boy doing anything wrong. She talked with the kids about how a child who's had cancer might like to be treated and encouraged the kids to include Scott and Alex, and treat them normally. She explained that cancer treatment takes a long time and the boys may have side effects long after the treatment was over.
BLOG: 10 Facts About Childhood Cancer >
There was a slideshow, with photos from Scott and Alex's treatment, and a question and answer time. The kids also got Red Hots candies, mini marshmallows, and other treats not only to eat, but to learn from.
"They all represented platelets, white blood cells, and red blood cells," Nancy said, "and she explained blood cancer to the kids. They made their own model."
Scott poses for a photo on his first day of school.
It was, in the moms' words, a great day, which showed them what reintegration into school could look like — and should look like — for a kid who's had cancer.
Now, 45 students at Triangle Math and Science Academy know all about childhood cancer and have accepted Scott and Alex as just normal kids — and that's the best part for both boys.
"I think they just accepted him and Scott," Liz said. "It was kind of like, 'This is a big thing that they've gone through, but hey, let's go play soccer.'"
Kids with cancer deserve to celebrate all of life's milestones, big and small. Help make that a reality by supporting the gold standard in childhood cancer research.
Give

Read more on the St. Baldrick's blog: