Isabella is a prizefighter in a tiny, 3-year-old body, knocking out childhood cancer with a smile. Read on to learn more about this incredible puzzle-loving girl, her shining spirit, and her unique childhood cancer journey.
Isabella was diagnosed with neuroblastoma last year and is currently completing her treatment.
Isabella's favorite song suits her so perfectly that it could be the theme to her own story.
It's the eye of the tiger
It's the thrill of the fight
Rising up to the challenge of our rival
That's right. The 3-year-old is obsessed with "Eye of the Tiger," the theme song to the ultimate American underdog story, Rocky. Her mom, Jennifer, often jokes that sometimes during treatment Isabella needs a little Rocky inspiration.
"She kind of bops her head to the beat," Jennifer said.
Despite a long, tough treatment journey, Isabella is always ready to smile.
In June 2015, Isabella was diagnosed with neuroblastoma. Despite the enormous tumor that was growing in her pelvis, little Isabella showed no symptoms.
The way they discovered the tumor was "very roundabout," Jennifer said. To this day, she doesn't even think the doctors would have found the cancer if the dominos hadn't fallen in just the right way.
First, Isabella's pediatrician noticed that her eyes were slightly crossed, so she sent mother and daughter to an ophthalmologist.
The ophthalmologist saw damage on the girl's optic nerves, so they were sent to a neurologist.
The neurologist told them there was no need for an MRI since Isabella was doing so well. But, he recommended they go to a geneticist, since it looked like the damage was caused by a genetic condition that can affect the kidneys and heart.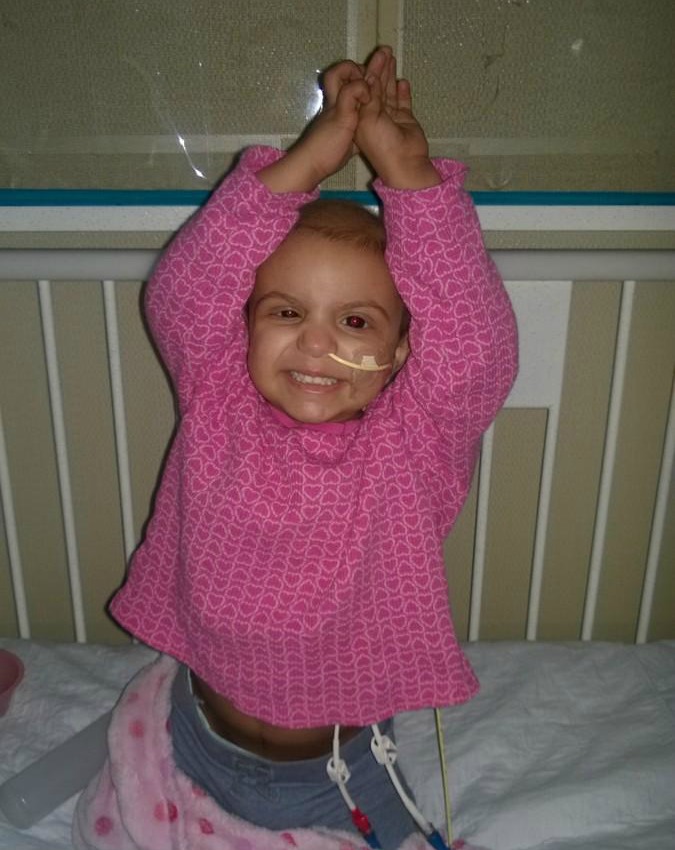 Isabella celebrates the end of her in-patient treatment.
The geneticist couldn't find any other genetic syndromes affecting Isabella, but ordered a sonogram of her kidneys and heart to make sure everything was OK.
That sonogram revealed the mass in the 2-year-old's pelvis.
But the cancer wasn't just there. It had already spread to her bones.
"So you can imagine the shock, not only for us, but her pediatrician, everyone," Jennifer said. "That's what started this whole crazy journey."
Guided on this crazy journey by St. Baldrick's researcher Dr. Jonathan Fish, Isabella has endured six rounds of chemotherapy, MIBG therapy, two stem cell transplants, and 20 sessions of proton radiation.
"Isabella had high-risk neuroblastoma, which is unfortunately a very aggressive cancer and often very difficult to treat," said Dr. Fish. "So, as pediatric oncologists, we really had to pull out all the stops and we used just about everything in our arsenal to try to get it to go away."
Next, she'll receive immunotherapy. Then, hopefully, Isabella will be done with her treatment. She's now showing no evidence of disease.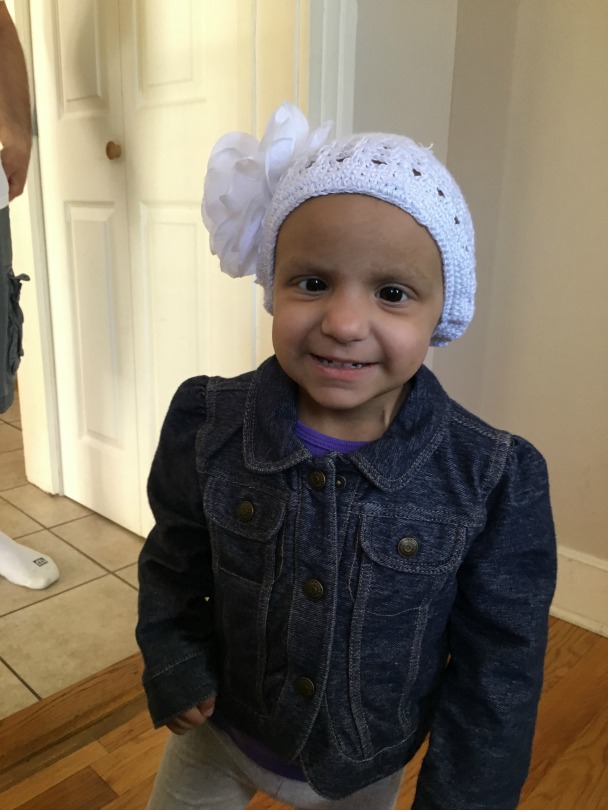 Isabella has a thing for puzzles, even if pieces are missing, and loves seeing the hippos at the aquarium.
"She's done really well. Really well, thank God. She's very laid back, happy, carefree, friendly. She has a great personality," Jennifer said. "She kind of goes through it all, takes it in stride. She comes, she gets her treatment, and pretty much goes back to normal, like nothing happened."
BLOG: How Immunotherapy Saved Phineas >
Isabella is obsessed with puzzles and loves going to the playroom. She's a fixture in the hallways of the hospital, and is often seen roaming the unit with her baby stroller in tow.
"They joke that she's the mayor of the unit because she likes to watch and see what everyone's doing," Jennifer said. "If she hears a machine beep, she points it out. She wants to make sure that everything's happening as it should.
Isabella's family has been supporting St. Baldrick's since before the little girl was diagnosed. Jennifer remembered bringing Isabella to their local event in April 2015, just months before she was diagnosed with childhood cancer.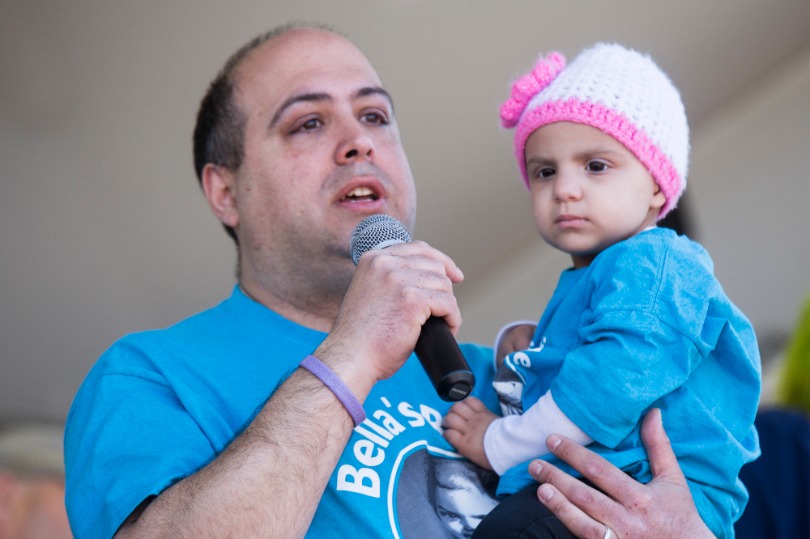 Isabella with her dad at a St. Baldrick's event.
"Childhood cancer was always the one issue that always struck me— that's what always hit home, even though I had no experience with it. It just seemed like one of my biggest fears," Jennifer said. "It would always hurt me a lot to see it and to hear about it. Then to be going through it was just very surreal."
For now, Isabella's family doesn't think too much about the future. They take everything one day at a time. Jennifer said they just have to stay strong and do their best to get Isabella whatever she needs to keep fighting like the champion she is.
"Because she's doing her part, that's for sure," she said. "So our part is easy."
Help kids like Isabella have the happy, healthy childhoods they deserve. Fund childhood cancer research today.
Give
Read more on the St. Baldrick's blog: