Honored Kid Zayla was just 3 years old when she was diagnosed with leukemia. After intense treatment, she graduated to survivor. But it didn't last. The treatments she'd received to save her life caused a secondary cancer — a brain tumor — years later. Read on to learn more about Zayla, her fighting spirit, and why her family supports childhood cancer research.
Update: On the evening of March 30th, Zayla passed away, surrounded by her family. Our thoughts are with them at this difficult time.
What do you do when you get cancer from the very treatment that saved your life from cancer?
You keep fighting like a girl.
That's 14-year-old Zayla's motto, and that's what she and her family are doing.
Zayla is an old soul in a young, failing body, her mom, Chris, says. She's a cheerful, cheeky girl who has rolled with the punches ever since she was a little kid, when she was diagnosed with acute lymphoblastic leukemia, or ALL.
"When you sign all those papers, like we did back when she was younger to get the treatment, you always had that thought or idea, because they make you aware that this could cause a secondary cancer or this could cause XYZ," her mom said. "It's always in the back of your mind, but you're always optimistic that this is not going to be the case."
Diagnosed three years ago with a secondary cancer caused by her treatment, Zayla is now under hospice care.
"This has been our life. This is what we've been dealing with for over 11 years, off and on. Her leukemia when she was little was terribly hard and she had a bone marrow transplant. Then we had five relatively good years of health for her, and then the secondary cancer came along," Chris said. "This is a story that you don't see very often publicized, but they happen more frequently than people want to believe."
After Zayla was first diagnosed with ALL, her family went with the standard protocol of chemotherapy. But about six months before Zayla finished treatment, she relapsed.
"Initially, she relapsed in just her spinal fluid and we went with a harder chemo schedule, which seems crazy if you think of a harder chemo schedule for a 5-year-old," Chis said.
But that harder chemo, with its long nights in the hospital, wasn't working and Zayla wasn't bouncing back like she did before. It turns out that the little girl was relapsing in her bone marrow. A bone marrow transplant was their only choice.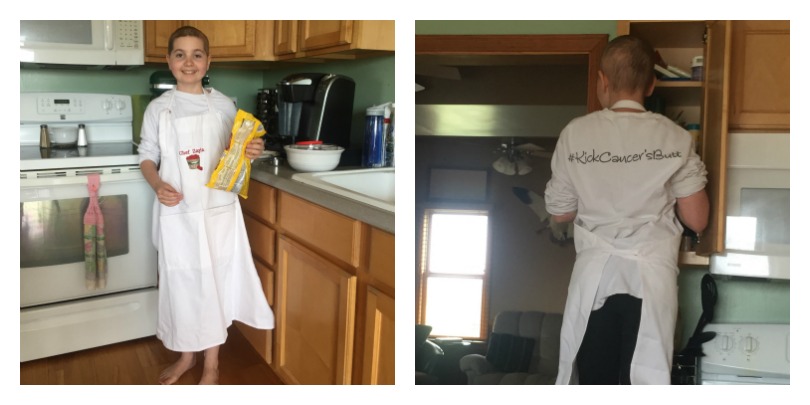 One of Zayla's favorite things to do is to cook. She also loves crafting, swimming, and gardening.
Zayla's big sister Shelby was her bone marrow donor. The little girl endured radiation to her brain and body to prepare for the bone marrow transplant, then strict isolation in her hospital room afterward. There were a few bumps in the road, but Zayla coped well, Chris said.
Finally, long after the transplant was over and the risks of infection had diminished, Zayla returned to school and being a normal kid.
That was how it was for the next six years — as close to normal as a kid who had cancer can get. Zayla played softball and volleyball, and the family went on trips together every spring. She was declared a childhood cancer survivor after hitting the five-year mark.
BLOG: Facts About Childhood Cancer Survivors >
"It went by really fast, looking back," Chris said. "We always tried to live life to the fullest."
After her diagnosis with secondary cancer, Zayla went back into treatment.
On a hot summer day in 2013, Zayla was swimming with her older sisters when she discovered that she couldn't feel her arm. Chris, who is a nurse, rushed home to find her daughter slurring her words. She thought Zayla had suffered a stroke.
It was a brain tumor. Lodged in a bad spot and fed by an ample blood supply, the tumor was inoperable. They were told it was a result of the treatment the teenager had received to save her life when she was a young child.
Zayla named it Bob.
Soon after her diagnosis, she started chemotherapy and radiation. Zayla fought like a girl and Bob shrank.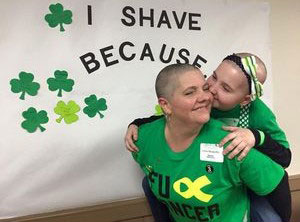 Zayla kisses her mom, Chris, after she shaved with St. Baldrick's.
"I think she was always probably irritated more than anything — kind of a 'why the hell does this keep happening?' kind of thing," Chris said. "She has always said, 'I just want to be a normal kid. I just want to do normal kid things. I don't want this.'"
While Bob wasted away after a year of treatment, more spots appeared. They tried more radiation in different places. They tried anything they could.
"I guess more than anything it's just disheartening. It makes you angry. Why is the treatment giving them another cancer?" Chris said. "That's not a cure."
That's why childhood cancer research is important to Chris. It's why she's involved in St. Baldrick's, and it's why she'll continue to support childhood cancer research in her daughter's honor.
Last year, Chris shaved at a St. Baldrick's event and Zayla was the one holding the clippers. The teenager had shaved her own head a week before.
"We're giving these statistics on children's lives that in a five-year span we have an 80% cure rate. That's wrong. It's correct for five years. It's not giving the bigger picture," Chris said. "You're not extending children's lives if you're only extending it for five to 10 years."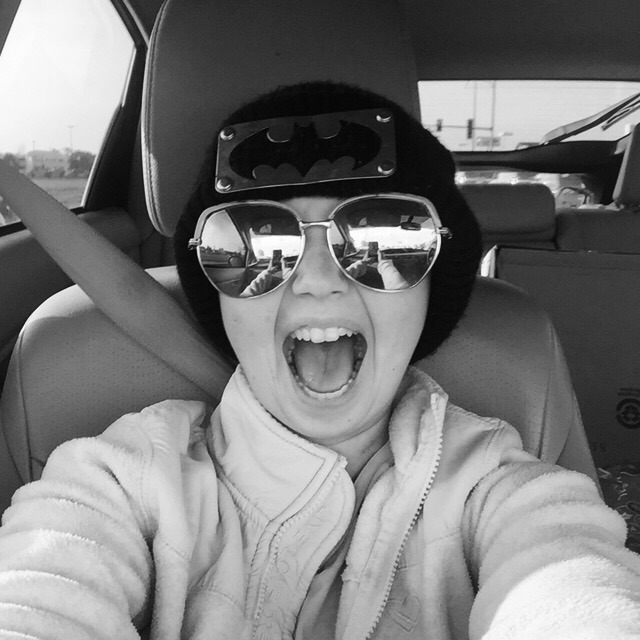 Zayla takes an epic selfie.
Late last week, Zayla lost consciousness and hasn't woken up. Chris knows that she could lose her daughter at any moment, but she still wanted to take the time to share her family's story. She knows that we can do better — that kids like Zayla deserve better. They deserve long, healthy lives.
They deserve a true cure.
"I just want to reach out and get people to do something," Chris said. "I don't care what it is. Just do something."
Give kids with cancer the lasting cure they deserve. Fund childhood cancer research today.
Give

Read more on the St. Baldrick's blog: