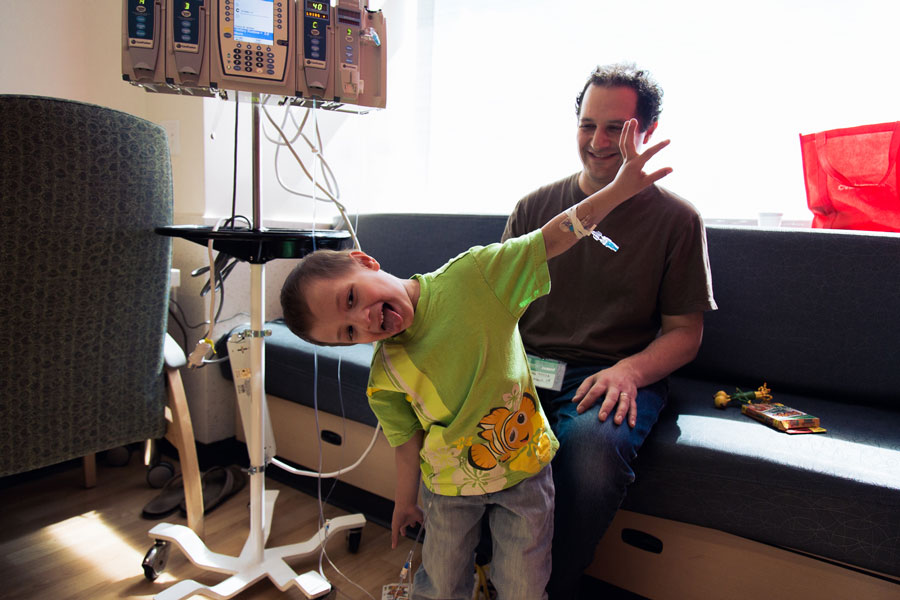 Honored Kid Micah shows off his dance moves as his dad, Jeff, looks on.
I'm sitting in the waiting area of a hospital 100 miles from home to get the results of my 7-year-old son's latest MRI scan. Strange to think of myself as one of the lucky ones, but in this club that no one wants to join, I am lucky. My son Micah is now celebrating four years with no evidence of disease, after being diagnosed with an aggressive form of cancer when he was just a toddler. But that good fortune didn't come out of nowhere. We are lucky because Micah had treatment options – options made possible by St. Baldrick's Foundation donors like you. Now I need your help to make sure that every child with cancer has as many options as my son Micah had.
Micah was only 15 months old when he was diagnosed with neuroblastoma, a type of childhood cancer that develops in nerve tissue outside the central nervous system. The first year was nothing short of brutal – eight different chemotherapies, radiation, surgery, and a lot of other treatments and medications to combat the side effects of the first three. Despite all this, he relapsed twice, reducing his chance of survival to around 10%. Facing those terrifying odds, my wife, Kate, and I set out to find a path that would give Micah the very best chance of staying cancer-free. We were determined to explore every option available.
When you're in the childhood cancer world, most of these options are clinical trials. Ranging from Phase 1 to 3, these trials are crucial to the discovery of better, less-toxic treatments. As you can probably guess, Phase 1 trials tend to be riskier, because while doctors and researchers hope the treatment will be beneficial, they're first working to find the highest safe dose of the drug. Micah has been on three different Phase 1 trials over the course of his treatment and five trials overall. As a parent, making the decision to commit his health to a hypothesis yet to be proven was terrifying. We moved forward with each trial because we felt each was his best option and knew, at the very least, we would be helping to advance research.
Micah and his dad rest in the hospital during treatment in 2014.
Thanks to generous donors like you, St. Baldrick's funds clinical trials at over 230 institutions in the U.S. At any given time, their funding is crucial to keeping clinical trials open. Beyond having access to a trial that may not open without funding from St. Baldrick's, families like mine have a better chance of a trial close to them because of St. Baldrick's commitment to supporting trials across the country. That might not sound like a big deal, but if the only way to give your child their best chance at life is to go hundreds (or even thousands) of miles away from your home and entire support network, then I promise you, it is a life-changing deal.
Just now, I got news from the doctor that makes me feel even more fortunate. Micah remains cancer free. Kate and I know that he continues to defy the odds because of the research he has benefitted from – and contributed to – through his participation in these trials. This research and these clinical trials were only options for us because of St. Baldrick's commitment to funding the very best cancer research, no matter where it is taking place.
Please be the hope for families like ours. You can help children like Micah by sending a gift of $100 or more today. Your gift can be the difference between a child having a treatment option that could extend or even save their life, and a family being told that they have run out of options and no more can be done.
Sincerely,
P.S. You can help all kids with cancer get the treatment options they deserve. Donate today and make lifesaving kids' cancer research possible.
Donate >
Read more on the St. Baldrick's blog: