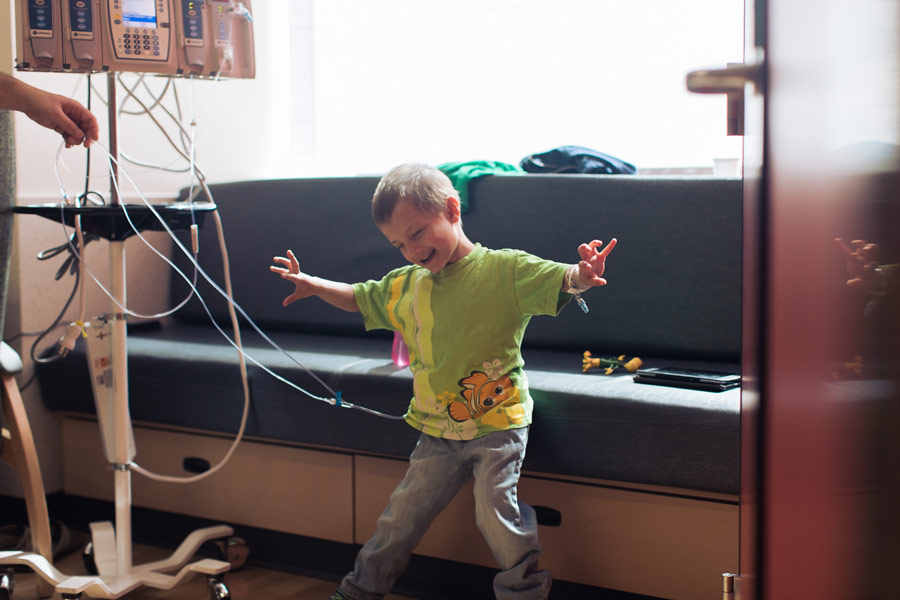 Micah dances to his favorite song, "Let It Go," in his hospital room at CHLA. A nurse helped him with some choreography and whenever Micah has visitors he puts on a show.
Micah
is literally dancing through treatment.
Careful of the lines attached to an IV in his wrist and to a port in his chest, the 4-year-old will raise his hands and twist his hips in his room at Children's Hospital Los Angeles (CHLA), where he's participating in a clinical trial partly funded by St. Baldrick's.
As an infant, Micah was diagnosed with high-risk neuroblastoma. An aggressive disease with no known cure and a high rate of relapse, it's one of the deadliest types of childhood cancer. Micah has relapsed twice and has been through a battery of treatments with a host of side effects.
Now free of detectable disease, he's on a clinical trial to keep him that way.
His parents, Jeff and Kate, have come to expect their son to have fevers and pain during treatment, to be throwing up and cranky. They've expected him to not be himself — a bright, curious, stubborn boy with an impish grin.
This trial has been different.
That's because, other than being stuck in his room for days, he feels good — and that's really good for a kid being treated for cancer.
Spearheaded by the NANT (New Approaches to Neuroblastoma Therapy) Consortium, housed at the Children's Center for Cancer and Blood Diseases and funded by St. Baldrick's, the trial is looking at whether relapse in kids with neuroblastoma can be prevented with a combination of drugs — Unituxin, lenalidomide and the acne drug Accutane, which causes potential neuroblastoma cells to mature into harmless nerve cells.
Unituxin, which was just approved by the FDA for widespread use in neuroblastoma, is a lab-developed protein that attaches itself to receptors on neuroblastoma cells.
"It doesn't necessarily kill the tumor cells," said Dr. Araz Marachelian, Micah's oncologist and the head of the trial at CHLA. "What you need is the body's immune system to come in and then recognize that as something foreign and be able to kill it."
That's where the lenalidomide comes in. Lenalidomide ramps up the immune system, increasing immune cells that target tumor cells. Thanks to the Unituxin, those immune cells can spot the neuroblastoma cells, killing them and leaving healthy cells untouched.
Micah takes the lenalidomide at home, since it's a simple pill, and goes into the hospital every four weeks to receive the Unituxin. Because Unituxin can cause some pain, he receives an infusion of pain meds as well.
"He actually is quite pleasant and is able to tolerate it very well," said Dr. Marachelian, who has treated Micah since he was a baby. "The pain is very well controlled, which is really beautiful to see, and he's able to tell us stories and jokes."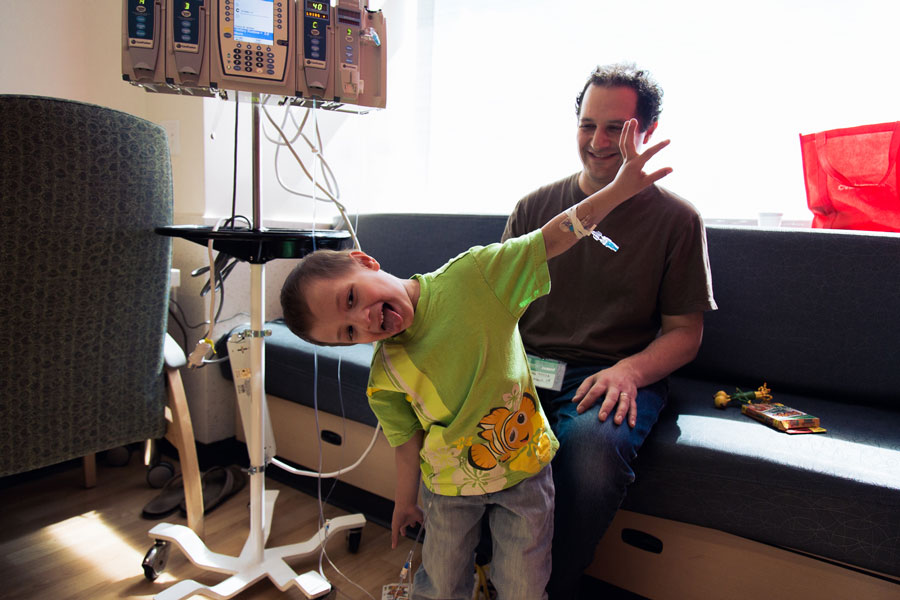 Micah clowns around in his hospital room, making his dad laugh.
The whole time, Micah is closely monitored, receiving blood draws and extensive scans regularly. There have been a couple scares around spikes in certain enzymes in his liver, but other than that it's been smooth sailing, his parents said.
"We have friends who have counters full of medication for their kids and he's got these three at home, essentially, and that's it," Kate said.
Micah is one of about 20 kids across the country who are on the NANT trial. The researchers hope the results from studying those patients will eventually show that the Unituxin and lenalidomide combination is effective and easier on kids than other similar combinations.
"Meaning patients like Micah can be in the hospital and crack jokes while he's getting this treatment," Dr. Marachelian said.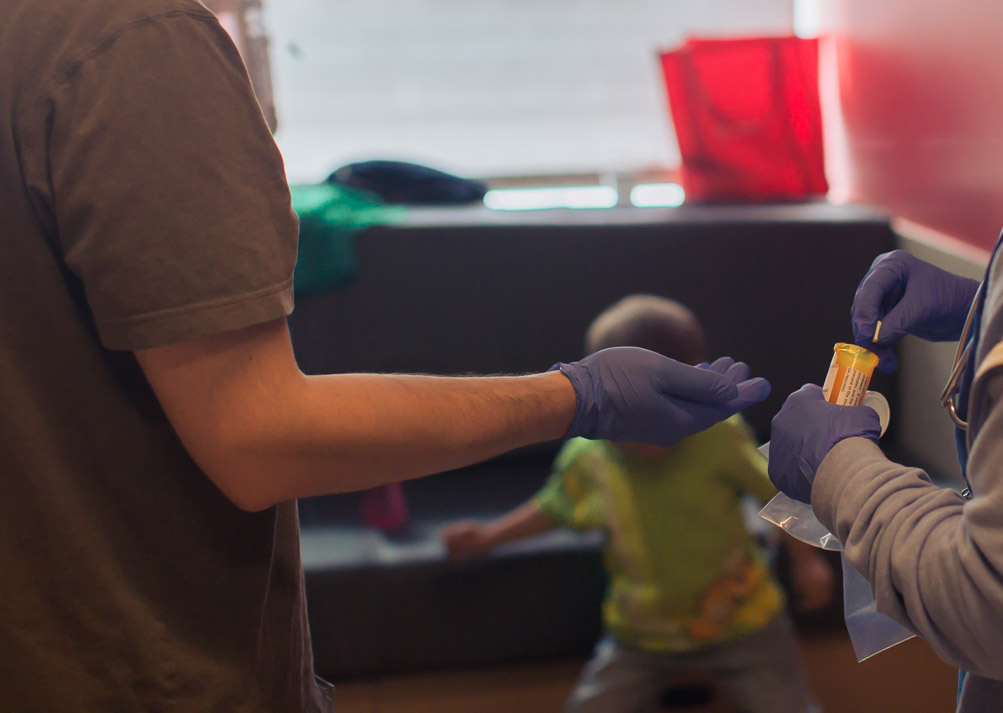 A nurse readies the pills that Micah takes during the trial.
They would then like to expand the trial to compare the effectiveness of different drug combinations against the Unituxin and lenalidomide to see which is the best for kids with neuroblastoma.
"My hope for this trial is to have patients receive the therapy and tolerate it successfully and have their disease stay at bay, while also showing that it activates the immune system the way we envision it," Dr. Marachelian said. "We then hope to expand the trial to the Children's Oncology Group, where we can, potentially, have all patients with neuroblastoma receive the therapy and experience good responses."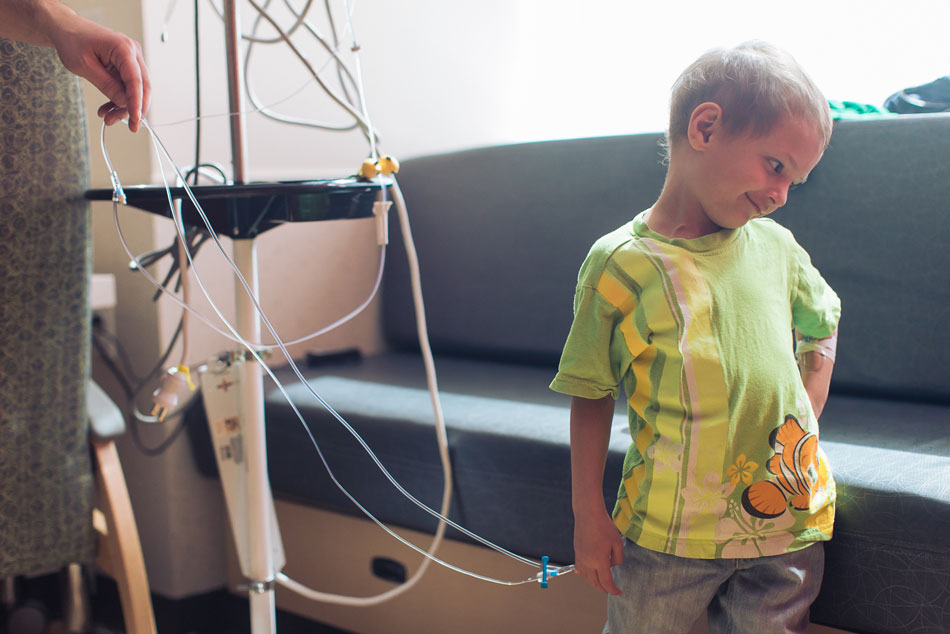 Micah strikes a pose.
For Micah's parents, being on his clinical trial and contributing research is a win-win for Micah and other kids with cancer.
"We're interested in anything that can potentially help him, keep him clear as long as possible, without significantly affecting his quality of life or long-term quality of life," Jeff said. "Then alongside that is whatever we can do within that framework to help other kids, to advance research and let Micah's experience somehow be used to improve future treatments or develop future treatments."
If all goes well, Micah will continue on the trial until the end of this year.
"Aside from the weeks in the hospital, he gets to be a normal kid, more or less. That's been really nice to be able to experience, to watch, to be near," Jeff said.
Just a few weeks ago, Micah started kindergarten. To prepare, father and son went school shopping together. That might have been an ordinary experience to some people, but to Micah's parents, those moments are some of the most extraordinary.
"We are constantly finding ourselves just happy that we are able to enjoy the relatively normal things," Jeff said.
---
A short time after we posted this blog we heard disappointing news — Micah had been taken off the trial. Overnight, his liver enzymes had spiked beyond acceptable limits for a third time, making him ineligible to continue on the study.
This is the reality of childhood cancer. Things can change in an instant.
"This is disappointing, but not bad news. We knew that Micah would be moving on to a new treatment after this trial, it's just that we're making that move sooner than we had hoped," his parents said. "Like so many cancer parents, part of our job is to do our best to be prepared for bumps in the road, both big and small."
Read more about this development in a blog from Micah's dad, Jeff.
It's Childhood Cancer Awareness Month. Help kids like Micah enjoy just being a kid — join us today.
6 Ways You Can Help Kids With Cancer
Read more about Micah and his cancer journey: