Two lucky St. Baldrick's staffers got to spend a day with St. Baldrick's Honored Kid Micah, who's currently taking part in a St. Baldrick's-funded clinical trial at Children's Hospital of Los Angeles (CHLA) for neuroblastoma, a type of childhood cancer. Here's a glimpse into a day in the life of Micah, as seen through Alison and Kristen's eyes.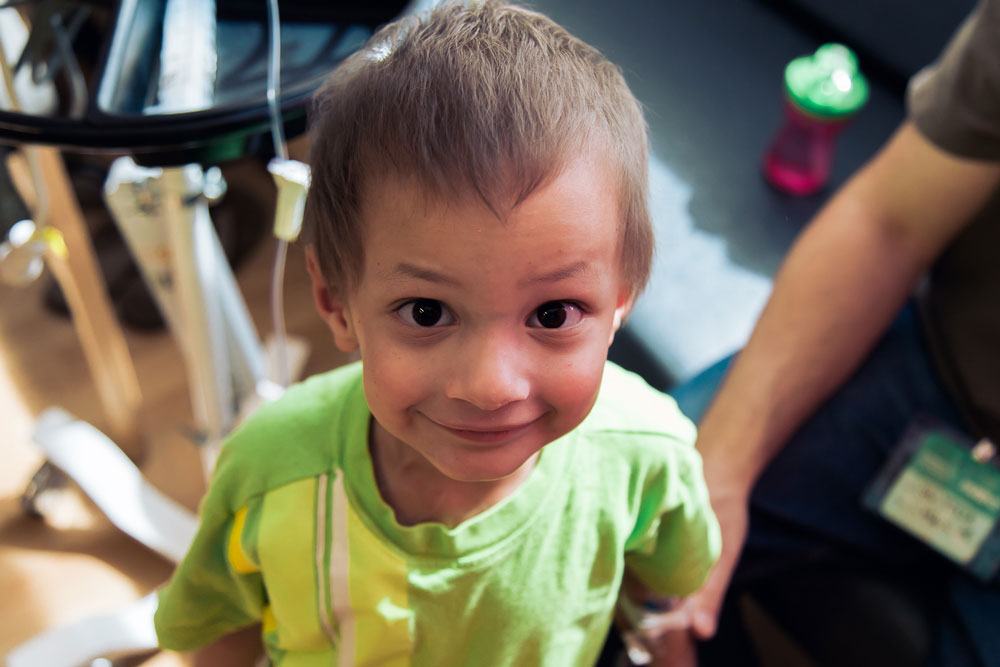 Photos by Kristen Lynette Photography.
Asking a 4-year-old to sit still for 10 to 20 minutes can seem like an impossible request. Telling that same 4-year-old to sit in a bed for 10 to 20 hours is just crazy talk.
This crazy talk is something Honored Kid Micah had to do four days this week. Why? Because of childhood cancer.
Micah is currently disease free, but the reason he's going through this treatment is to hopefully keep him that way.
Kristen and I figured no kid enjoys being in the hospital, especially for an entire week, so he might appreciate a few St. Baldrick's visitors!
We showed up to Micah's hospital room and he was immersed in his grandma's iPad, like any kid these days.
Hooked up to a fluid line through the port in his chest, Micah was somewhat restricted to one corner of his room. He knew he would be stuck in bed most of the day, so there was no hurry to move from that spot.
When Micah's grandma asked him to put down Angry Birds and pay attention to his visitors, you could tell it was a tough decision…
Thankfully his dad, Jeff, knows just the thing to say to get Micah away from his game — the "Frozen" soundtrack.
See Alison's day with Aubrey (who also loves "Frozen") >
Turns out "Let It Go" from Disney's "Frozen" is one of Micah's favorite things to listen to right now. Over and over again. But not just to listen to — to sing and dance to as well!
"I can show you guys the moves if you like."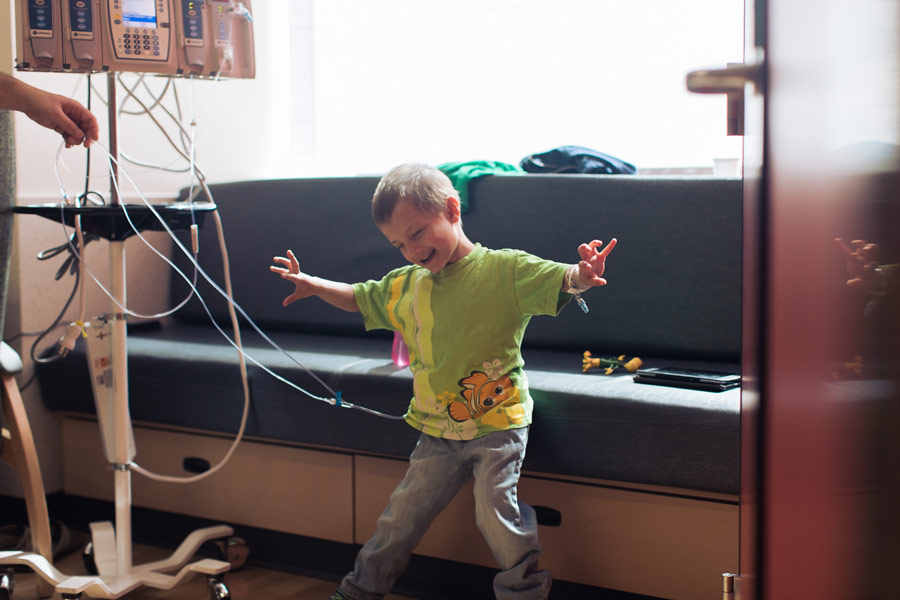 Watch the video of Micah's dance moves on our Facebook page.
Needless to say, we received an amazing performance by Micah, even with his fluid lines keeping him from going all out.
After repeating the song three times, Jeff asked for a new one. Micah, being the smart 4-year-old he is, responded with, "Then you can plug your ears."
And thus, "Let It Go" played once again with even better moves. But sadly, his performance was put on hold for a medication break.
One of Micah's nurses came in to give him two pills in preparation for his 10-hour-long infusion later that day.
Swallowing pills like a champ, Micah was soon back to his iPad, showing Kristen some neat things on it.
"What's in your arm, Micah?"
"A ridiculous needle!"
A ridiculous needle indeed! But since his trial requires two lines for treatment and his port only has access to one, Micah has to have another access point in his arm.
This was soon forgotten when Jeff asked if Micah wanted to play a game with Kristen.
After a short deliberation, Micah decided Skip-Bo was the game to play. Unfortunately, no one could remember how to actually play, so it turned into putting cards in piles.
Micah yelled, "We are on a roll!"
We're not sure who won the card pile game, but it didn't matter because it was time to break out the book collection.
Jeff handed Micah a stack of books and he began to show off each one.
"Will you read a book with Alison?"
Handing me a book, Micah said, "Um, OK, you read this to yourself and I'll read with Kristen."
Cracking up, I took the book he handed me. Eventually Micah caved and let me read him the monster book.
Turns out there are monsters under his grandma's bed but he is so good at monster noises, he can scare them all away.
He also stopped to tell us his favorite state is Washington. Although he hasn't been there, he does know you need to go through Oregon to get there!
After a few more pages, it was time for Kristen and me to head back to the office.
Before we left, Micah needed silly photos taken of him.
Basically, Micah just being Micah.
He even settled down to take a nice photo with Grandma, who keeps him company (and shares her iPad) every time he goes to CHLA.
After seeing all of Micah's goofy faces, it was time to say goodbye to our new friend.
By the end of our stay, he forgot we'd ruined his Angry Birds time and took some nice photos with us.
As we walked out the door, we heard him say, "Make sure to come back tomorrow!"
As much as we wanted to hang out with Micah every day this week, we compromised with a Skype session the next day to say hello.
He may only be 4 years old, but since he was diagnosed at 15 months, he's experienced a life not many his age have.
Read more about Micah's life with childhood cancer >
You can see it in his personality — his pure joy for life, even if it does include being hooked up to machines.
Not even childhood cancer can hold Micah back from enjoying the things and people around him.
Kristen and I not only saw how to correctly dance to "Let It Go," but we also saw a direct effect of St. Baldrick's volunteers.
The trial he is on is being funded by St. Baldrick's because of YOUR donations. YOU are helping to keep Micah cancer free.
Micah's older brother, Asher, and his dad will be shaving their heads with Team Micah's Minions at a St. Baldrick's event in San Diego on March 7.
Your donations have already helped fund the trial that is helping Micah. Help make treatment options like this possible for all kids with cancer.
Donate to Micah's Minions
Read more about neuroblastoma in kids: