Ambassador Grace's mom, Rebekah, was on the fence about shaving her head again this year with the 46 Mommas, but something pushed her over.
Rebekah and her daughter, Grace, a childhood cancer survivor.
I had been on the fence for months about whether or not to shave for the fifth time.
When the 46 Mommas formed in 2009, I vowed to shave until we passed our $1 million goal. We passed that goal in 2013 at our fourth annual event.
A month after that fourth shave, I gave birth to my third daughter, Esmae.  As a mom of "advanced maternal age," let me say, sleep deprivation hit harder this time around. Between the dark circles, all-things-postpartum, and — let's be honest — the challenging hair growth stage, I wasn't sure I had the energy or confidence for bald again.
And, of course, it matters greatly to me how my family feels about my shaving. Grace graduated to official "survivor" status this past year, so I was paying close attention to her cues. How would she feel about Mom being bald once more?
Even with all that, no one was surprised by my decision to shave one more time. Not one person.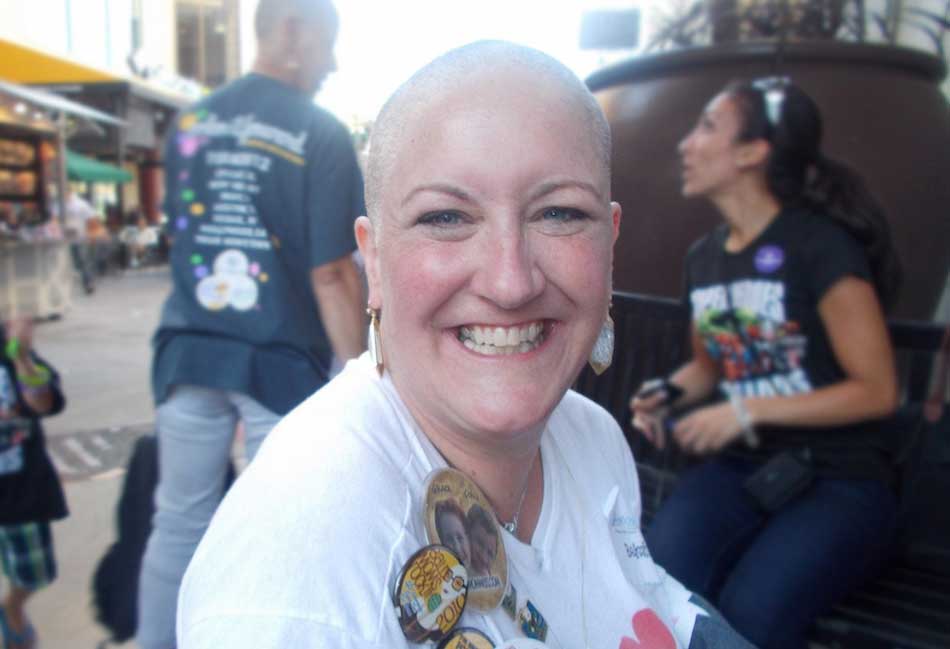 Rebekah after shaving with the 46 Mommas in 2012. Photo by Kelly Fogel, Pablove Foundation.
Perhaps they are all thinking about just how radiant the bald Mommas look with no hair to hide their eyes or mask their strength, and they want that for me, again.
Or they know how exhausting and powerless it feels to be the caregiver, and that the connectedness of joining with other women who understand the childhood cancer world energizes and empowers.
Maybe they don't want me to miss the opportunity to be shaved by a St. Baldrick's Ambassador.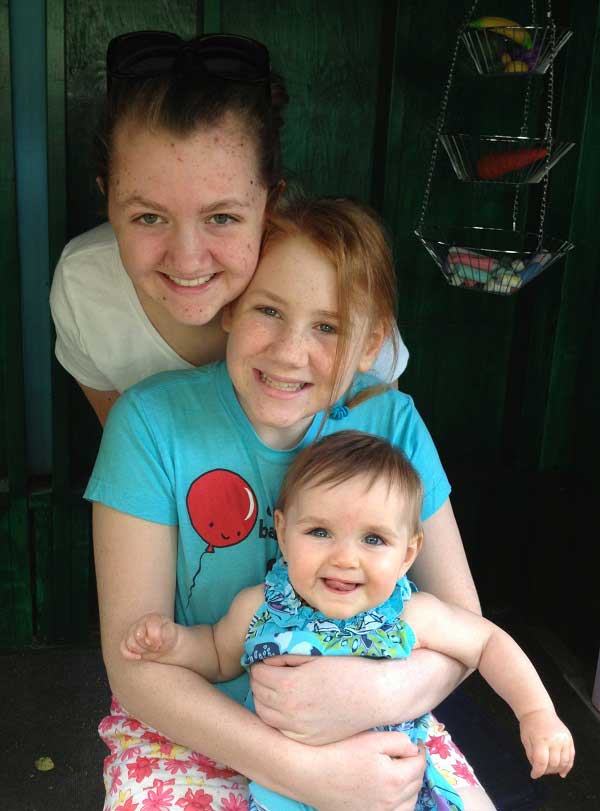 Grace, center, with her two sisters.
Or they have witnessed how Grace and her older sister, Fiona, have learned from their mom's advocacy efforts, and they know another shave will only increase my daughters' abilities to stand up for what they value.
It could be that, since I grew up outside of Boston, they know this shave at the Boston Prudential Center is a perfect chance for friends and family to witness the fun and intensity of our events.
They all know I'm not so good with moderation. The time I invest with the amazing women of the Mommas' leadership team and on promoting our campaign through the 46 Mommas Facebook page really needs to culminate in a head shave. They worry, I'm sure, that I would feel unfulfilled by leaving Boston with hair on my head.
Or maybe, just maybe, they understand the desperate need for research funding. As of this moment, childhood cancer research relies far too heavily on people shaving their heads.
The Mommas' campaign total — $1.4 million and climbing — has raised almost the equivalent of five three-year St. Baldrick's Scholar grants. There is momentum behind the Mommas, with new women signing up each year for our national events. We hope we can continue to inspire. To quote my friend and fellow leader Momma Alyson, "We can't stop now!"
Grace is excited about the shave. She looks forward to seeing old friends and new from around the country and Canada. She knows it will be fun, and she reminds me that my hair will grow back. "Kids," she says, "do not."
Really, how could I not shave? Just one more time …
Think you're ready to brave the shave? Sign up to be a shavee℠ or see how else you can get involved.
Be a Shavee
Get Involved
Still on the fence? Read more shavee stories — they might just push you over: