I was nervous to come home after shaving with the 46 Mommas last summer.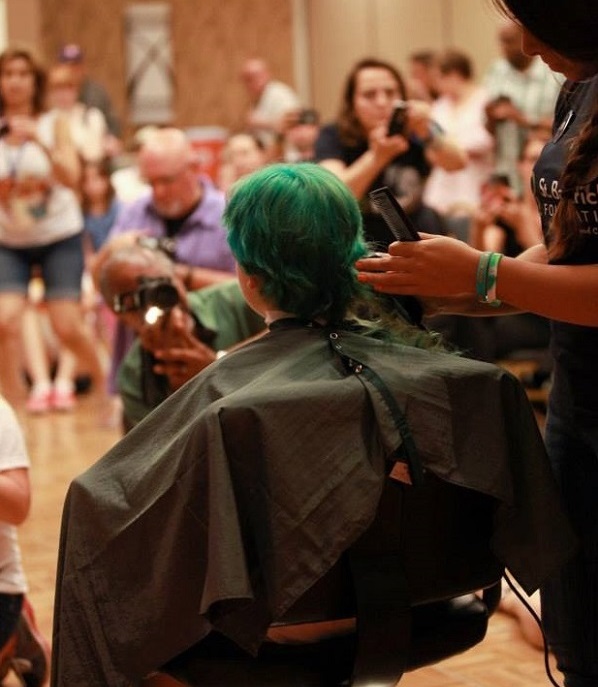 A shavee in the barber chair at the 2013 46 Mommas event.
I didn't have other bald mommas around me anymore. People were staring now, whereas before, I was just like everyone else. For a moment I thought, this is how Lucy felt when she came home from Memphis that first time.
Let me back up: My daughter, Lucy, was diagnosed with acute lymphoblastic leukemia in 2010. I noticed that she had started to get these little red dots that looked like freckles on her face. I also noticed she was bruising a lot easier. I had an uneasy feeling, but I didn't think it was cancer. Two days later, the doctor told us that Lucy had leukemia.
Our family slowly accepted the fact that the C-word was a part of our lives forever. I joined a virtual support group of cancer mommas on Facebook. It's a safe place where we talk about everything: cancer, life, our kids, even our dogs. And yes, we talk about death, our fears, and our dreams.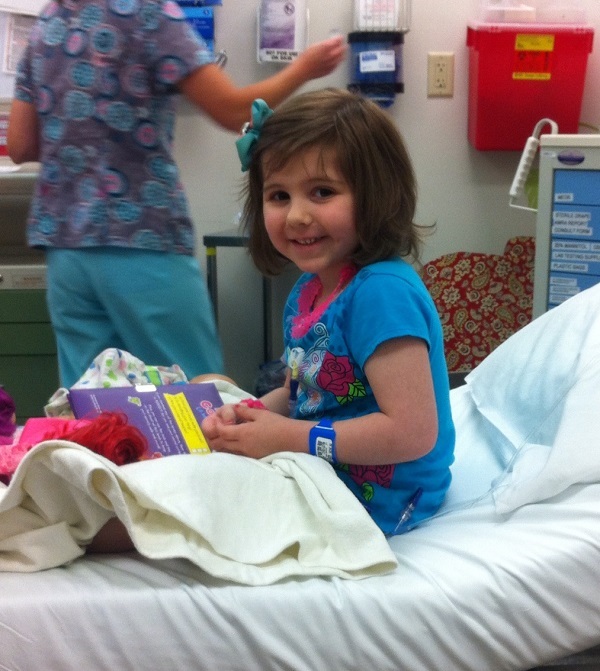 Lucy was diagnosed with acute lymphoblastic leukemia when she was 3.
Along with some other moms from the group, I decided to shave for St. Baldrick's with the
46 Mommas in 2013
. This was an opportunity for some of us from the group to get together and finally meet.
Whenever a bunch of women get together, there are bound to be strong personalities that do not go well together, but this was different. I have never met a group of ladies where I felt so connected, talking about our kids, cancer, and laughing. I have not laughed that hard in a very long time. I needed that therapy more than anything a drug or counselor could give me.
There was some unexpected rain on shave day, which resulted in a change of venue, but the group of ladies who put this together did an amazing job of making the changes seamless.
I remember sitting on the floor with my backpack, taking it all in: the children playing together, the moms hugging, and the dads standing by, watching the kids or nervously waiting for their wife to be the next shavee. As I looked around, I was not nervous, scared, or even sad. I was excited, and I was calm.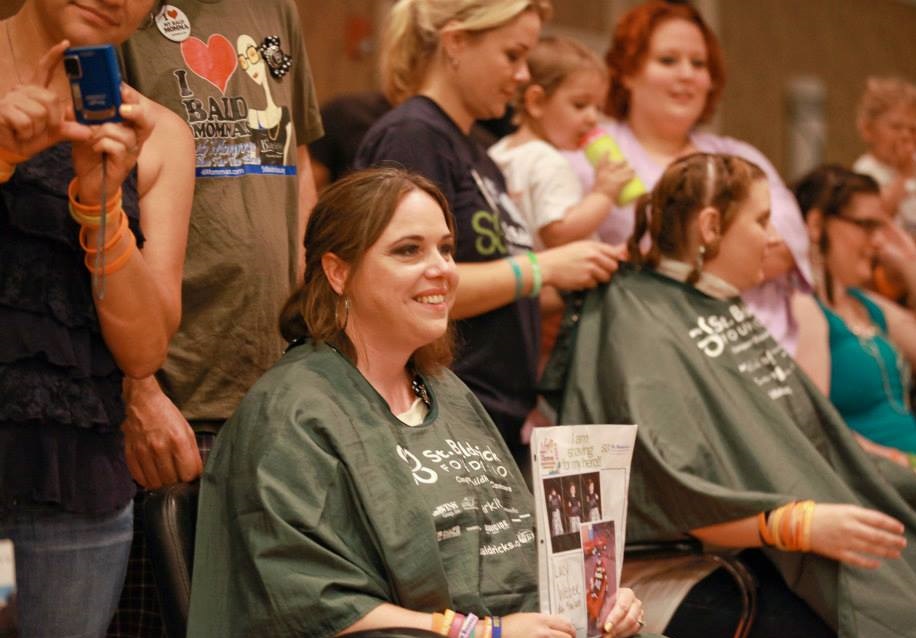 Shawna prepares to have her head shaved.
As we walked up to our chairs and sat down before our designated barber, it was like we were walking up to receive gold medals. As soon as the clippers were on my head and I could hear "Lucy in the Sky with Diamonds" playing in the background, I closed my eyes. I felt the buzz of the clippers and the hair falling to the ground. And I cried.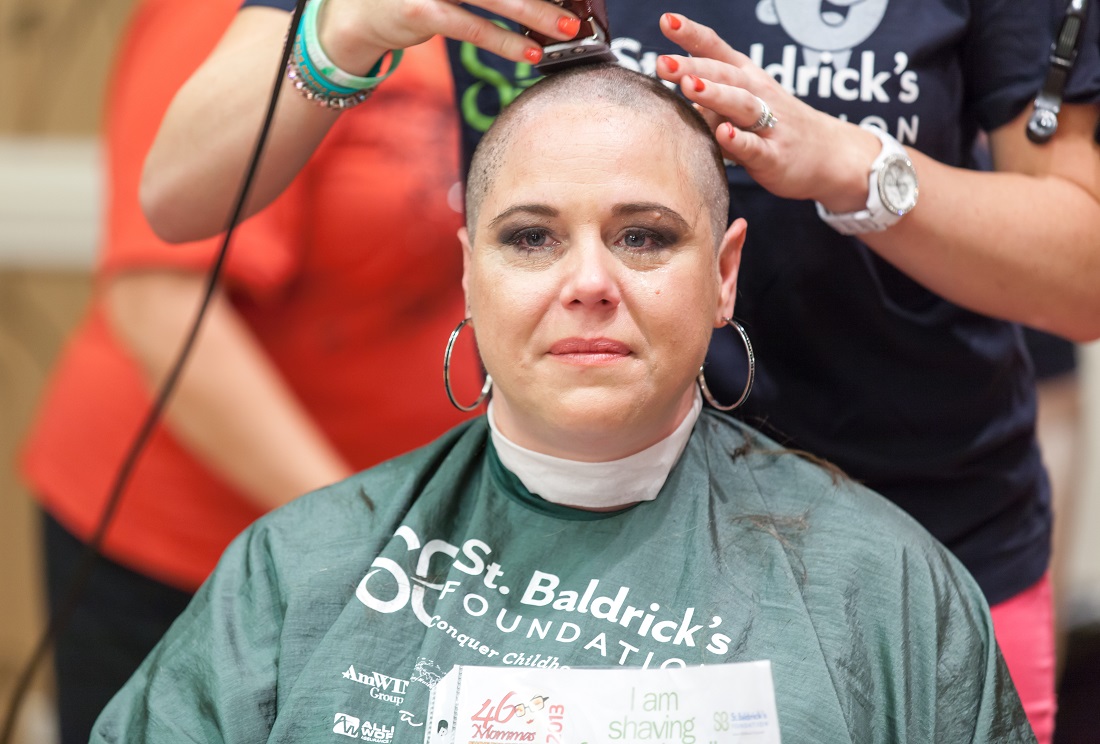 "I cried because it was the most amazing feeling I had ever experienced, and I was happy and sad all in the same moment," Shawna said.
I cried because it was the most amazing feeling I had ever experienced, and I was happy and sad all in the same moment.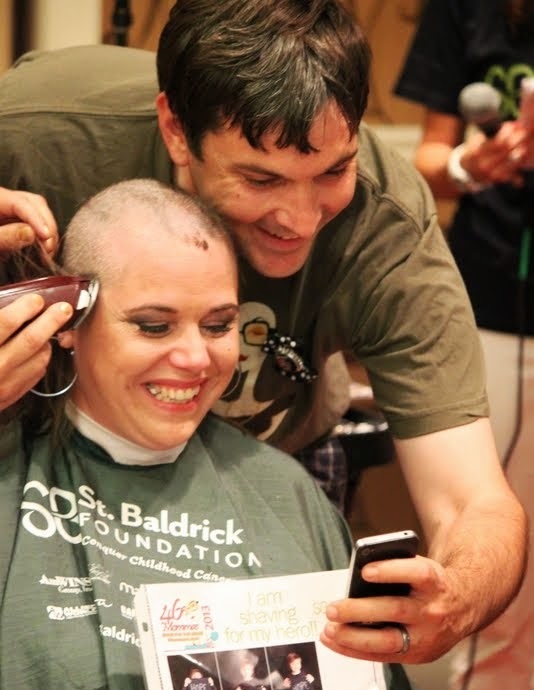 Shawna with her husband during the shave.
I cried for what my daughter has had to endure.
I cried for what our family has had to suffer through.
I cried for the people I have met along this journey who have lost their children.
I cried because I was a part of this wonderful movement and was sharing that moment with some of the best people in my life.
I cried because my hair was gone, and not for vain reasons, but for what it represented.
I looked in the mirror when it was done and thought, "Wow, this looks fabulous."
When the shave was over, it was amazing to walk around with all these other mommas and have no hair and feel the pride. It was us versus the world, and we were the "normal" ones.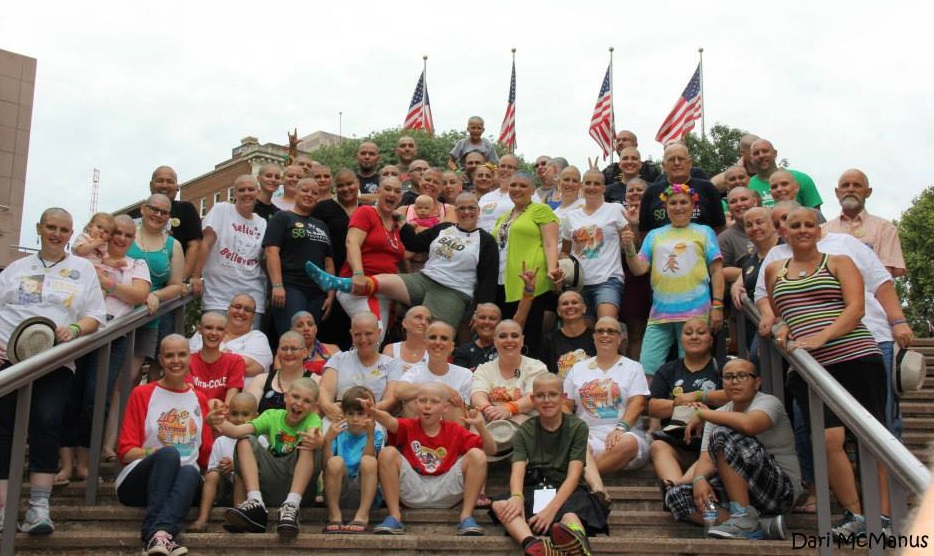 Shavees at the 2013 46 Mommas Shave for the Brave event in San Antonio.
Then I went home, and I was the odd man out. I thought about Lucy, when she came home after childhood cancer treatment. She was no longer in an environment where everybody was just like her. She was different. She was sick. How awful that must have been for her.
This is exactly why I shaved. I shaved for Lucy, her friends, the children to come that will be diagnosed, and for a cure.
Ask me why I'm bald. I would love to tell you.
Go bald for kids with cancer. Sign up for a head-shaving event today.
Be a shavee
Read more from the 46 Mommas: