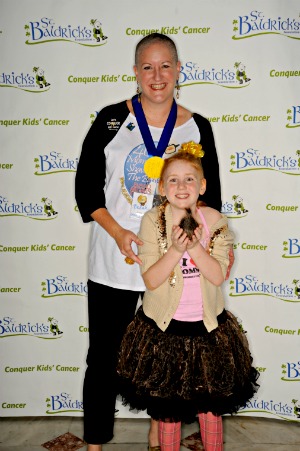 Rebekah with her daughter, Grace, after shaving with the 46 Mommas to raise money for pediatric oncology research. Grace was diagnosed with medulloblastoma when she was 5 years old.
Knocked up and bald.
That'll be me this month when I shave as a 46 Momma for the fourth time.
I shaved in LA in 2010, then in DC in 2011, and back in LA in 2012 — in honor of my 11-year-old daughter, Grace, who was diagnosed with medulloblastoma, a type of childhood cancer, in 2007.
Grace is thriving. She copes with the many complex side effects of the cancer treatment, some days better than others.  Her newest therapy — daily hormone shots to (we hope) allow her to grow to a normal adult height without additional side effects — is the lowlight of her day.
Grace has been with me at each shave. She and her sister Fiona, 15, have been supportive of the shaving zaniness. They understand the need for awareness, the value of funding research for better treatments, and, of course, how cool a shaved head feels.
It is my hope that when she looks in the mirror at her thin hair and bald spots, Grace will remember what a low priority hair is, because she has seen so many incredible women voluntarily go without.
When Tiffany Beamer first presented the moms-shaving-together idea in a People Against Childhood Cancer chat room in the fall of 2009, I signed up immediately, and I'm so glad I did.
Rebekah and Grace in 2010, the first time the 46 Mommas shaved for St. Baldrick's.
Meeting women from around the U.S. and Canada,
speaking up for those who cannot advocate for themselves
, and giving my daughters the chance to wield the clippers on their mom's head, has been life changing. Though I hate that my family has had to experience childhood cancer, I am thankful to be a member of the 46 Mommas.
The 2013 Momma Leadership Team decided Texas would be a great place for our fourth shave and to celebrate passing our $1 million fundraising goal. Perhaps shaving in Texas would enable Mommas who had not been able to travel to either coast a chance to stand with us, bald and beautiful, in solidarity against childhood cancer. Having never been to Texas, I was totally on board. Everything is bigger there, right?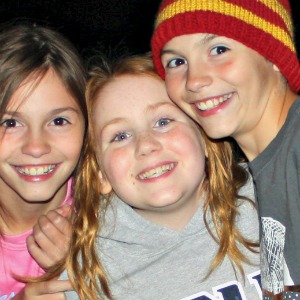 Best friends Lydia, Grace, and Sophie. Sophie will be shaving as an honorary Momma at Rebekah's Can't Get to Texas headshaving event.
Little did I know just how big
I
would be.
In January 2013, my husband and I were beyond surprised to learn we were pregnant. At 43, with complicated pregnancies in my past, I was immediately classified as high risk. My doctor said no to travel. I would need to stay in Rhode Island for the summer. Texas was not in the cards.
Disappointed? Absolutely. But I'm keeping the bigger picture in mind, and we are thrilled to be welcoming a healthy baby girl to our family.
So now I'm hosting my own event in Rhode Island — the Can't Get to Texas Head Shave on June 23.
This local shave will give a front row seat to friends and family who have supported our journey, but who have not had a chance to experience the emotion of a
St. Baldrick's head shaving event
and feel the power of that moment when the hair comes off.
Joining me to shave on June 23 will be, among others, Momma Annemarie Kulikowski from Massachusetts who shaved in DC in 2011 in memory of her daughter Elizabeth; Grace's Uncle Patrick who has agreed to grow out his hair in order to shave it; and Grace's good friend, Sophie, who is 11 years old and has proudly announced her shaving plans to her entire middle school.
Having a local shave seems just right this time. In July, Grace will be 5 years past treatment for brain cancer. She will get to help shave a friend's head, she will be surrounded by family, she will enjoy a celebratory chocolate cake, and she will be able to tell her baby sister all about it just 8 weeks later.
I will miss being in the crowd of bald Mommas, but I will be there in spirit.
And I will be knocked up and bald. Quite a look, but worth it.
Like the 46 Mommas say: "Hair grows back — kids don't." You can help kids with cancer. Be a shavee.
Be a Shavee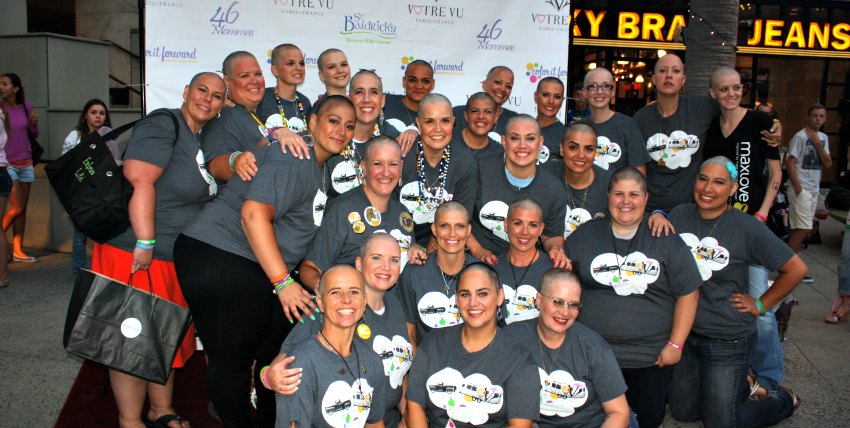 Rebekah with the 46 Mommas in 2012.