Aidan is Ambassador Chase's brother, and he's doing something amazing — he's shaving his head to support his best buddy. Their mom, Ellie, talks about Aidan's decision to go bald and how Chase's cancer journey has affected his big brother. (We've got an exciting update — you helped Aidan raise more than $3,000! And he's still going strong. Read their mom's thank you letter to all of you.)
Help Aidan reach his $1,000 goal! Donate on his shavee page >
12 months and five days.
That's all the time between them — my first boy and his surprise brother.
Through the years they've been mortal enemies and best friends and sometimes both within a matter of seconds. They played cars together and sword-fought across the whole house and back. They used to splash in the rain on the tiny condo porch and squeal in delight.
And one morning, while he lay in his bed, Aidan watched us surround his brother and carry him out.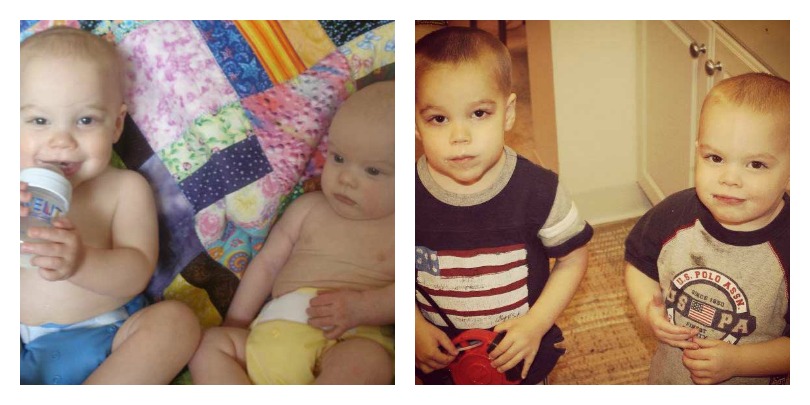 Aidan, left, and Chase are brothers, best buddies, and sometimes expert sword fighters.
He lay in the dark of the room as emergency lights reflected through the closed blinds — flashing red on the walls and ceiling — and he looked out into the dim hall and saw shadowy figures in navy and heard the click of a metal gurney carried across the threshold.
Meet Ambassador Chase in this adorable video >
He watched his mother cradle his best friend brother with eyes closed and a mask over his face and he heard the words: "You need to stay in your bed, Grammie is here. I love you so much and we will see you soon, OK?"
With that, the life of my firstborn boy changed forever.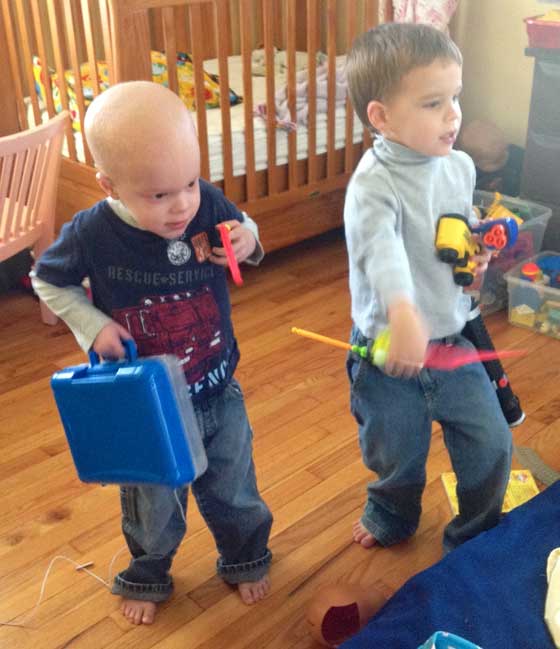 Aidan and Chase play carefully around his IV bag.
The sword-fighting and cars never stopped, but now it was only occasionally around the times his brother was out of the hospital. And while he could go outside and run or swim with his sister, his brother, whose head was now ugly and puckered with stitches, couldn't be out in the sun or water with him.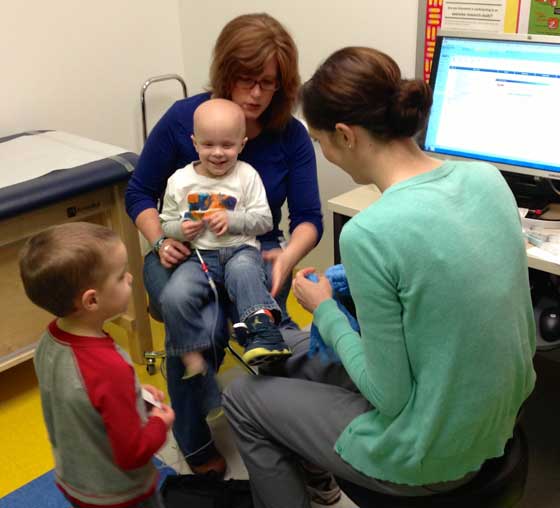 Aidan stands by and helps as Chase gets his blood drawn.
Their play had to gentle around IV bags, careful as his ever-energetic brother tired in minutes, and metered around blood draws and medicines, for which he'd stand by the couch and hold out his hand and say words like, "Chase, it's OK.  I'm here if you need me.  Here's my hand — you can hold it if it makes you feel better."
And when he had his own tonsil surgery the week after they opened his brother's brain, he sat contentedly in recovery and made no sound at the needles or cords because, "Now I am a little like Chase."
This boy has grown up on the sound of his brother's screams and the sight of his brother's scars and blood. And in some ways he's 6 and in other ways he's 60, because he knows more of the world and suffering than you should know when you're little.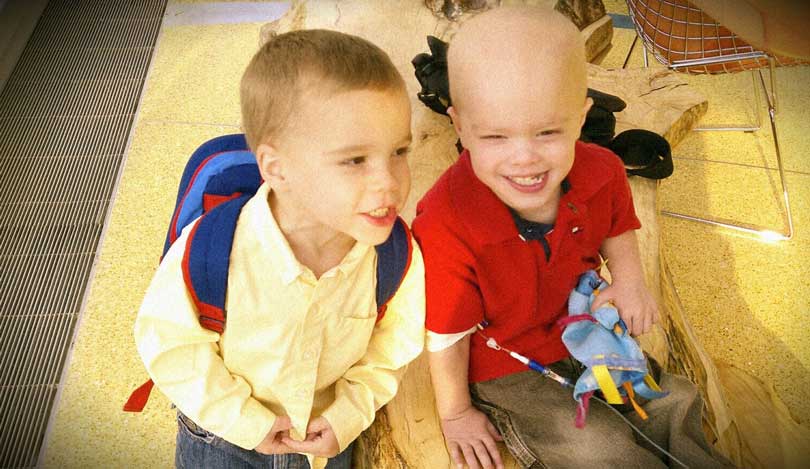 Aidan makes Chase smile during a hospital stay.
So, this week he told me that he's growing out his hair to shave it for his brother. He wants to be bald for a minute with his brother. And when he had to write on the St. Baldrick's website and say why he was going to shave his head, these were his words: "I'm shaving my head for my brother Chase because he's my brother and I like him and because he's my best friend and because he's a very kind boy."
And if I know my Aidan, he'll sit in the chair, totally bald and calm because, "Now I am a little like Chase."
Twelve months and five days and sometimes there are no other words.
Aidan is giving what he can — his hair — for his brother. Give what you can to support his shave.
Donate on Aidan's Head
Read more about Chase and his family on the St. Baldrick's blog: