A few days ago, Ambassador Chase's big brother, Aidan, asked you to give on his head. (Read all about it!) In a mere 24 hours, you blew his $1,000 goal out of the water! But the brothers are not done yet. They've set their sights higher — to $5,000 for childhood cancer research. Their mom, Ellie, has something to say to you incredible people.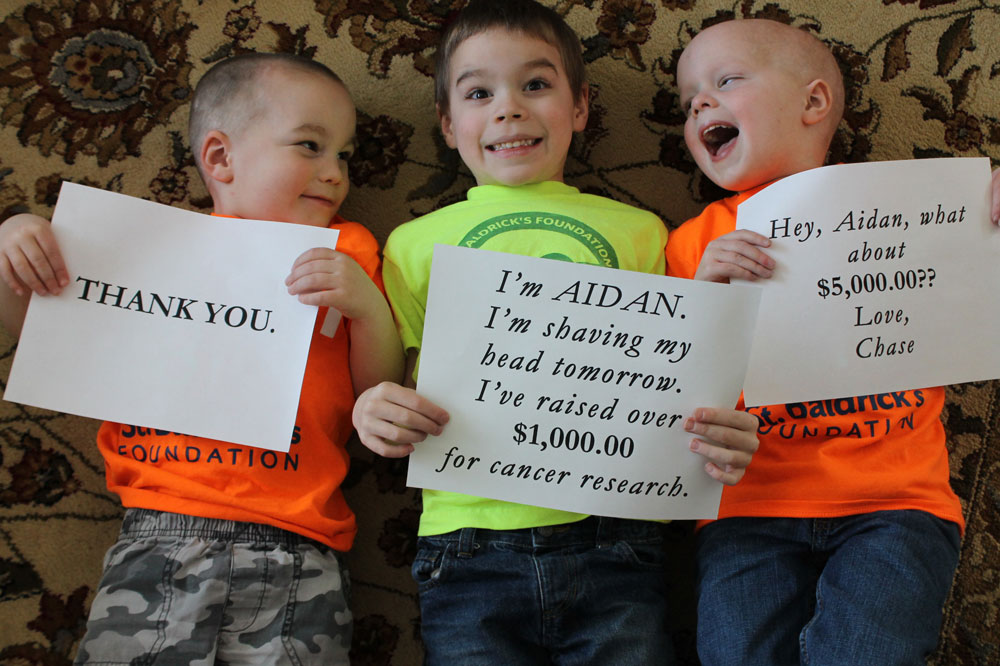 Brothers Karsten, Aidan and Chase have something important to tell you.
Help Aidan reach $5,000! Donate on his shavee page >
Tomorrow, Aidan shaves his head, and this week has pushed me to the edge of tears many times because of you.
Aidan asked for $1,000 and you've opened your hearts and lives and given him over $3,000!
You've given because of his life as the brother, Chase's life as the patient, and dozens of other lives that we have not known, many in memory, their legacy living on in the good work you're doing.
So, thank you. From the bottoms of our hearts and on behalf of Chase and those like him, THANK YOU.
Learn about Chase's cancer story and meet his family in this sweet video >
The thing with brothers is that they always want in on the action. If they aren't hugging it out, then they're challenging each other and forcing each other to the next level. Speaking as their mother, I am always hoping and praying that the next level doesn't include an emergency room.
But this — this is a good challenge. It's a challenge for change with the knowledge that for too many, the time is passing and this disease is progressing too quickly with too little to hinder it.
So, from the brothers, who live and stand with Chase, THANK YOU for working to change the future.
And from Chase, whose past included a "less than 20% chance of survival" and who is ever pushing boundaries: a challenge…
Chase challenges you to give on Aidan's head and help the boys blow past their $5,000 goal.
(If you were with him for real, he'd also challenge you to a sword fight.)
Donate on Aidan's Head
Read more about Chase and his family on the St. Baldrick's blog: