Micah's mom and dad know that when you're the parents of a child who's being treated for cancer, anything can happen. Yesterday was no different. Honored Kid Micah was at Children's Hospital Los Angeles on a St. Baldrick's-funded clinical trial when doctors found that enzyme levels in his liver were out of whack. (Read the blog about Micah's participation in the trial here.) According to protocol, Micah could not continue on the study. His dad, Jeff, explains.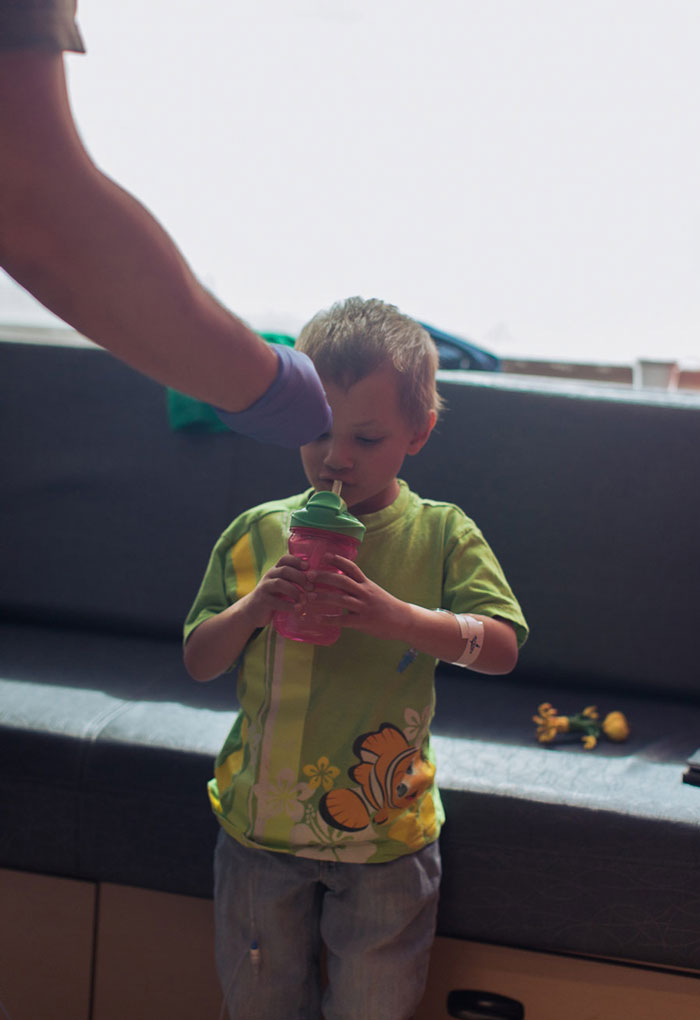 Micah takes his pills at CHLA during the trial.
We hoped it wouldn't come quite this early, but it's time for Micah to move on to another treatment regimen. His liver did great after day one of this cycle, but it went from zero to crazy after day two. This is Micah's third strike, and it means he has to come off of this study.
This is apparently a rare reaction, only occurring in a very small percentage of patients receiving this antibody, and it seems Micah happens to be in that small group. At this point, even the doctors and researchers don't quite understand the mechanism that causes it, or why it only happened sometimes in Micah's case.
Before I go further, I should note that Micah is acting and feeling fine. His liver isn't enlarged or causing him any pain. He's just as active and energetic as he is on any other day. If the past incidents are any guide, Micah's liver enzymes will come back down into normal range within the next few days. We'll be rechecking them on Friday, the same time when we'll regroup with Micah's CHLA team to discuss next steps.
It's disappointing that we couldn't stay on a treatment plan that was generally easy on Micah and where we couldn't really complain about anything except the travel. And if travel between San Diego and Los Angeles is all we can complain about, that doesn't really count.
Since we knew this was coming at some point, we had already engaged in some preliminary discussions with Micah's doctors in Los Angeles and San Diego about what could come next, so now it's a matter of getting a little more information and making a decision.
Once we know what's next, we can start making plans to perform any necessary tests and then get started. We do know that we will continue to keep Micah off of chemo, as there's no reason to subject him to that unless he's fighting active disease.
We're also trying to keep some perspective. We have multiple options available. Micah is feeling well. The treatment he just stopped and whatever is next is all intended to ensure that his next scans look just as clear as his last scans. So this news is disappointing, but not bad.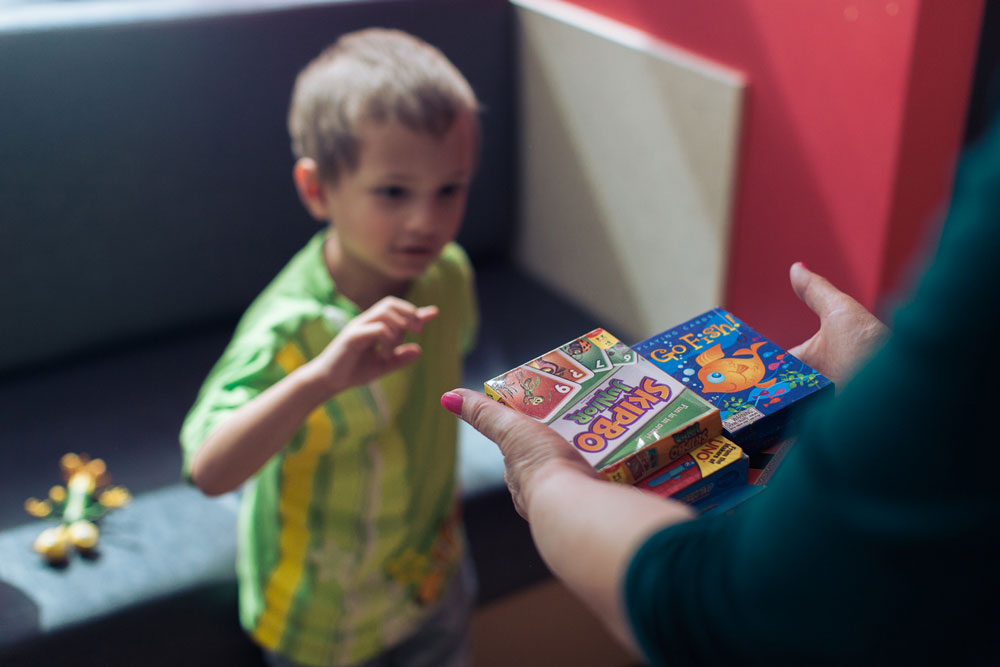 Micah picks out a game to play at the hospital.
The saddest part for Micah is that he'll miss seeing his nurses and other friends on CHLA's inpatient oncology floor. You could see the realization just wash over him when I explained that not only were we leaving early this week, but that we no longer had plans to come back in a month, and it was a little heartbreaking.
But we know we'll be back at CHLA, and we'll be sure to visit our friends on 4 West.
It's Childhood Cancer Awareness Month. Help kids like Micah — join us today.
6 Ways You Can Help Kids With Cancer
Read more about neuroblastoma on the St. Baldrick's blog: