At 12 years old, Hope dreamed big. She wanted to be the next Asian Taylor Swift, a doctor, a nurse, or maybe even a minster. She had a lifetime of plans to make a dreams to chase until she was diagnosed with DIPG, a pediatric brain tumor with no known cure. Her mom tells her story.
There is a song that Garth Brooks sings that includes the lyrics, "Some of God's greatest gifts are unanswered prayers." That is exactly what Hope was to our family.
My husband and I had conceived our son with little difficulty. Sometime later when we decided we wanted a second child, we were unable to conceive. I prayed on a regular basis that this would be the month.
After many months of failed attempts involving infertility treatments, we turned to adoption. We both wanted another child and really couldn't have cared less where he or she came from.
Again, after many months of waiting, our beautiful daughter came home to us on a cold January day in 1998. She was just shy of 7 months old and was the most beautiful little Asian princess we had ever seen. Although born 8 weeks premature, she had grown into a bouncing bundle of baby joy.
INFOGRAPHIC: What You Should Know About Childhood Cancer >
And she never stopped giving us joy. Hope was an amazing child. She was smart and sassy and kind and empathetic and naughty and beautiful. She was a musician and an athlete. She was full of drama and love and had a smile that lit up the room.
Hope worshiped her brother and would defend him from any threat she perceived, be it mother or father, friend or foe. She wanted to be just like him. He played piano so she played piano. He took vocal lessons so she took vocal lessons. He was a runner so she became a runner.
Hope smiles ear-to-ear with her brother.
But one way that she was very different from her brother was that she was very concerned about her grades. She took pride in her work, and when she could show him up by spelling just about any word correctly, she bragged more than just a bit.
Hope was also more philanthropic-minded than her big brother. When she and her friends held a lemonade stand, they gave the money to the food pantry or to a homeless woman they had friended in town.
As far as a career, Hope was leaning towards being the next Asian Taylor Swift, a doctor, or a nurse. She was even tossing around going into the ministry. But then, at 12, that's what you do. You dream and you plan and you play because you have your entire life ahead of you.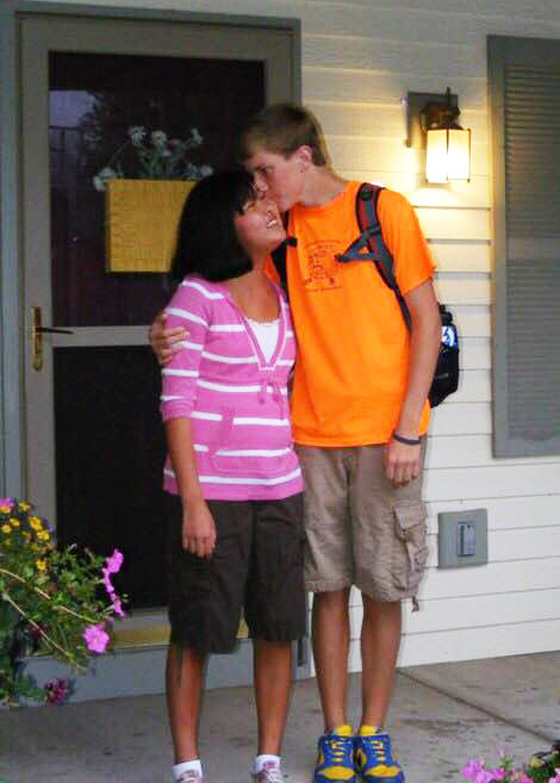 Hope and her brother getting ready to go to school.
One of my biggest regrets in hindsight is how I didn't cherish those oh-so-normal days of life when there is nothing remarkable to report and yet everything should have been remarkable. I should have counted those days as they were happening as the best days of my life.
The days leading up to Hope's diagnosis were normal ones. You know the kind. The kind where the brother complains that the sister can't keep her balance on the tandem bike and nearly "killed" him while on a ride. The kind where the brother exclaims, "Gross!" as she drools in her sleep. The kind where the days are long and hot and full of summer adventures and life is just life.
Then one day as you are watching a little league game, you notice that something is off with your daughter, and when you ask her about it she acts like a typical middle school child. She rolls her eyes and responds as if you are quite possibly the dumbest mother this side of the Rio Grande.
So that's where our cancer story starts. On a hot July day when life was good. "BC" or "before cancer," I like to say.
July 29, 2009, was the start of a 224-day journey into darkness.
We were told there was no chance that Hope would survive. We were told from the very first day we met her awesome care team that she would be gone most likely by spring. We learned that there had been no new treatments developed in over 30 years — that my child had DIPG, the same type of tumor that Neil Armstrong's daughter died from in 1962, and yet in 2009 there were no new options.
BLOG: Decrypting DIPG >
I remember the way the sunlight came through the window as the doctor spoke and my limbs began to shake and although there was no earthquake, my daughter's life was crumbling right before my very eyes.
Hope never admitted she was dying. She never spoke of it. She only spoke in terms of when she got better and after treatment was finished. She took up the motto "when life gives you lemons, make lemonade."
So whether we were right or wrong, we followed suit.
We didn't talk much about her dying. We started making the most of each of those days that had been previously so unremarkable. We tried to do something fun and memorable as a family every one of those days we had with her. Sometimes the things were small and sometimes they were large, but we did them as a family of four. We often had friends or family members accompany us to the hospital and out on our adventures.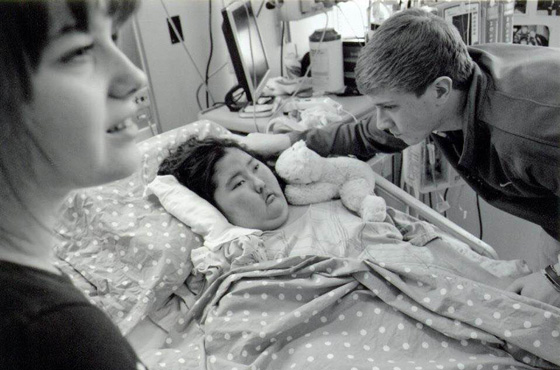 Hope is surrounded by her loved ones at the hospital.
Hope was loved by hundreds, if not thousands, of people in our community. Often on the weekends during the last 35 days of her life there was a waiting line to come up and see her, to say goodbye.
Today, six years, six months and five days after she died, I find myself feeling cheated. I continue to feel such frustration and sometimes anger over the deep loss DIPG caused my sweet girl and her brother, father, and me. I'm lonely without her and grieve all that she would have and could have been.
That's why I shaved my head with the 46 Mommas — to bring more attention to the gross underfunding of research specific to children and their cancers.
Adult cancers are not the same as the ones our children get. At 50 years old, I have lived my life just about 20 years shy of my potential life expectancy. My daughter's life was cut short by 58 years.
However, if I am diagnosed with cancer tomorrow, there is a very good chance that I will beat it. There's a good chance there are new treatments coming down the pipe and I might even live beyond my 70th year.
Yet if a child is diagnosed with cancer tomorrow and is lucky enough to survive, it is sure to mean a host of not-so-pleasant long-term side effects.
BLOG: 5 Facts About Childhood Cancer Survivors >
If we believe our own words — that our children are more precious than gold, that they are our future and our planet's long-term protectors — then I must ask, why are we not protecting them?
Childhood cancer research is important not only so that children like Hope diagnosed with DIPG have a chance at survival, but so those who do survive have a chance at a more normal, healthy adulthood.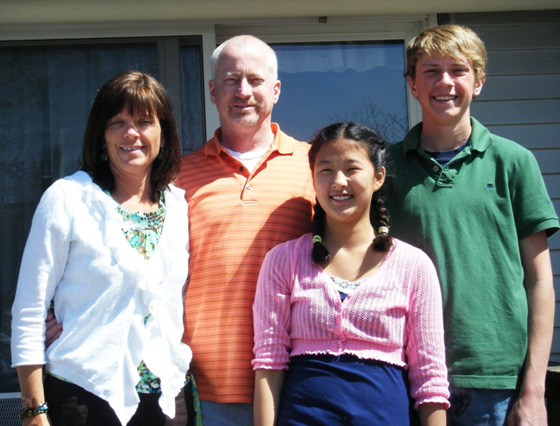 Hope with her family in 2009.
I wish you could have known Hope. I wish she had the chance to become the next Asian country pop-singing minister with a master's in nursing. She didn't get the chance.
But your children can have a future that's bright and bold.
Won't you join me in championing the cause of childhood cancer research?
We can make a difference. We can make lemonade for children yet to be diagnosed with cancer.
Kids are gold, and they deserve treatments that will let them grow up and live out their dreams. See how you can get involved this Childhood Cancer Awareness Month to give hope to kids with cancer.
6 ways to help kids with cancer

Read more on the St. Baldrick's blog: