Dr. Chow is a St. Baldrick's Scholar studying brain tumors in children. He shares his experience treating a patient with DIPG, one of the deadliest types of childhood cancer.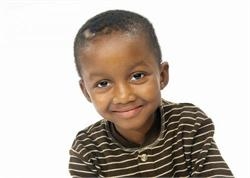 Joshua was diagnosed with DIPG when he was 4.
When I first met 4-year-old Joshua, he was beginning the toughest battle of his young life. What struck me immediately that day was the look in his eyes that was not one of fear, but one that said, "I'm ready for this. Tell me what I need to do."
Joshua had been on a weekend excursion with his family when he started vomiting. A trip to the local ER led to a transfer to the regional children's hospital and then, the unthinkable: Joshua had a type of childhood cancer called diffuse intrinsic pontine glioma (DIPG), an aggressive brain tumor that occurs mainly in young children.
While the neurosurgeon was able to relieve Joshua's vomiting with a simple procedure, the location of DIPG makes the tumor itself inaccessible for surgical removal. Other current treatments, such as radiation therapy and chemotherapy, are not curative, making DIPG one of the most devastating diagnoses a family can receive for their child.
As a result, Joshua and his family were offered a clinical trial to test the usefulness of radiation therapy combined with motexafin-gadolinium, a drug that enhances the antitumor activity of radiation.
Joshua tolerated this six-week treatment very well and did everything we asked of him without ever complaining. In fact, he faced every day with a smile on his face and a joke for everybody he met. If DIPG could be treated with a positive attitude and laughter, Joshua would have cured all the patients in the hospital and more!
However, the treatment didn't prove successful for Joshua and his disease progressed rapidly. In the end, our goal was to support him and to make sure that he had the chance to meet his new baby brother. Joshua did get to meet his brother, but less than a year from his diagnosis, his life was cut short by childhood cancer.
Every patient and every family has a memorable story. Yet, Joshua's story stands out for me. Despite the overwhelming odds against surviving his type of brain cancer, he was one of the happiest and most inspirational patients I have ever met.
My goal, like many other researchers in this field, is that one day, when a patient says, "Tell me what I need to do," we will have the answers that were not there for Joshua. With the generous help of St. Baldrick's Foundation, I hope to hasten the arrival of that day.
Thank you for the valuable support that you give, which allows St. Baldrick's Scholars, like me, to continue their work in childhood cancer research.
Help Dr. Chow find cures for children with cancer. Make a donation today.
Donate to Research
Read more on the blog:
Curing Childhood Cancer in the 21st Century: It's Time for a Kid-centric Approach
New Video: Chase's Childhood Cancer Story [VIDEO]
What I Learned From My Daughter's Deadly Brain Tumor Diagnosis