Raymond Chang is a student at Weill Cornell Medical College studying to be a doctor. Thanks to a St. Baldrick's Summer Fellow grant, he'll be spending his summer researching DIPG, an inoperable and always fatal pediatric brain tumor. Read what Raymond has to say about what led him to DIPG research.
The first time I visited Dr. Souweidane's lab, I was drawn to a series of banners hanging in the foyer.
Instead of the presentation posters or published work that decorate most lab hallways, these were portraits of beaming kids — tissue donors from the Children's Brain Tumor Project. Below each portrait were dates of birth and death, and the type of brain tumor that each had been diagnosed with.
While discussing the lab's work with current members, I easily understood why they were attracted to their work.
Diffuse intrinsic pontine glioma (DIPG) most commonly strikes patients in the middle of childhood, and the prognosis is bleak. Current treatments only extend survival by a few months. Any improvements in research would mean significant real-world impact on DIPG care.
I had first started thinking about a career as a physician after volunteering at the Children's Hospital of Orange County (CHOC). I was working with kids who came in regularly for chemotherapy — kids whose lives depended on the outcomes of their treatment.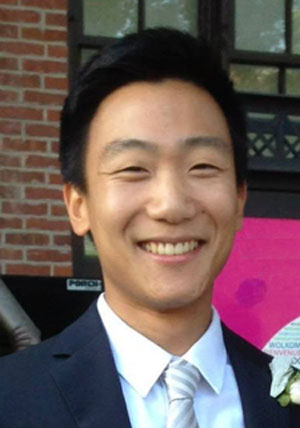 Raymond is a student at Weill Cornell Medical College.
Despite their circumstances, the kids always burst into our playroom overjoyed at our presence — or perhaps at the board games and arts and crafts we brought. We witnessed families so exhausted they passed out in a range of expressions, from complete exhaustion to pure joy to utter sadness.
BLOG: Decrypting DIPG: Gaining Insight Into an Incurable Brain Cancer >
I was inspired by how dedicated everyone at CHOC was to their patients and patients' families. So I started looking into about what it would take to become an oncologist — the extended years of school, the grueling hours of residencies and fellowships.
I knew it would be worth it.
Along the way to medical school, I learned how much physicians relied on basic science and translational research to improve clinical care. Creating more effective and targeted therapies required an incredible amount of trial and failure in the lab.
I knew I wanted to be part of that process.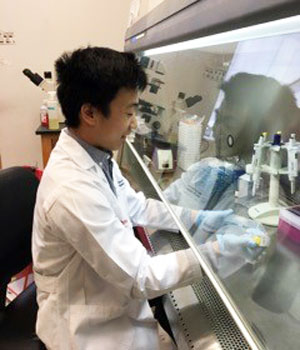 Raymond at work in the lab.
On the other hand, I realized that much of this effort could never be applied in a clinical setting. The basic science was fascinating, and it was necessary for a deeper understanding of how cancer works. But it seemed so far removed from making any impact on how we would treat patients.
Learn about our different grants >
The Souweidane Lab, on the other hand, was unique — they worked on a mix of translational and basic science geared toward understanding DIPG and creating new tools to fight it. As a hopeful future physician-scientist aiming to work with pediatric cancer patients, I knew the lab would be a perfect fit.
The St. Baldrick's Summer Fellowship will allow me to hone my skills in pediatric oncology research while helping to advance treatment for a universally lethal pediatric cancer. More broadly, the findings may suggest new avenues for treatment of other hard-to-treat brain tumors.
As I left the Souweidane Lab after my first visit, I was determined to be part of the team. The portraits on the wall emphasized to me how strongly the lab's work was tied to patients' lives, and how much they inspire the researchers there.
Now, I get to walk into work every day along the same hallway, and I am reminded of how much more work we have to do.
The research we fund has the potential to impact every kid diagnosed with cancer — and it's all because of volunteers like you. See the impact you're making for kids around the world.
See the Impact
Read more on the St. Baldrick's blog: